Latini Restaurant. A Dreamy Gozitan Dining Experience In The Heart Of Xaghra Square.
If you want to experience Gozo like a local, eat local food and absorb the energy of one of the island's most popular piazzas, lunch or dinner – this is the place to go.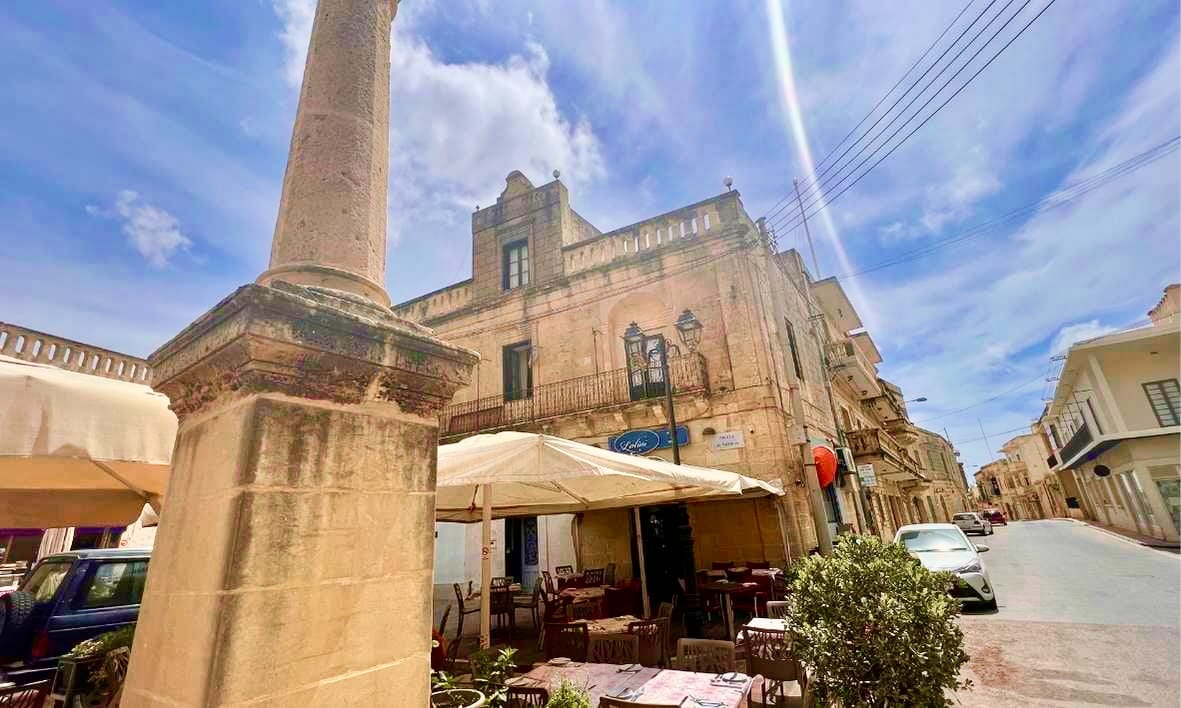 Meeting Victoria and her husband (the chef) Bryan was a delight and sitting at their much-loved local restaurant, Latini for a sunny afternoon lunch literally made all my senses go into overdrive. The smells that were travelling from the kitchen onto the street got me immensely excited, the bustling square was mixed with the sounds of those that had jobs to do, and those that didn't, chattering away without a care in the world. Sitting at the light and airy renaissance patterned tables surrounded by colourful summer flowers and voluptuous palms gave me the exact holiday dining feeling that I required. 'I could sit here for hours' I thought. And so I did.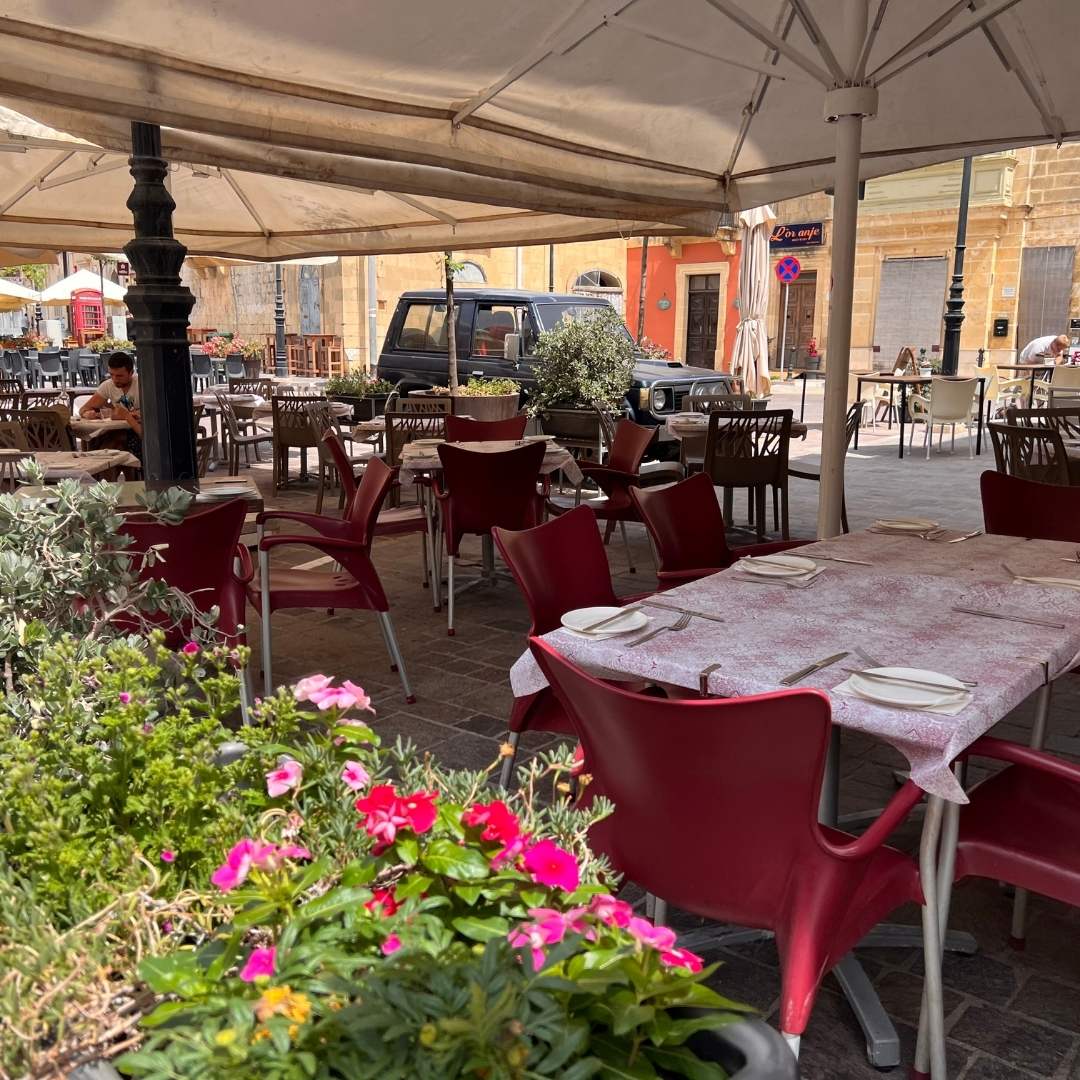 The meal began with a little homemade soup and Maltese bread beautifully served in an espresso cup. A little appetite warmer no less. Victoria suggested one of our favourite wines to accompany our food, Tanit from the award-winning Gharb winery, Tal Massar. A white, light, crisp and quaffable Vermentino. I love their wines and I love their packaging which comes with a little anecdote on each bottle. This one was a D.O.K from 2021 and read 'All worries are less with wine." A quote from Amut Kalantri's book 'Wealth Of Words".
Yeap!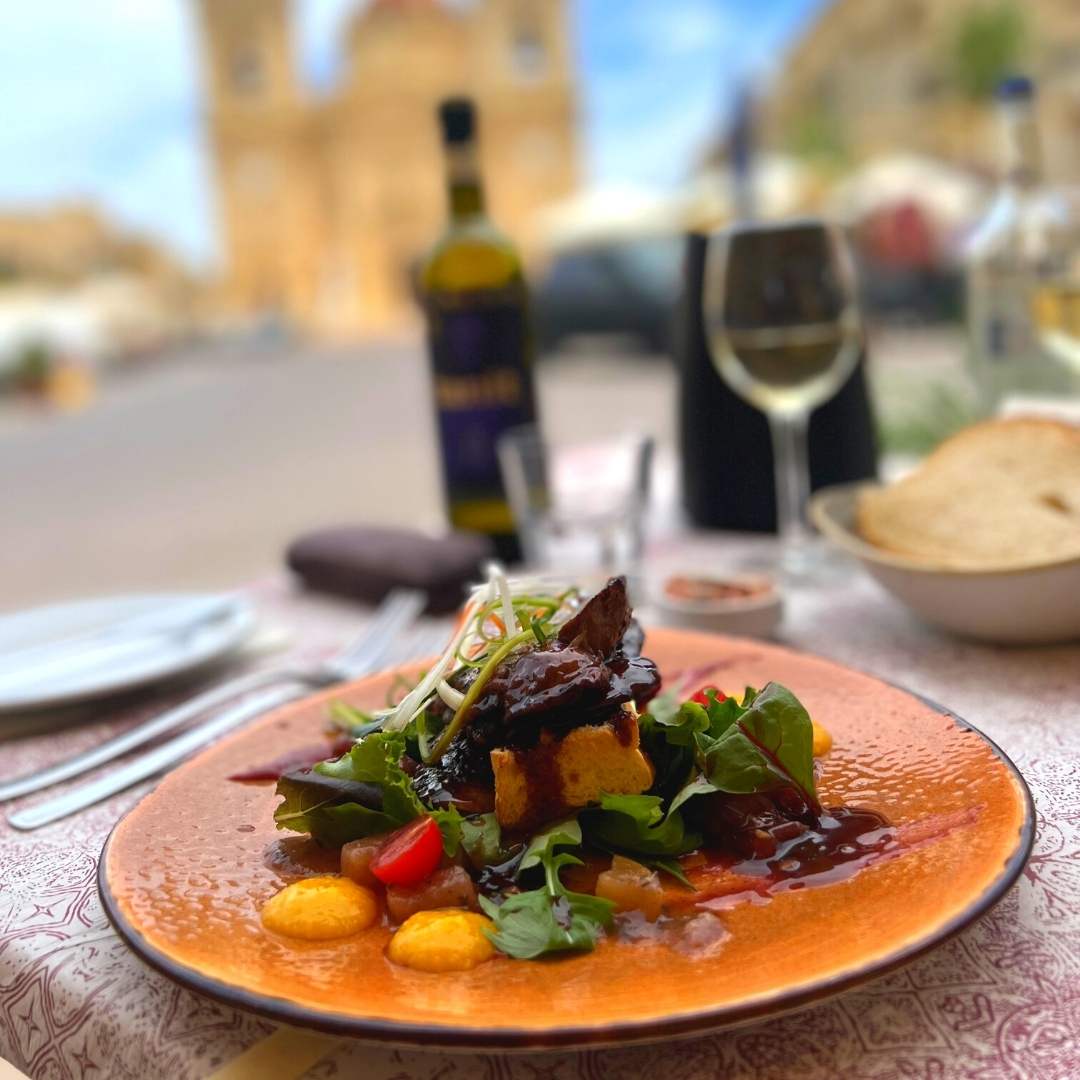 When the food arrived one word immediately sprang to mind. 'Colour!' Each and every plate that was served resulted in a clever combination of vibrancy and tincture coupled with the intense flavours one expects when eating out. And each and every one of those plates put a huge smile on my face.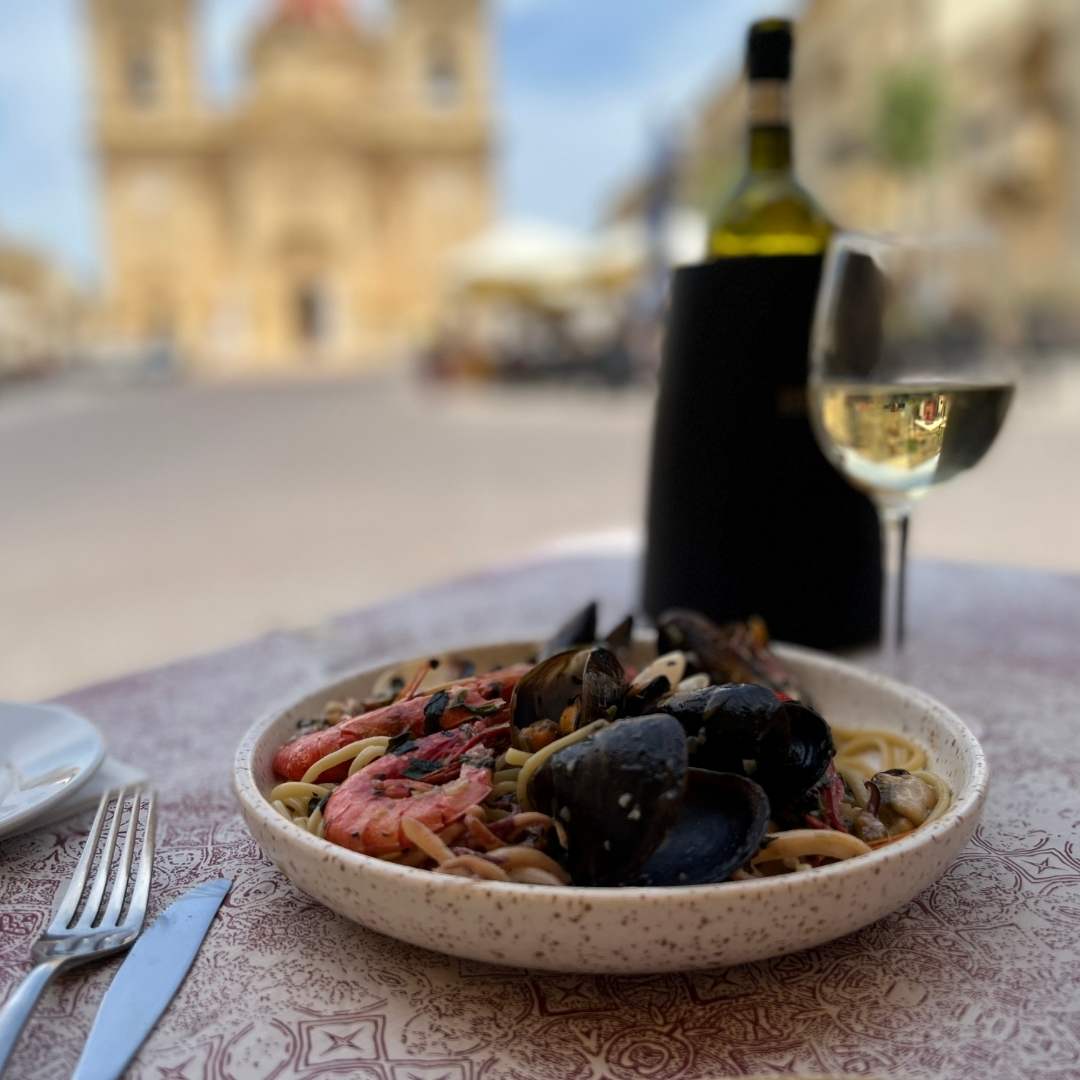 To follow, we sampled the pasta linguine, a perfect pairing with the Tanit. It was vivid, tasty and cooked to perfection and just enough was plated to not spoil what was to come.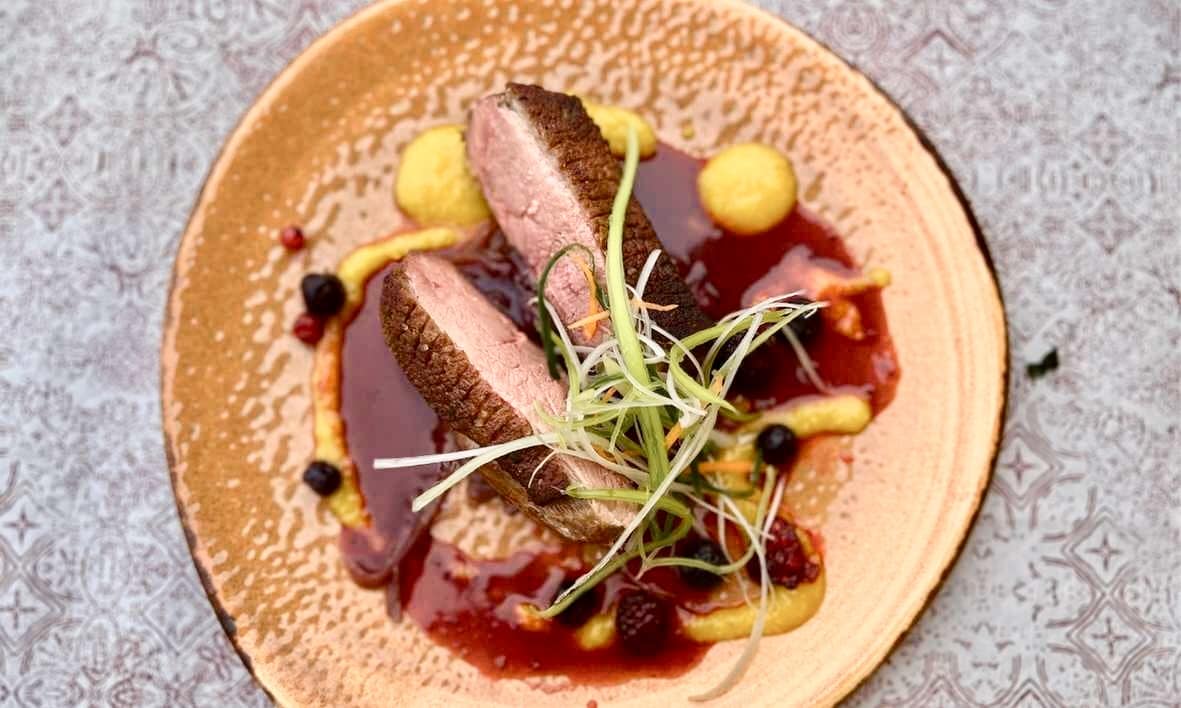 We tasted two main dishes. Duck with Mango Puree and a Sherry and Mixed Berry sauce along with the Sea Bream with Saffron Sauce, Prawns, Olive Paste, Pesto and Caponata. Beautifully presented, exquisitely cooked and the colours stood out a mile. Joy on a plate.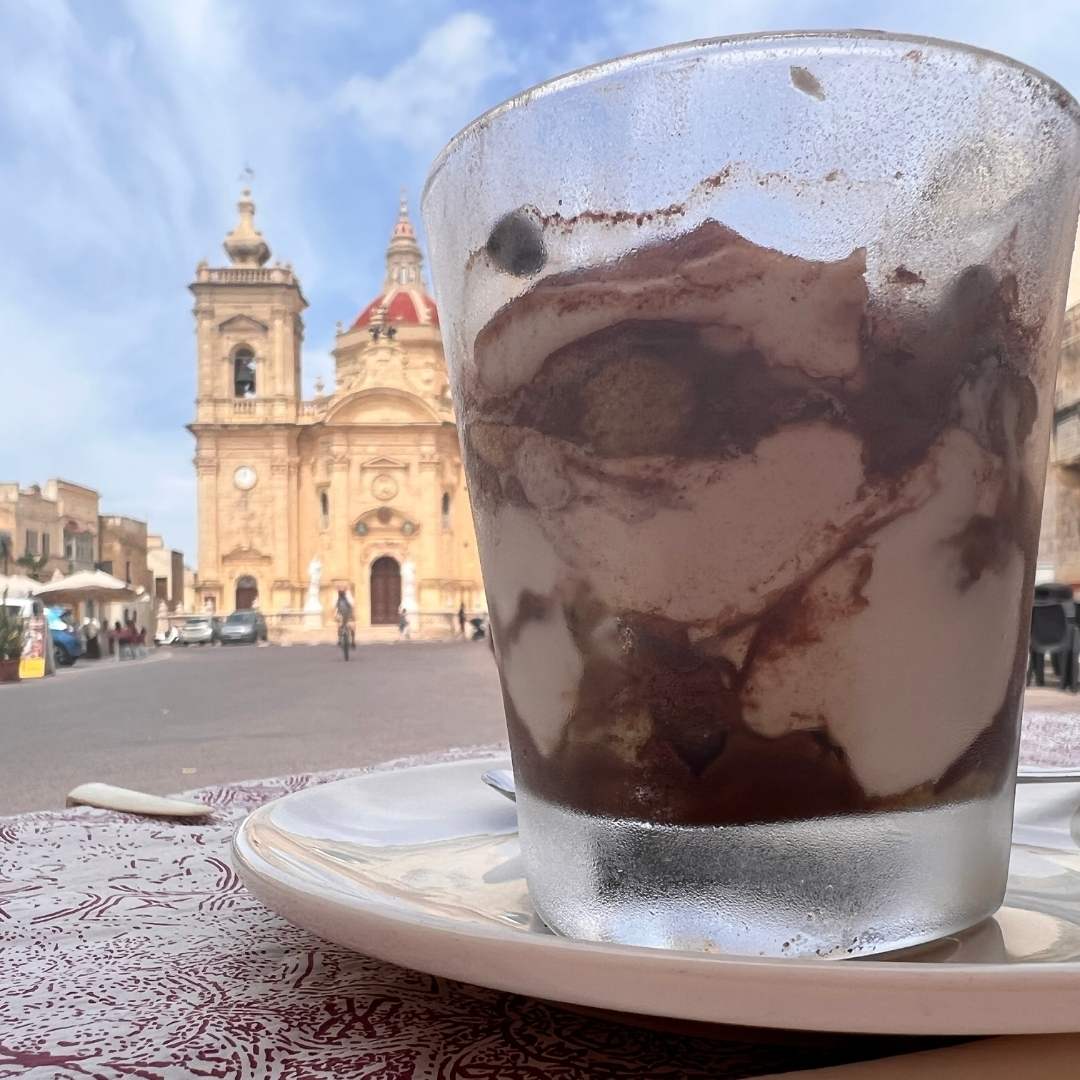 To finish, we shared their Tiramasu. A classic, but you can't argue, everyone makes it slightly differently. The desserts at Latini Restaurant are rather special. They are all handmade, with love by Rita, Bryan the chef's mother and my oh my! There is so much to choose from! They all sounded utterly delicious and I will most definitely be back to sample them all – one spoon at a time.
Latini is fantastic. A kaleidoscope of thrilling familiar Gozitan dishes cooked with heart. Kerbside dining has never felt or looked so good.
Watch: Ditch The Bikini And Eat At Latini
To book Latini Restaurant, get in touch via their listing.