Ever wondered how a past life can affect your present one? This one day retreat can do that and more.
5 Things I Learned From My Life Between Lives Retreat With Karin Laing at L'Gharix Temple.
Arriving at L'Gharix always gives me butterflies. I have come for a Life Between Lives One Day Retreat with Karin Laing. This place is a golden shrine and holds a particular calming and expansive energy. Upon walking down the winding lane, you are immediately aware of the vast, spacious surroundings. In fact, you wonder how this beautifully landscaped villa is not viewable from the street. Tucked away a stone's throw from the Ggjantia Temples, it clearly holds resonance to all that these wonderous Neolithic temples stand for.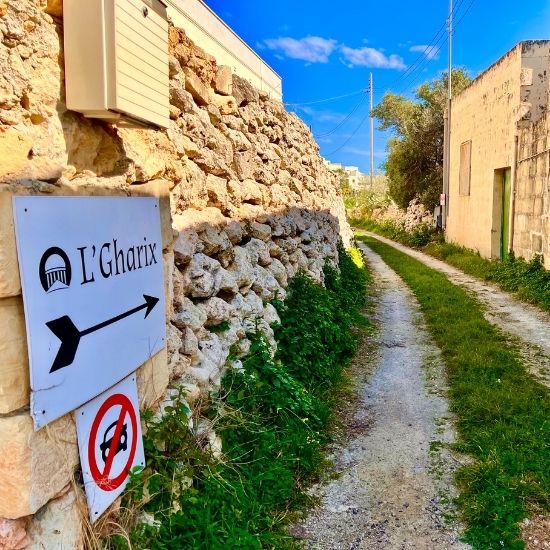 Karin Laing is an internationally certified Transpersonal Hypnotherapist and Past Life Regression Therapist. She runs the Karin Laing Holistic Academy and is a certified Master Trainer in Hypnosis and Regression Therapy IACT. She offers training and retreats at her stunning residence, L'Gharix Temple Retreat in wholesome service to all that are called.
So What is a Life Between Lives Retreat?
Life Between Lives (LBL) was pioneered by Dr. Michael Newton a highly acclaimed international spiritual regressionist who discovered how to enable people to access the wisdom of the spirit world and their higher guidance whilst living their lives. If compliant, this deep hypnotic process allows you to remember your experience of the afterlife and reconnects you with your true self and your guiding beings. It leads you to complete physical relaxation and a blissful state of expanded consciousness where hidden spiritual memories can be accessed.
Karin Laing is the only therapist in Gozo to offer this experience. Not only does she offer a Life Between Lives Retreat in Gozo, but she also offers training in the subject.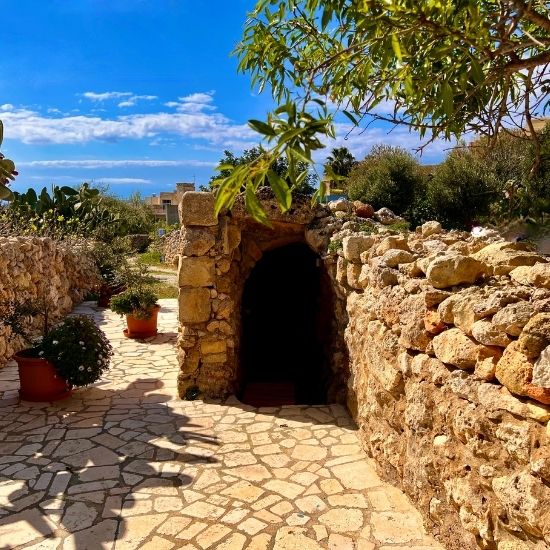 This session is built into a tailor-made, and highly unique one day retreat at L'Gharix which includes counsel, a beautiful lunch, tea and the treatment itself, and in total takes around 4-5 hours.
From my first experience of a Past Life Regression session with Karin, LBL goes much deeper. It's an opportunity to explore past lives and experience being between incarnations as you are entered into a dream state where you exist as a pure energy being. It's imperative, I found, that you are able to let go and relax so you can hear the personal wisdom that lies deep within you.
What Happens In The The Session?
The session was split into two parts each equally interesting. The first part was spent tenderly discussing where I was at in my life, how I was feeling and the kind of questions I would ask my guides when I met them. Together, Karin and I uncovered what were the burning questions in my heart were at that time and what I wanted to learn from the session.
This was truly enlightening, and although I consider myself to be rather 'in tune with the God in me, chatting through the stuff that often lies beneath our daily responsibilities and actions felt clearing and the more we explored certain questions, the more clarity I could gain on what I wanted to know.
Karin lead the questioning born from the many things I shared. And although answers were flooding in at this point, in a usual conversation the chimp brain is engaged and it is inevitable that some of those answers will not be rooted in soul. That is the very point, of an LBL session. It is about leaving the 'go to' answers, words even, that we would usually use to describe how we are feeling, the narratives, the usual way we would speak about ourselves, things, etc. and sharing without limitation. Said chimp brain would describe what we are doing or how we are feeling– and in turn, these over-used words would expose themselves time and again through actions, decisions and approaches in certain circumstances and situations in our lives and not perhaps, from a place of expansion.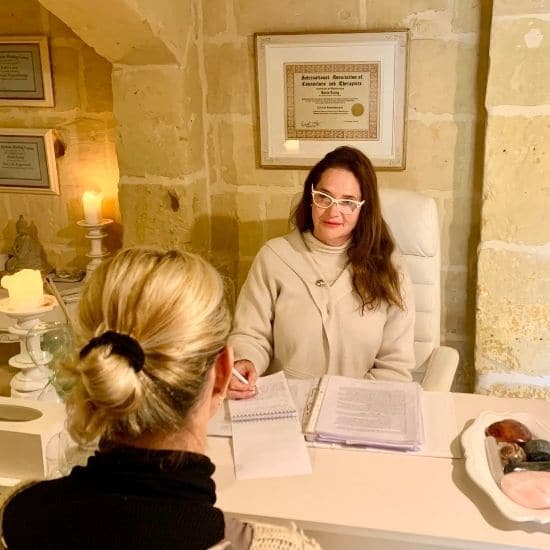 We leave that all behind and converse on a soul level. Yummy!
Karin expertly guided me to create solid questions out of our transparent discussion. Counsel is vital whichever way you choose to express yourself. We always need someone to hear us from a different place and it is always enlightening to hear what we have said, from someone else's point of view. Especially that of a trained therapist.
At this point, we pause for reflection and lunch. The food at L'Gharix Temple Retreat was a pleasant surprise. Beautifully nourishing and healthy, I was served a warming homemade Cauliflower soup to start, a delicious Quiche with a colourful Avocado, Strawberry, Spinach and Almond Salad accompanied by a glass of fresh Pineapple Juice. We sat under the idyllic blue pagoda on L'Gharix's stunning patio amongst the calming lavender, and vibrant climbing morning glory, clematis and wild plants as the birds romantically cheeped, the cats purred and the swimming pool glistened in the island's natural light. This time was precious and also gave me more time to feel out some last-minute questions for the forthcoming session.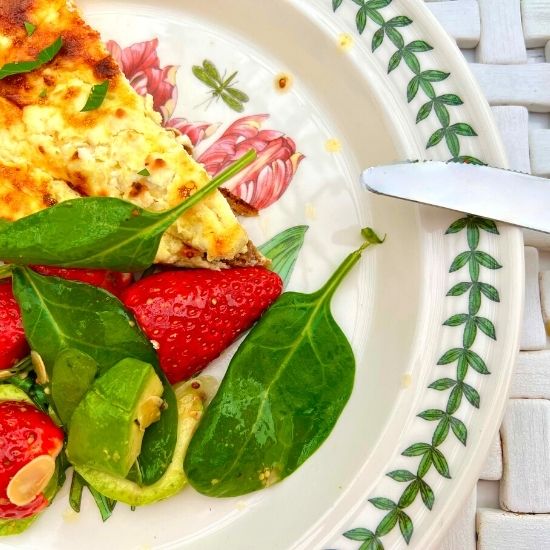 As I lay on the bed I felt sufficient and ready to lose myself in the forthcoming session. I was gently guided by Karin's calming voice and breathwork into a euphoric and happy dream state, completely aware of my surroundings and utterly relaxed, so much so I couldn't feel my body at all.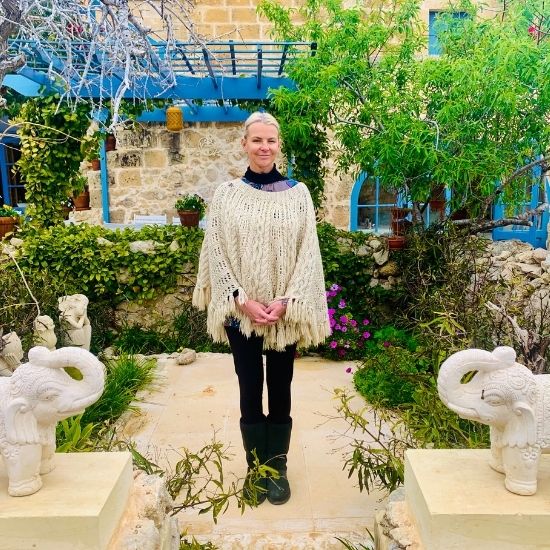 Karin lead me through the stages of the session so beautifully. I could feel the instant release of the chatter in my conscious mind and felt like I was truly unravelling, travelling into the realms of my subconscious. My ego was safely stored away and I allowed myself to unfurl.
During the session, I experienced a flurry of emotions from sadness through to joy and gained crucial insight into the questions that were noted within our morning conversation. Some of the words uttered made me weep, some made me laugh, and some were simply justification, but all were highly illuminating.
5 Things I Learned At My Life Between Lives Retreat.
1. Be open to any situation or circumstance the universe offers you.
There is something ultra special about handing yourself over to a trusted practitioner in a safe, secure and honest environment. Karen is truly comforting and really makes you feel heard. I was offered a blanket, a green tea and a cheeky slice of cheesecake as we were chatting through what to expect.
2. Allowing your soul to connect to the voice within is liberating.
Saying what is immediately on your mind within this particular environment is a direct green route to your soul speaking! Arguably, you don't need an LBL session to do that, but this process truly helps strengthen that synapse that so often gets forgotten.
3. Allowing yourself to dream is magical
In that silent, sacred space, the raw honesty offers a pathway to your dreams. Whether you have mastered your God-given right to manifest your desires, or you are still not quite there – this session can totally aid that journey and help you live a more fulfilled life with purpose.
4. We should never ignore the things we are naturally drawn to.
We all have certain things, circumstances, people, objects, environments etc. that we are naturally drawn to. For instance, I have always held a deep affinity for the black community in the 50s and 60s, with particular emphasis on the music of that time. As music does, it embodied a time of struggle and social injustice which has always moved me to the point of no return. This has tightly interwoven throughout my life through my childhood heroes, my career as a performer, in the stories I am connected to, the films I am moved by and so on. During my session, I had a glimpse of a small white church that looked like it sat in a southern US state, filled with joyful rejoicing but I could feel the sadness that lay beneath this soul-reviving practice.
5. We should honour retreat time for ourselves as a matter of necessity.
There are so many of us, myself included that put ourselves at the bottom of our own lists. We should most certainly be at the top and I hope that in my lifetime, I get to witness this happening more often. What do we need to embody before we realise that the balancing of our mental, emotional, physical and spiritual health is vital? It's what makes us who we are! And without nourishment in these areas, we are really no good to anyone else! Learning this lesson for me was a huge turning point in my own life. I call it a Metox – a detox for the soul and with love in action, am starting to offer this space out to those that wish to experience it. It challenges us all to make that commitment to ourselves and carve out necessary retreat time, so we can fill our cups up first. This session with Karin absolutely did that for me.
Experience A Life Between Lives Retreat At L'Gharix Temple With Karin Laing. This 1-day Retreat among others is held at L'Gharix Temple Retreat in Xaghra. Locals – I recommend booking this experience and if you are coming to Malta or Gozo on holiday, take a day for yourself with Karin. I can't recommend this session enough.