Hear How Sonia Xerri Lovingly Created The Institution That Is Zeppi's Pub In Qala.
Another Brick In The Wall
I arrive at the front door at Zeppi's bar in Qala, mid-Covid lockdown, to Sonia Xerri turning the place upside down. She was cleaning, stocking up, and moving things around in preparation for reopening. Spare time is usually non-existent running this prevalent little business and although the initial life-changing news of Corona ran through the walls like a live wire, she had been relishing the quiet time. It felt distinctly like she was preparing for a new chapter in the Zeppi's story, therefore, the perfect excuse for a super spring clean and to turn on a reminiscent tap.
In the 1880s, Zeppi's was once a hostel for the Conception Church in St Josephs' Square which Sonia considers to be the heart of the community for the elderly. Her grandmother (or Aunt – the memory is vague) owned it in the late nineteen twenties and sold it for a small sum to a magistrate called Salvu Attard. He was apparently, quite the star. So much so that Qala Council published a book about his life in 2010. The live music used to be performed upstairs back then and the audience were downstairs, much like an old 18th century music hall and it's been said Attard used to play his piano to the policemen on the second floor during the second world war. It has also been whispered that his presence has been felt by many of the staff in Zeppi's to this day.
Sonia took over the running of Zeppi's on 23rd April 2006 after a backpacking stint across Europe and beyond had come to a natural halt. "I had just moved back from Malta. I was a kid." she said, as she rolled her eyes. At that time, it was a football club and the owner eventually realised that it was not part of his calling and hit his wall feeling disrespected and bored. She smiled and began to dramatize; "He slammed the door, threw the keys at me and said, 'There – you run it!'. It was a Thursday." she sharply recollects.
Inheriting outdated booze, hundreds of paper coffee cups, eleven drinks glasses, a subsiding façade full of nesting birds and some unwanted pests she quickly got to work. Much the same as right now, here with me. Cleaning, moving things around, preparing for a new chapter in Zeppi's life. I imagined her excitement back then, whilst chatting now, laughing and smoking her cigarette.
Soon after she replaced the paper cups with drinking glasses, plugged in her beloved Laney and turned on Pink Floyds' 'Money' as loud as it could go before selling her first vodka bitter lemon.
Time passed and she fixed the roof, upgraded the electrics, replaced the traditional old rusted iron bars and started to fall in love with her newfound path. She confessed not to know much at that time, but she knew she wanted something different and as a deep lover of music, she knew this was going to be at the very heart of Zeppi's. Unsurprisingly Keith Anthony was the first performer to play along with the many choir members, pianists and musicians deriving from the church. Every musician in Gozo sprang from being in the choir. They had nowhere else to play apart from the band clubs and so Sonia provided them with an all-important and necessary platform.
She then speaks of her late soulmate Alex and unquestionably, his influence and support has been an essential part of the Zeppi's story and an even bigger part of her own. She had goosebumps. "The music used to be upstairs" she recalls. "Alex was fundamental to the music we had. The backbone in fact. We had Kiki Dee in here once, and he brought Mick Taylor from The Rolling Stones, Maltese rocker Marc Storace…so many…I can't remember. We held the wrap party for the film 'By The Sea. It was Halloween and we threw a big costume party. I think I was the only one on Gozo that wasn't in that movie." she giggles.
It has not all been plain sailing for this passionate homegirl. She's had to learn to fight with the big boys. From noise complaints and court judgements (she's never lost one) to the extortionate electric bills and license fees. From water leaks to competitor envy, she has suffered. But her superpowers are passion and grace and she has it in spades. A driver for positive change she enables the music to go on, fighting its' corner every step of the way. It is crystal clear she has absolutely no interest in her adversaries and that her focus has always been on keeping her customers happy and the artists happier.
Contrastingly there have been many who have lent more than a helping hand to the success of Zeppi's, whether physically, mentally or financially. From paying electric bills to cooking her dinner, "There's always someone ready to do something kind.' She recounts. And it is evident that for this she will be eternally grateful.
"From the minute you open the door in the morning, there is someone ready to come in. Always – it's a flow." she smiles. Whether someone wants coffee or something stronger, to play, rehearse or listen to music, eat cake or perhaps needs directions or the loo, Sonia has never spent five minutes alone in the bar during opening hours. The older generation called it 'the showcase', which traditionally and unsurprisingly, relates to an 'open house'. The building has five doors that were once all consistently open, so its transparent, warm and welcoming energy would flood in and out since its' formation and undoubtedly matches her own.
Sealed With A Kiss And A Rainbow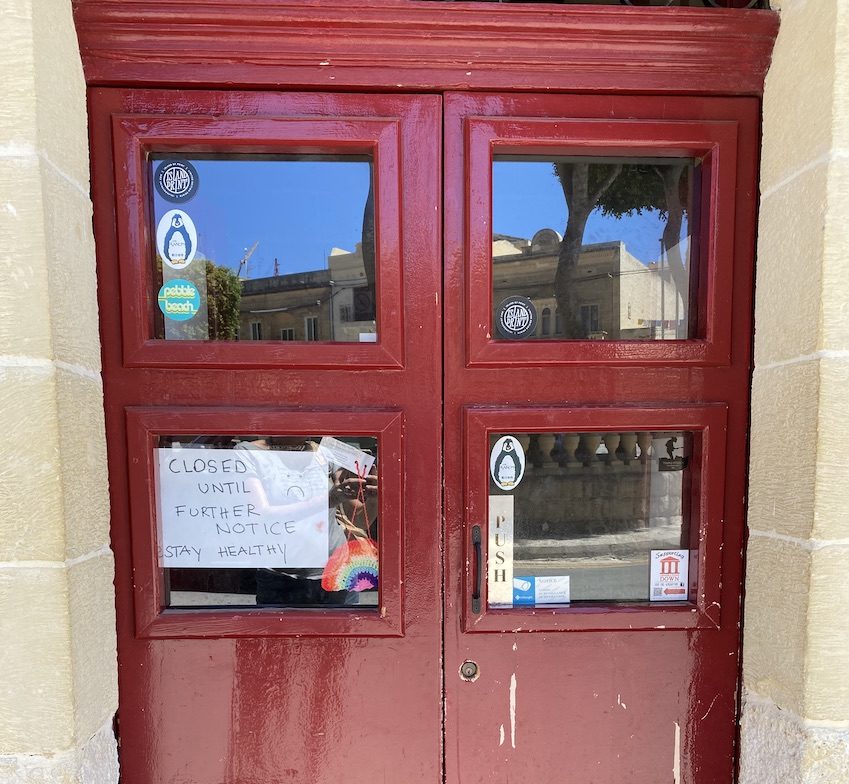 She was one of the first to close her doors when she heard the news about Covid19. She wasn't prepared for her mum to serve a 50-cent coffee at the expense of her life. The news hit all the staff hard. There were tears, and vodka shots as both Sonia and Gary recounted its surrealness – the immediate fear, the worry and then of course, how it would affect their regimented lives and of course, the much-loved Zeppi's community.
A month passed and she was having laughs with her mum, reminiscing and digging through old photos, diaries and letters from friends from the nineties. Remembering old flames, she jokes, "most would have been locked up or killed by their wives by now."' She is thankful to have had that time now. Excited to find photographs of her travels and she had almost forgotten she'd had three other addresses; Paris, London and New York (and everywhere in between!) But…Qala, her hometown and of course, Zeppi's are clearly and deeply set in her bones.
"The energy in here doesn't want to be on its own" she emulates. "Blink the cat knows." She and Blink have a rather special relationship, they understand each other. During the time of closure, she occasionally slept in the bar with the cat (and her music) which like for many others, caused profound internal exploration. It also offered her much-needed balance.
I get it. The walls at Zeppi's have no doubt witnessed rants and raves. They speak volumes yet we can only really imagine what they have absorbed over the years. She points towards the right-hand side of the bar where the staff enter. "This corner has a particular energy," she says. Her vibes have deepened. "This is my favourite wall." She pauses to contemplate for a while and it's clear that this archaic, limestone structure wholly represents Zeppi's in its entirety, to her. This particular wall is where the workings of Zeppi's exist. Where her customers wait to be served or hang out for a chat. It is a support for her when she cries, a punching bag for when she's angry (ouch), and a resting place for when she's tired. If you look closely, you can see it's had more handling than anywhere else in the building, and her mum never misses an opportunity to tell her to clean it. "This is Zeppi's for me. Right here." She says tenderly.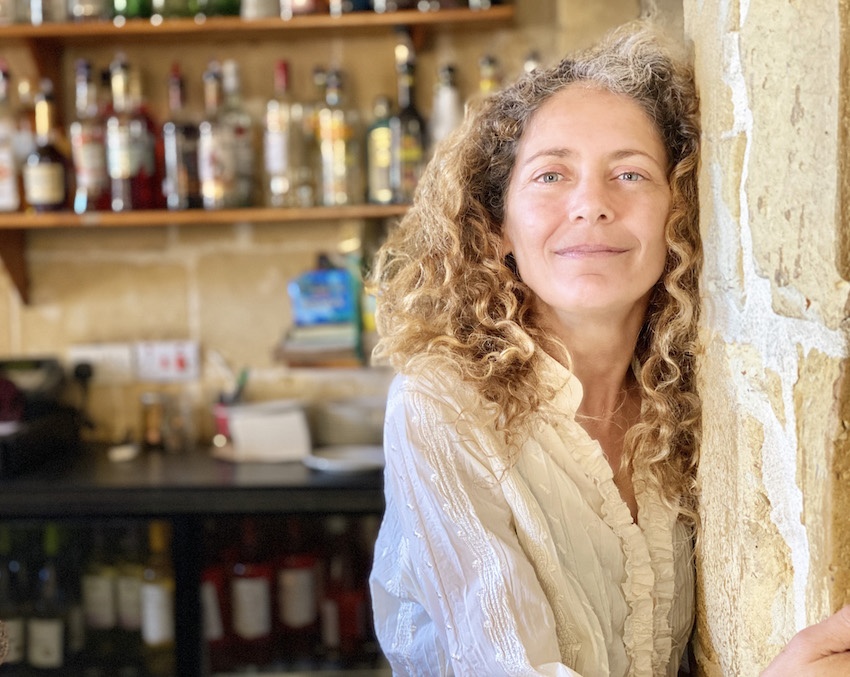 Raising the Bar And Singing from the rooftops
This interview could have lasted months and leaving was becoming more and more difficult. I felt like I'd opened up a can of nostalgic worms – and there was so much more to explore. As I sat listening to story after story, I felt the magnetizing energy that Zeppi's has always had for me, since the moment I stepped foot in the door. It was alive and buzzing through my skin. It knew stuff and I knew it knew stuff – if you know what I mean…
We're not too dissimilar, Sonia and I. Soul contracts perhaps. From reigniting an old historic building and bringing music into the hearts of many (not to mention being visited by the spirits of the buildings we inhabited) to nurturing and fighting for what we believe in and learning to hold the space amongst men. We're both fed by people and understand the fundamental fact that music connects people and makes them happy. And we wholeheartedly believe that peoples' happiness matters.
What was most interesting about our time together, was that we talked about having to connect in new ways. She was adamant that respecting the rules and the artists were paramount in her future plight as she pondered about the future of Zeppi's.
That period was absolutely a time for healing and tying up loose ends. For reminiscing and leaving what no longer serves behind. It was a time for recounting stories and reimagining her fighting spirit. A necessary pause for her tired bones to find what they need to move away from defeat into conquer once more.
Nowadays, she hopes that patrons respect the authorities and her own rules so she can continue to serve her community. The music has been recently performed on the balcony like in the old days and it's rather sweet. Connecting differently. Together, differently.
Sonia Xerri is so much more than a landlady and a million times more important than a host. She's a silent compare, a parish anchor and a patron of joy. She's our guardian musical angel, live music defender and talent protector. Her support of the arts and her sole contribution to the music scene on Gozo is essential and it represents the hard-working, talented and innovative established and emerging bands on this island. From caring for friends and family to her oldest patron at 97 (who consequently remembers the picture of Saint Joseph on Zeppi's wall which prevents her from moving it) her familiarity and kindness is vibrant and her boundless energy a necessity. Gozo is lucky to have kept hold of her.
And we are lucky to have Zeppi's. A Gozitan institution with its' bustling atmosphere, ruby red lights, sticky floor and brilliant music it offers us nightly. I leave her tenderly potting geraniums. "In a month, they will hang beautifully for all in the square to enjoy." She says with wide eyes.
As the song states, and if the bricks of 'the wall' really refer to events in our lives, Zeppi's has plenty of life in it yet. A new era has begun. A fresh epoch where once again, the walls will consume what they can, and we will navigate our way through to a brand new way of doing things. Yes, uncertainty reigns but what we do know is, that there is always another brick in the wall to overcome and as long as Sonia is still breathing, and the walls of Zeppi's are still standing, an unimaginable and brighter future awaits.
Zeppi's is closed on Mondays. It has a live jam every Sunday and live music from Wednesday to Saturday. Check out more info about Zepp's Pub here.