It's impossible to talk about Gozos' restaurant scene without mentioning Country Terrace. It is part of Gozo's' gastronomic infrastructure.
GITH are pleased to welcome this outstanding establishment to our ever-growing PR roster.
Country Terrace stands steadfast and bountiful, overlooking the islands archipelago in amongst a vibrant and tropical paradise of cactus, aloe, ferns, and palms. Oceanside, it creates part of Gozo's unique and inviting coastal terrain whilst from the island itself, it silently observes the daily happenings of the iconic and bustling port. Step inside though, and this restaurant is fervently tending to a savvy dining crowd, where one can immerse in an inviting Mediterranean menu, day to night, all with a backdrop of a bona fide cinematic landscape.
Everyone has a story about Country Terrace. A reference, testimonial, a favourite dish, and more importantly, a memory, and this is hardly surprising, as owner Joseph has been running it for fifteen years. The building itself actually dates back to the sixteenth century and in the seventies, it finally became a restaurant and club. Therefore we can safely say, that when it comes to dining in Gozo – you certainly have not had the full island gastronomic and historic experience without relaxing on this matchless terrace, sampling a dish from their A La Carte menu, sipping on a glass of wine from their award-winning cellar and taking in this exceptional panorama.
I've been in the game long enough to know that restaurants do not last this long without being exceptional and that simply has to result in delivering much more than just a knockout view. In fact, it's sometimes the very thing that tends to allow eateries to slack when it comes to food quality and delivery – secretly hoping the view will save them from a fate worse than death. Luckily this is nowhere near the case at Country Terrace.
On a small island, enticing Gozo locals and tourists alike is something Country Terrace has consistently achieved and pleasing customers is clearly the restaurant's highest priority. Joseph is a front of house aficionado with an eye for detail and extremely high standards and ensures guests are instantly welcomed upon arrival. He is also a chef and wine connoisseur in his own right, running an extremely tight ship and passing his expertise and knowledge down through his staff to the very last details. A captivating combination when it comes to wanting to visit a restaurant time and time again.
What makes you return to a restaurant? A scrumptious starter, a mouth-watering main or to-die-for dessert? or perhaps you just can't beat the service or that laissez-faire atmosphere that helps you to relax and unwind?
We popped along on a sunny afternoon for lunch and was served sensational soul-filling dishes from their A La Carte Menu paired with two exquisite wines from New Zealand and Australia.
Our first dish was the Crudo di Gamberi; fresh raw Prawns with Dill, Lemon and olive oil. We also sampled the Trio of Tartar. This tasty combination of finely cut Tuna, Salmon, and Local Prawns were served with avocado and Gozo Extra Virgin Olive Oil. We loved the presentation. Assaggi (meaning little tasters in case you were wondering) were each delicately plated on wooden boards and the prawns on their own cocktail spoons. We equally loved the way in which we could build your own bites – making them slightly different each time. Mixing in the failsafe flavours of Soy, Ginger, Seaweed, Wasabi and Lemon along with these succulent tartares is always a good choice – whilst bringing in the pretty, slightly salted potato garnish gave it that all-important crunch.
Light Fish Delicacies and vibrant colous From Country Terrace Restaurant, Gozo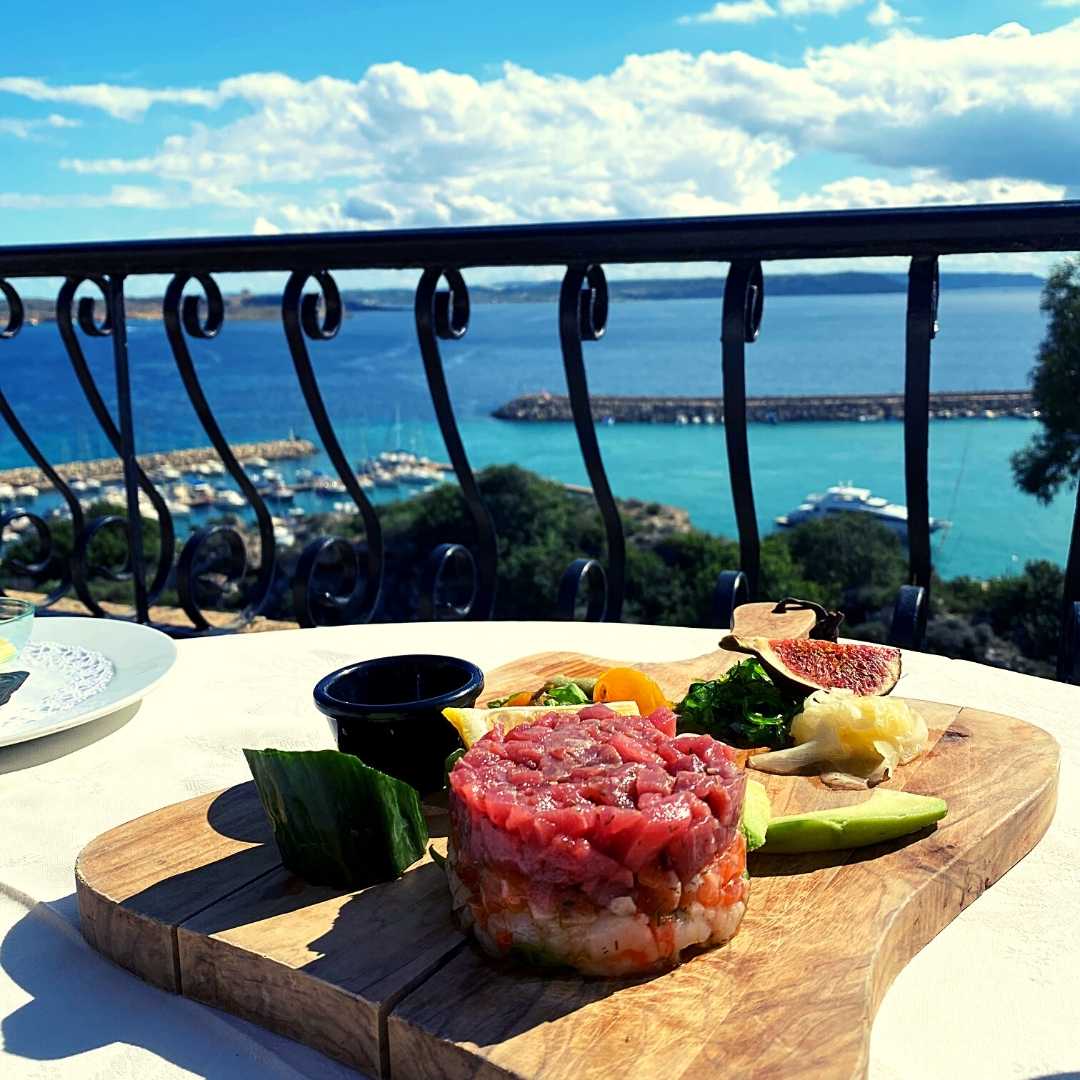 Next on the menu we sampled the Fresh Mussels, flamed with Cognac, Sauvignon Blanc, Herbs, Garlic, freshly cut Tomatoes and Shallots and finished in a reduction of Lobster Bisque.
Mmmmmmm!
The mussels were cooked beautifully and soaked in a wonderfully nurtured and extremely tasty lobster bisque. Full of rich flavour and it made a super sharing course. These delicate fish courses were perfectly paired with a sensational Sauvignon Blanc. 'Villa Maria' to be exact. A superbly fragrant mix of pineapple, citrus and passion fruit notes that was so ridiculously refreshing. I could even taste some pepper in there too…I might go so far as to say that it was one of the best white wines I have tasted for a while.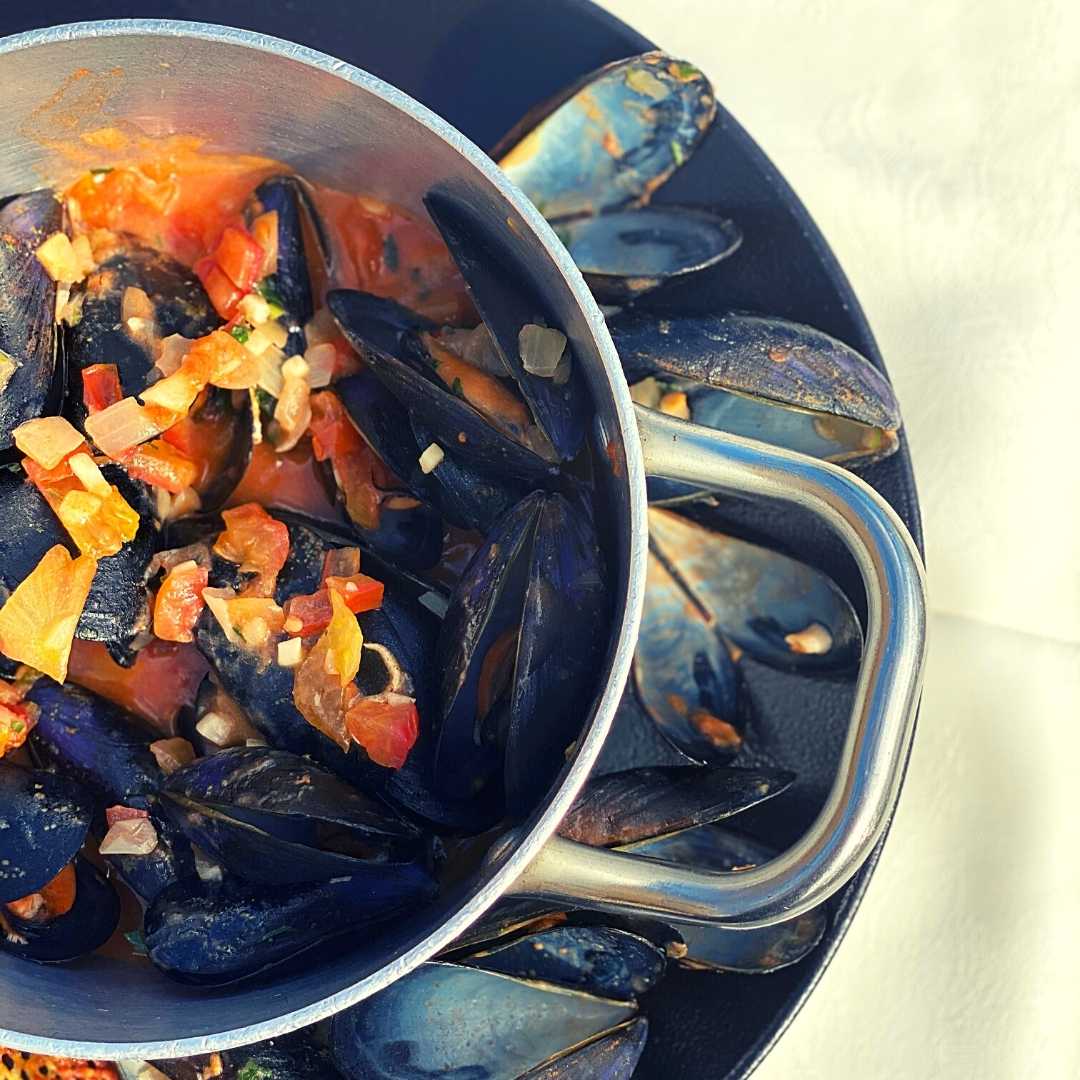 We were then treated to the Panciotti con cappesante e gamberi from the daily specials menu. Freshly made Ravioli filled with a blend of Scallops, Prawn, Garlic & Herbs served with fresh Cherry Tomatoes and Calamari. The pasta was perfectly al dente and the filling full of flavour. This is one of the many dishes I would certainly return for, especially now the colder weather is upon us. It was like a warm hug on a plate. I absolutely loved it.
As a meat-eater, when someone mentioned Fassona Piemontese one lights up. The cows, native to the Piedmont region in Italy, are fed on hay and grains so their meat is low in cholesterol and rich in vitamin B (an antioxidant that preserves its' characteristically intense red color). They are known to yield a lot of meat with a high proportion of prime cuts and has recently become a Slow Food product and I was more than happy to learn that Country Terrace are serving this.
The Beef Fillet really is something. Seared on a grill for just the right amount of time, it melted in the mouth whilst giving off that flamed flavour and was complemented by a tangy mushroom and peppercorn sauce.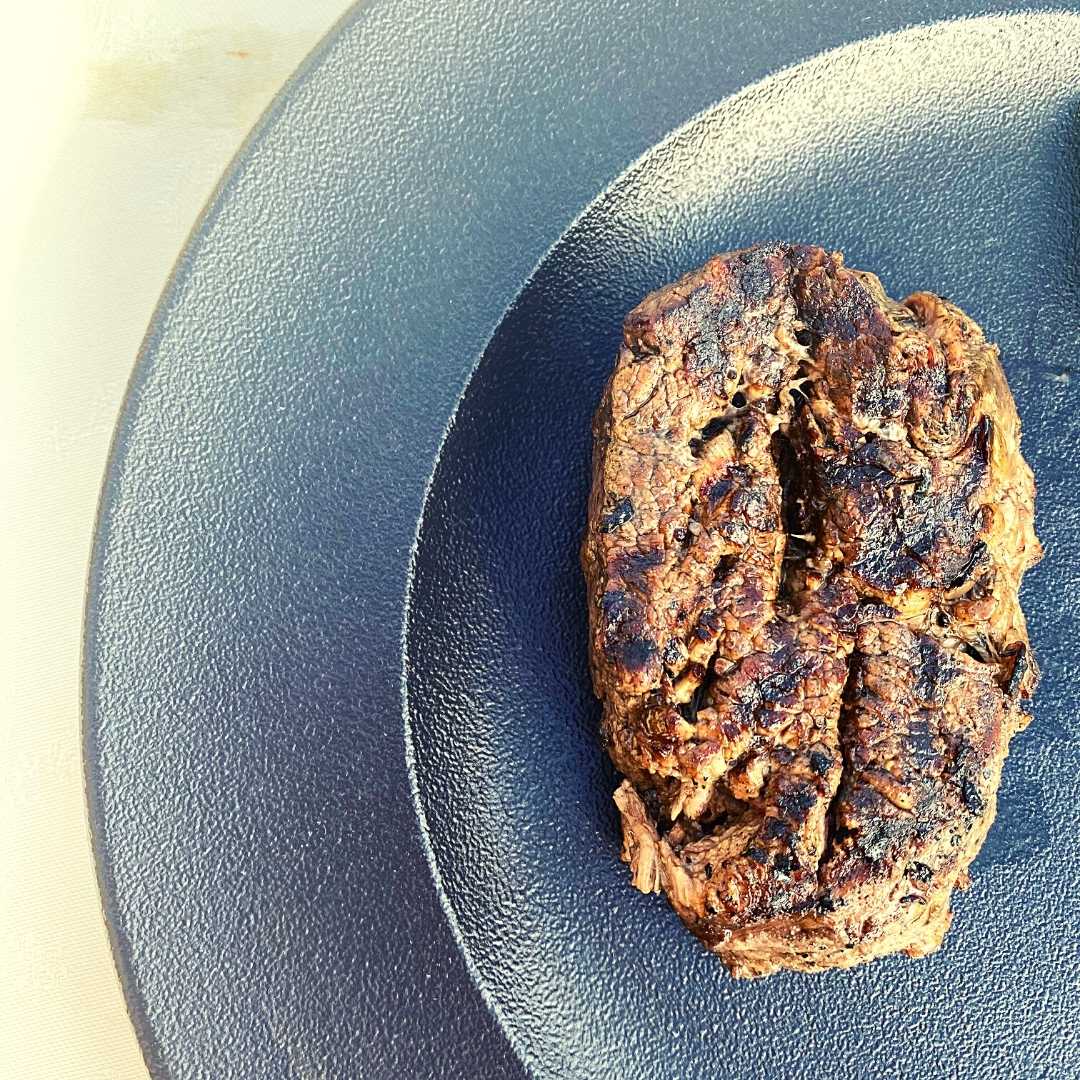 Equally, an AAA graded Black Angus flank steak will get any carnivore dribbling, and Country Terrace's Beef 'Tagliata' is exceptional and fittingly the star of the show on this particular plate, served simply with shavings of Parmigiano & Rucola.
Our meat courses were accompanied by an Australian Shiraz from the Jim Barry winery in Clare Hill. 'The Lodge Hill' (2015) is an elegant, fruity red with smooth tannins, dominated by a lively burst of berry that pays perfect tribute to these earthy rich and meaty flavours.
Harmonious!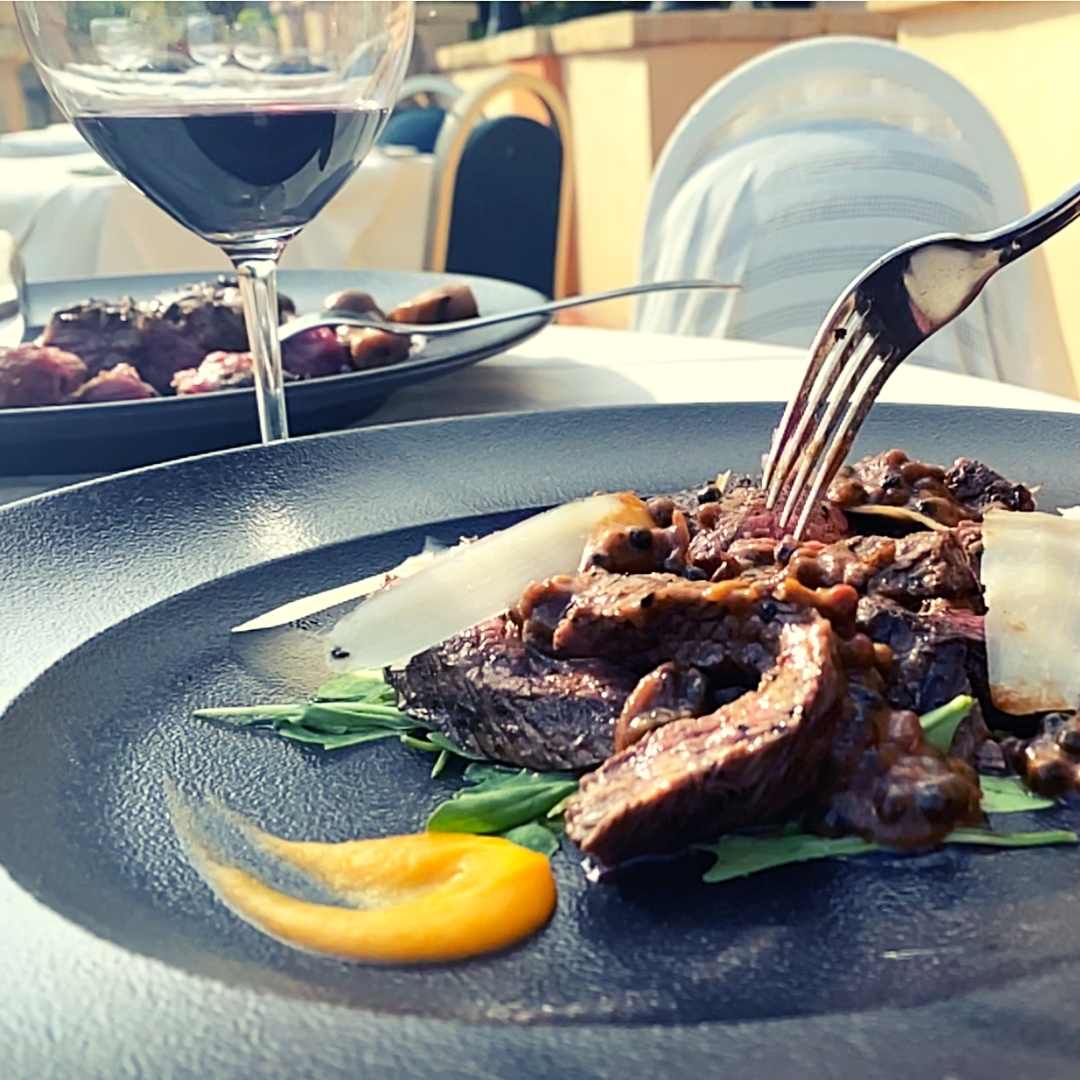 Whether it's your first visit to Country Terrace, or you have lost count on how many times you have been… you will experience so much more than an exceptional view. You will encounter incomparable ingredients, masterfully prepared to engage all senses. You will feel a connection to real, honest food and encounter an authentic and loyal service and no doubt learn a thing or two. And as in the infamous Heston Blumenthal quote above, Country Terrace not only ticks these essential boxes but ensures you find reasons to be in the moment and make every day an occasion.
Go get your soul fuel at Country Terrace.
Triq Iz Zewwieqa, Għajnsielem GSM 1433.
Open Tuesday to Sunday for lunch (12-2.30pm) and Dinner (6pm – 10pm).
Book online, Call 21550248 or Email: info@country-terrace.com