Treat Yourself To A Matchless Dining Experience In One Of Gozo's Most Exclusive Eateries.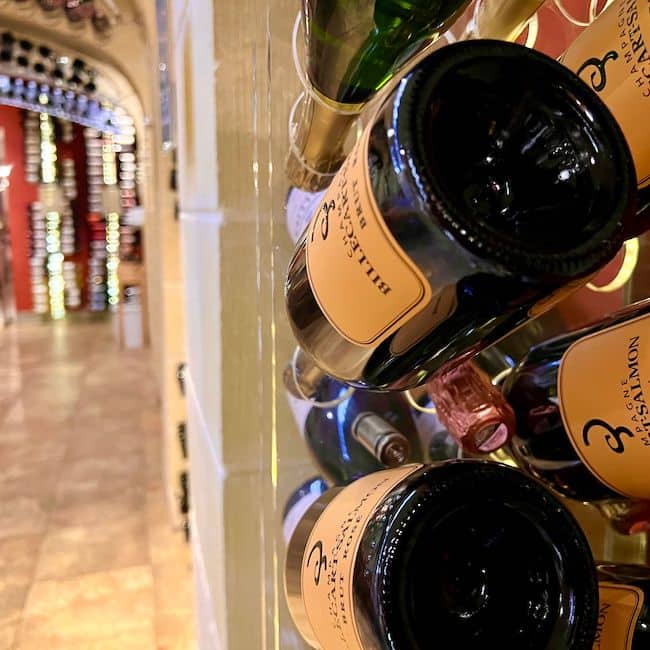 Dining in Gozo doesn't get better than arriving at Vini e Capricci's Vinoteca for an evening meal from their À la Carte Menu. As we sipped our glass of crispy cool prosecco and browsed what was on offer, it was pretty hard to choose due to the slick variety of dishes.
We all know that Vini e Capricci is a true gastonomic destination in Gozo. You can visit their Cafe and Deli and take home some of the finest ingredients and produce the island has to offer, but you can also dine outside or sample one of their infamous cocktails…but tonight it was all about going inside. We were seated at their large wooden table in the centre of the Cantina surrounded by some of the best wines money can buy. It felt special.
Antipasti – A La Carte Dining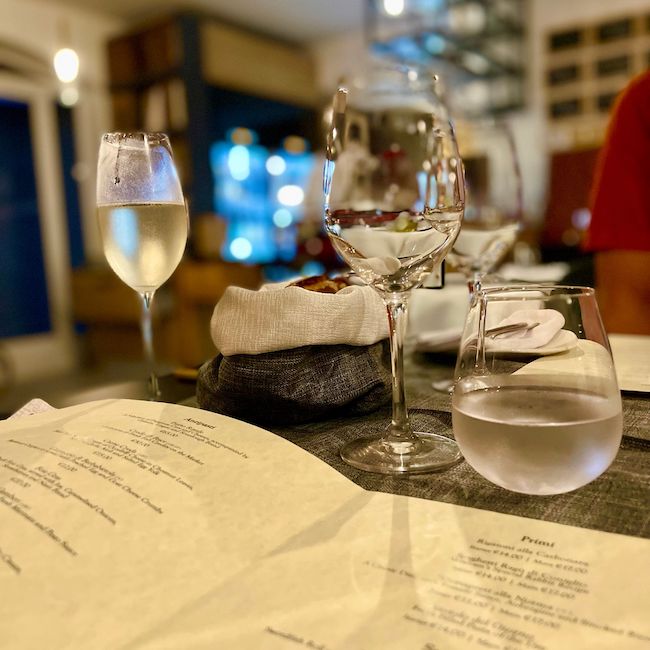 We started with an amuse bouche consisting of light and crunchy Crostini, Butter and Baba Ganoush. It melted in the mouth and certainly whet our appetites.
To start, we opted for Carne Cruda Beef Tartare with Cream of Occelli Cheese in Chestnut Leaves, Roasted Garlic Alioli and Salted Egg Yolk and the Foie Gras, served with Jus, Caramelised Onions, Strawberries and Naan Bread. Mesmerising combinations with a few surprises that truly worked and it was plated to perfection.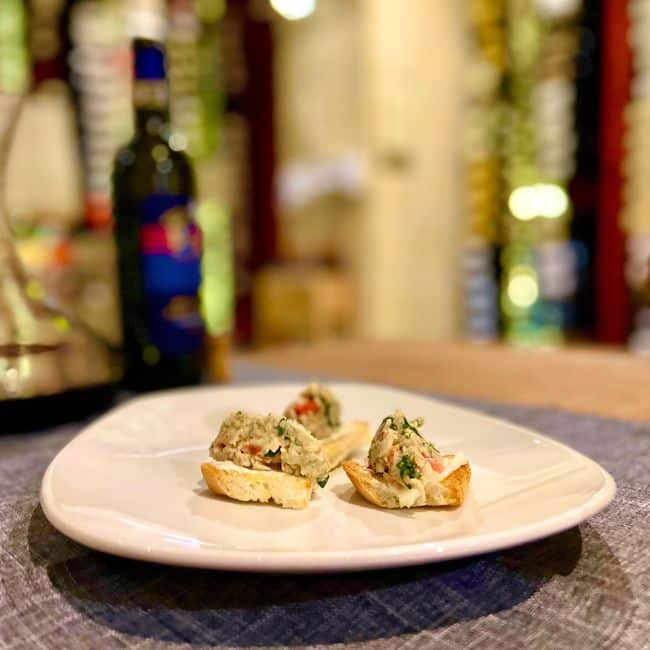 Primi – À la Carte Dining
To save room for our main dish, we opted to share the Fresh Linguine Pasta with Lobster from their daily specials. The pasta was perfectly al dente, and full of flavour from the lobster, which was cooked to perfection.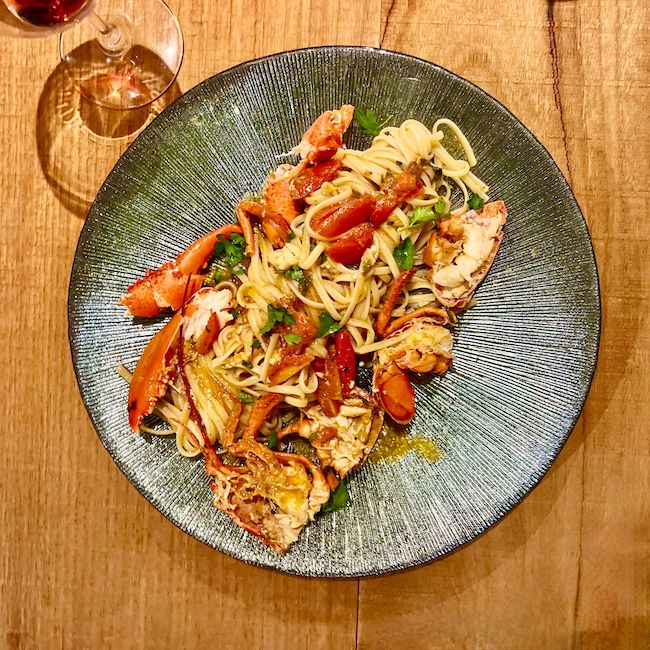 One can only imagine the wine list in such a place as Vini's and when our lovely waiter placed it in my hands, I could only giggle. Where do we start? How? Where? What? I'm not a complete novice when it comes to vino, but this was on another level! The book is a work of art in itself and so very interesting to read. I will no longer go anywhere else when buying wine on Gozo Island.
Luckily, staff are fueled with knowledge of what's on offer. And with a wink and a smile, we were guided in the right direction from start to finish. We splashed out on a bottle of Brunello di Montalcino Docg (2016) from the Donatella Cinelli Colombini Winery. Produced in Montalcino, (this I know is the best place in the world to grow the Sangiovese grape). Well, it was our anniversary and we were in such a special place – so the husband had no choice!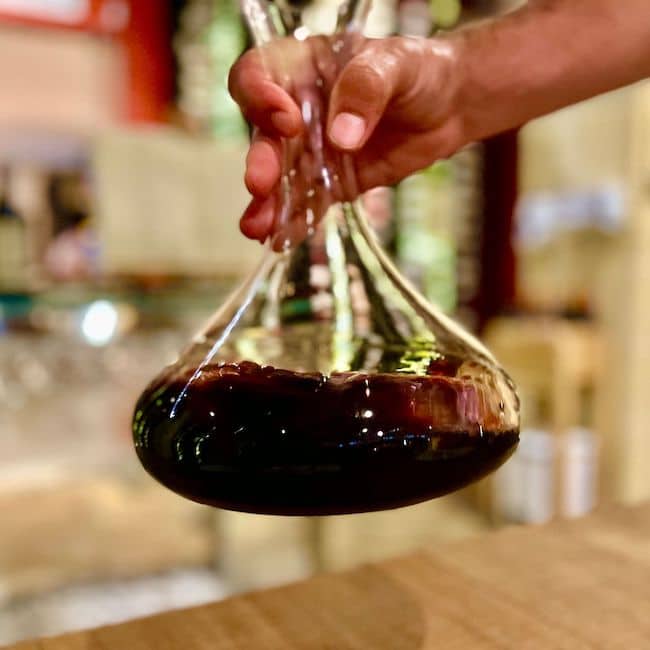 For Secondi we chose a vegetarian dish, the Sformato di Zucchini, Zucchini Soufflé with Vegetable Curry and Basmati Rice and by a mile, the star of the show with all the theatre a girl can ask for, the Agnello sull' Etna, Lamb French Rack served blue on hot lava stone to be cooked by us at the table so we get it just the way we like it. Served with Mint Jus, Spinach Dumplings and Seasonal Vegetables. Wow – what a spectacle! And simply delicious.
Check the video below to witness the star of the show!
Thinking nothing could surpass the lamb, when dessert arrived, we were proved wrong. We chose the Panna Cotta al Cocco, Coconut Pannacotta with Passionfruit Sauce and Ginger Crumble and the simply mouthwatering Bunet alla Piemontese. Piemontese Pudding with Cacao, Pasticceria Berta Ameretti and Di Nero Crema al Caffè. Staff report it's their most popular dessert choice and without doubt, I'd love to freeze a years worth and have them on tap at home.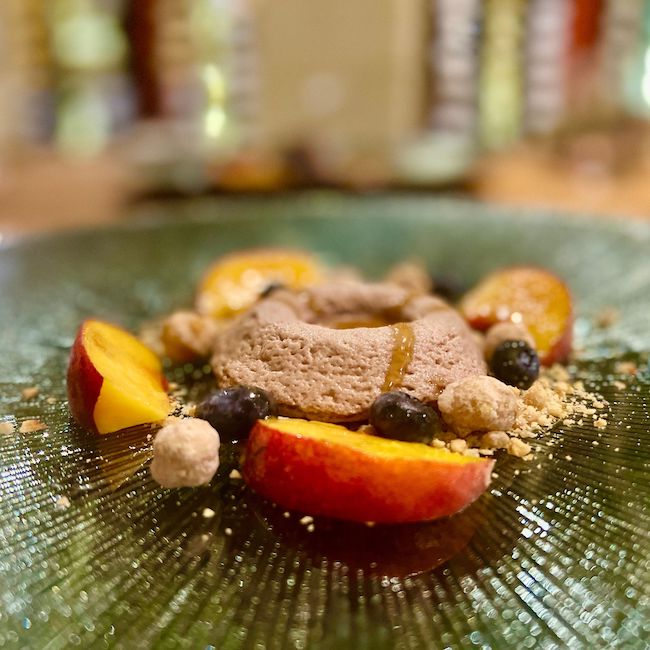 There were simply no faults to this experience. I left feeling inspired, super-special and pleasantly full! It's no longer Gozo's best-kept secret. Book your table in the Vinoteca ahead of time!
Watch: À la Carte Dining at Vini e Capricci by Abraham's