Take a trip to Victoria, Gozo and visit Pio's Antique Shop.
Meet two Gozitan sisters and their perpetual love for antiques in Gozo.
There's been many a famous sister act to grab our attention through the years from the Bronte's to the Middletons and everyone in between. Anyone who has a sister knows that no one's ever going to love and support you as much as your sister does and this is truly the case with sisters Natalie and Maria from Pio's Antique Shop in Gozo. Working together daily, their bond is a strong one and their ability to spot a bargain is clearly second to none.
These girls can mostly be found sitting outside their antique shop in Savina Square. Certainly not the stereotypical antique dealers the mind might conjure up, but dedicated dealers they are. They get up at 6 am to open the shop at 7.30 am every day except Sundays. They spend hours creating the shop's display bringing the most desirable products out onto the street for all to see. You can also view hundreds of products hanging from the walls opposite – then they put it all away again a few hours later. The girls man the shop until 12.30 and are on call most afternoons for house clearances, valuing, and negotiations.
That is pure devotion.
Pio's Antique shop in Gozo has been in the family for over seventy years. The third generation runners took over in 2005 after their parents and grandparents. The girl's father Pio, still helps out at the shop at the age of 72 and is proud as punch the girls wanted to follow in his footsteps.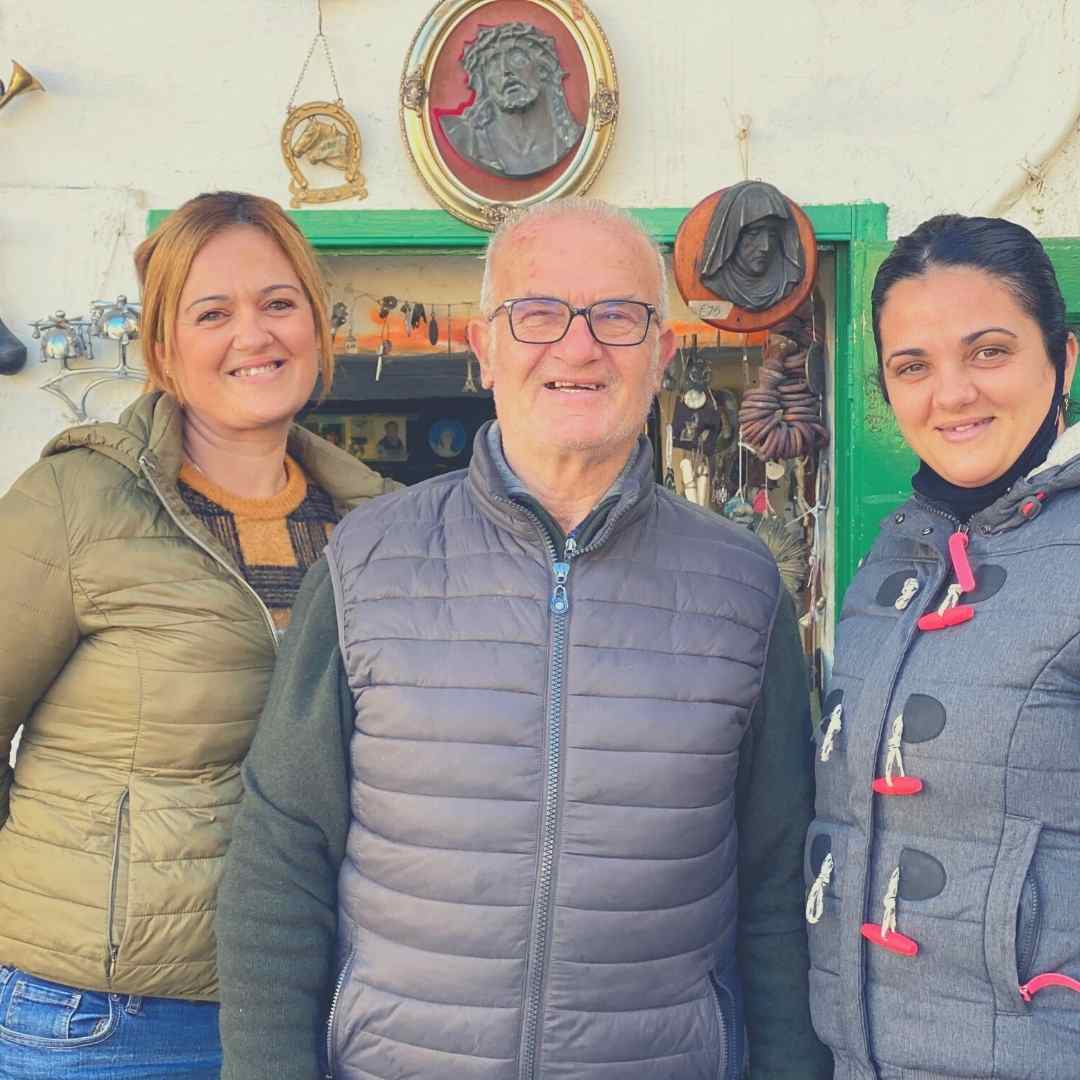 But this is more than just a shop. It's a must-visit Gozo landmark. And one of the most delightful places to walk past in Gozo's main city, Victoria. Akin to wandering the lanes in Brighton or the long narrow streets of Navigli in Milan. I for one always make a point to walk that way, when I'm in town. Not only does it raise the aesthetics of Savina Square and add a certain eclectic flair to the streets of Victoria, and you also get a chirpy 'Hello!' from the girls and their dad, Pio too. You can gaze for hours at the walls adorned with everything from old pots and pans, candelabra's and door knockers to old pictures, religious artefacts and kitchenware, and both the open garage doorways which are opposite each other, are always both cascading with vintage verve.
Once inside, it's like a treasure chest of old stories and memories and pictures of their family who have passed are given pride of place on the wall as you enter. The girls love to talk about the antiques and we guarantee you will hear stories that will make you smile. "We love our work cause we spend lots of time with different people and have customers from all over the world. We love to meet new people every day!" They say in unison.
Their quiet appreciation of old things is apparent when you ask questions and peruse the shop floor. "We have some maiolica in today, dating from the Renaissance period" Natalie exclaims, "It's glazed pottery made from the grandmasters of Malta…they are really nice. Oh and this from the 1700's" and she points at a vase on a dusty shelf.
Valuing everything themselves, Natalie admits that sometimes they get stuck with coins, especially the ones from the Knights Of Malta. But Pio is always on hand to help out if they require his lengthy experience in deciding upon their worth. They currently have a glass cabinet filled with them – so if you have a rummage, you may just might get lucky.
The most expensive thing they have in the shop is a life-size bronze statue of Lady Justice. Namely, a blindfolded woman carrying a sword and a set of scales, standing on a serpent. I mean – who doesn't want one of those? After some research, I learned that Lady Justice derived from the Roman goddess Justiciacan and can also be found in courthouses in America as she symbolizes fair and equal administration of the law. This one is worth a whopping €5000.
One thing the girls seem to have a lot of is the traditional door knockers. You will find all sorts of shapes and sizes. From animals, fish, motifs and shapes, even the Maltese Cross. They are quite the take-home from our little islands, especially if you are an avid follower of Malta Doors on Instagram. They are made from ceramics, metal and mostly brass and they have lots to choose from. Back in the day, the most extravagant, expensive knockers were a sign of prosperity and power, famous across the Maltese islands. The bigger the better it seems. I shall stop there.
This is most definitely a legacy when it comes to shopping in Gozo. And if the island ever has its very own 'Repair Shop' (the modern-day Antiques Roadshow for those that don't know) then they should look no further than the girls, for the starring roles. If you have antiques you would like to sell or if you are curious about their worth, pay them a visit. You will no doubt relive a piece of Maltese history and you may just pick up some too.
More Information: Pio Antique Shop, Gozo Open: 7.30 am – 12.30 Monday – Saturday.