Discover the benefits of exercising in nature and find the best spots on Gozo Island to get fit.
Create an outdoor workout whilst taking in the island's beauty spots you say? Sure Thing!
The way we exercise has changed massively over the last year, with outdoor fitness and home workouts becoming more popular than ever. Gozo is perfect for outdoor training, with so many quiet beauty spots to choose from and scenic places off the beaten track. The stunning views make workouts more interesting too, and they seem to go by faster. What's more, exercising outside has proven benefits for our mental health, and is a fantastic way to 'get away from it all' and relieve stress.
But how to do you up your game when it comes to exercising outside, from simply just walking or running to a more complete workout?
Ideally, when we exercise, we want to work your entire body – your cardiovascular fitness (the stuff that gets your heart and lungs going), your muscular strength moves (which will also create a toned body) plus flexibility with stretches. The great thing about exercising outside is that you can do all of this by combining walking, running, or other aerobic exercises with simple bodyweight moves to work your muscles, like squats, lunges, press-ups, and dips.
At first, it maybe tricky to know how to put an outdoor workout together yourself, so here are some tips and a video to give you some ideas.
Top Tips To Create Your Outdoor Workout
Always start with a warm-up to help prevent injuries. Think mobility exercises to warm up your joints like shoulder rolls, arm circles back and forth, hip circles, and leg swings. Then start getting your heart and lungs pumping with some walking, or a gentle jog for 5 minutes. Finish with your warm-up stretches, holding for about six seconds each – only stretch when your body is warmed up.
The main part of your workout should combine cardio exercises plus strength/toning exercises and the length will depend on your fitness level. If you are a beginner then start with 10 minutes and build up gradually. You can complete a circuit of strengthening exercises as shown in the video, starting with 30 seconds of each. Then walk or run. Or you could include your cardio exercises into your circuit, completing each move before moving on to the next. Creating some muscle will help make your body become more efficient at burning fat – even when you're not working out.
The last part of your workout is the cooldown stretch. Many people skip this bit but it only takes a few minutes and keeping yourself supple will help increase the range of movement around your joints, which means over time you will be able to perform exercises with greater ease. It's also a relaxing way to end your workout, take in the views, and thank yourself for taking the time for your health today. Hold each stretch for a good 15 seconds when you cool down.
If running is too much for you then include hills in your walk to increase the intensity of your workout. The harder you work the more 'after-burn' effect you will have, this is where your body continues to burn calories even after you've stopped exercising.
Invest in a little sports rucksack to carry water, a towel for floor exercises, and a post-workout snack such as a piece of fruit or raw nuts. Use sunscreen, wear a hat, and layers so you can strip off as you get warmer,(within reason!) and wrap up again as you cool down.
The weather is now warming up, so try and go early in the morning or close to sunset.
Get a workout buddy, diary your workout times and stick to them together – this will really help. If you want results, consistency is key.
Now you are set with what to do, the next step is where to go…. here are my three favourite outdoor workout spots in Gozo:
1.) Marsalforn Breakwater to Qbajjar/Xwejni:
A scenic route along the seafront on Triq Santa Marija, uphill from Marsalforn through the promenade gardens in Qbajjar. You can use the shaded wooden huts along here to do some of your toning exercises, before running or walking on towards the green by the kiosk. This is a nice place to do some core moves on the soft floor, before either making your way back or continuing with a longer walk or run towards the Xwejni Salt Pans. Great for anyone who would rather stick to concrete or a non-messy surface!
2.) Hondoq to Mgarr:
Follow the path to the right of Hondoq beach towards Bamberin. Keep following the trail up towards the right, uphill along the edge of the coast past Hondoq Rock. You can then follow this path all the way along to Mgarr and back, stopping to do your exercises along the way, with majestic views out towards Comino and Malta.
3.) Gnien Ta'Blankas, Xewkija:
I was amazed to find this spot in Gozo, it feels like an English woodland. The trees provide some much-needed shade, and benches, steps and picnic tables double up as your fitness equipment for step-ups, press-ups, and tricep dips. A nice space to run or walk around with great countryside views. If you have children they can play here while you exercise too.
Author & Images: Laura Holland | Editor: GITH
Feeling inspired? For more information on joining the More Than Movement community please visit: Website | Facebook | Instagram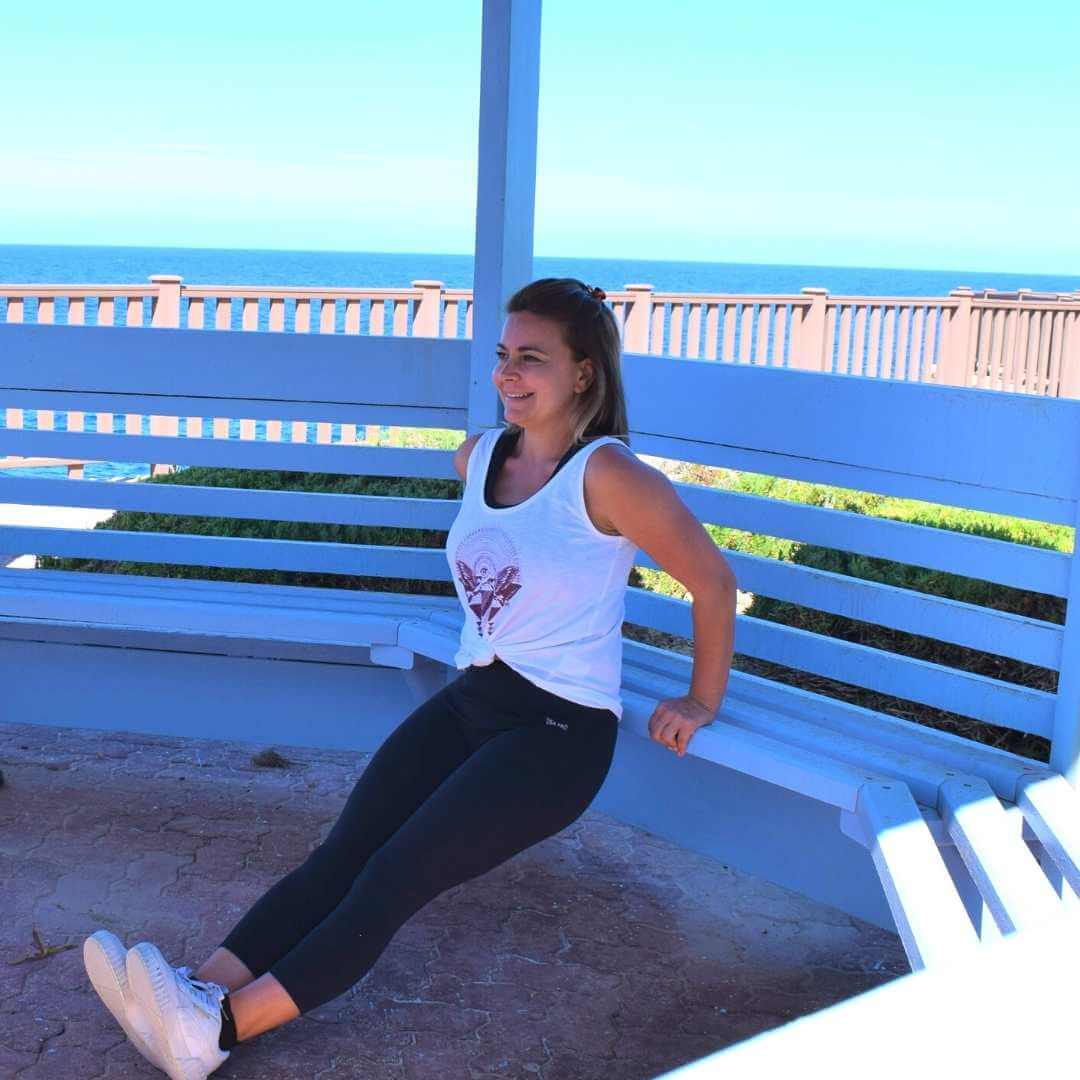 Laura Holland is a personal trainer and the founder of More Than Movement and Solfit. She loves to take her clients outside for fitness classes in Gozo and specialises in women's health, including pre and postnatal exercise. You can also join the Solfit Sisters community via an online video membership where new workouts are added weekly.