A Conversation With One Half Of The Duo Behind The one80 Brand.
It was a beautiful sunny day, and Rouvin Zammit Apap and I took a table out by the sea on the terrace at one80 Mgarr. As we sipped coffee, I unearthed a little about the man behind the brand.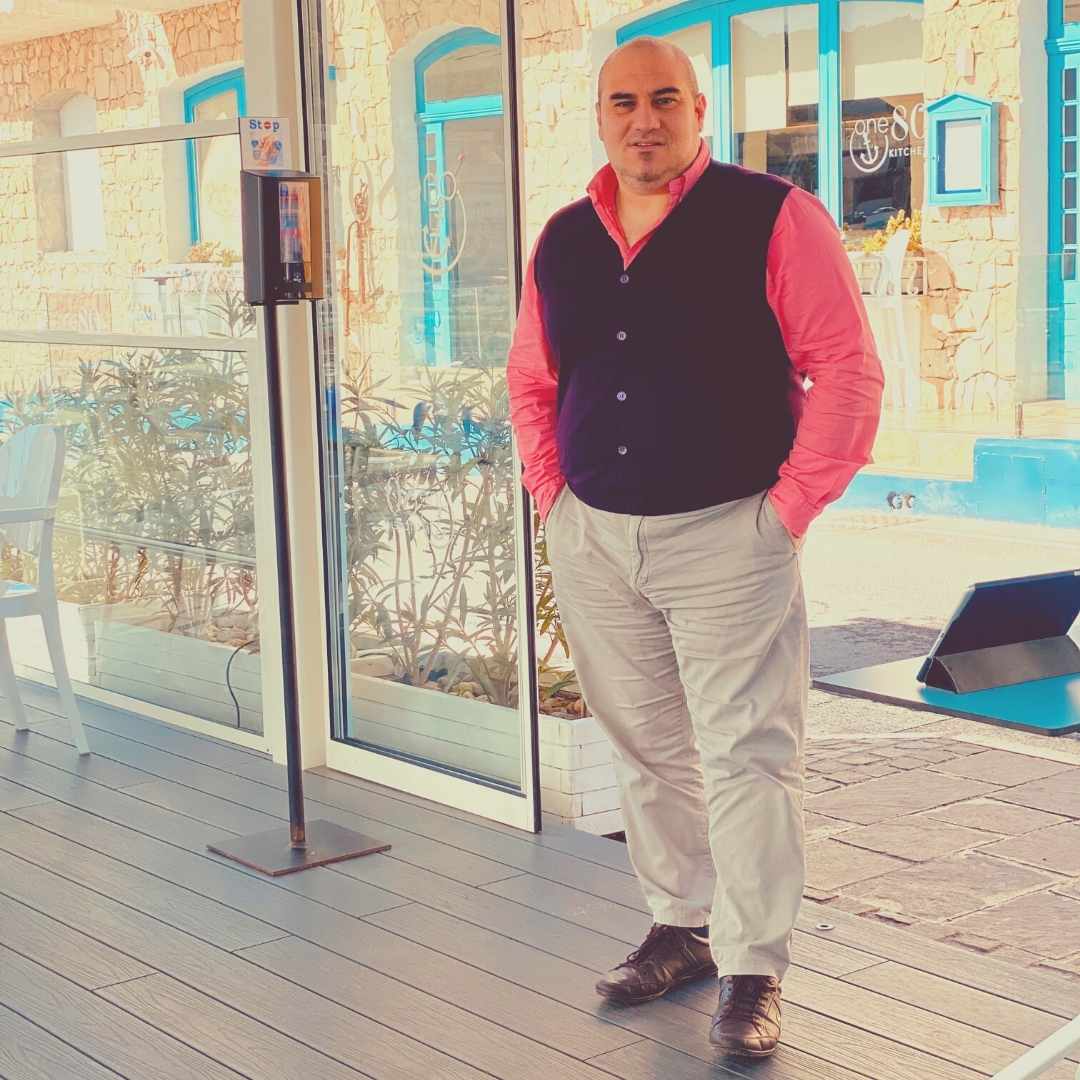 A Childhood Perspective
It has been proven since Freud documented it, that childhood can have a significant impact on our behaviour as adults, well…hospitality is in Rouvin's blood. His parents owned two restaurants in St Pauls Bay and Bugibba during the eighties, and so for as long as he can remember, he has understood 'service'. He has memories as early as the age of four, running around in the restaurants and watching his parents work. In the early 90s, his father purchased a rock club called Sounds and Rouvin managed it at the tender age of sixteen. It was at this point, his future path was written.
In 1999 he joined the ITS Scheme and gained a Higher Diploma In Hospitality Management. At that time he was introduced to the hotel industry and took a part-time job at the 5 Star Radisson Hotel in St Julian's, whilst still managing the club in the evenings. He started to gain perspective of people, different clientele, management, staff and internal systems and this excited him.
Part of the ITS Scheme in Malta was to intern elsewhere and experience hospitality in other parts of the world, and in 2001, Rouvin spent a year experiencing the running of Gleneagles, Scotland, one of the world's most prestigious luxury hotels and its Michelin starred restaurant. Having been there myself, I can only imagine the extent of the stringent ship they run. It is an exquisite experience to stay on this glorious playground. Rouvin's life was about to change and his love for the industry was about to deepen.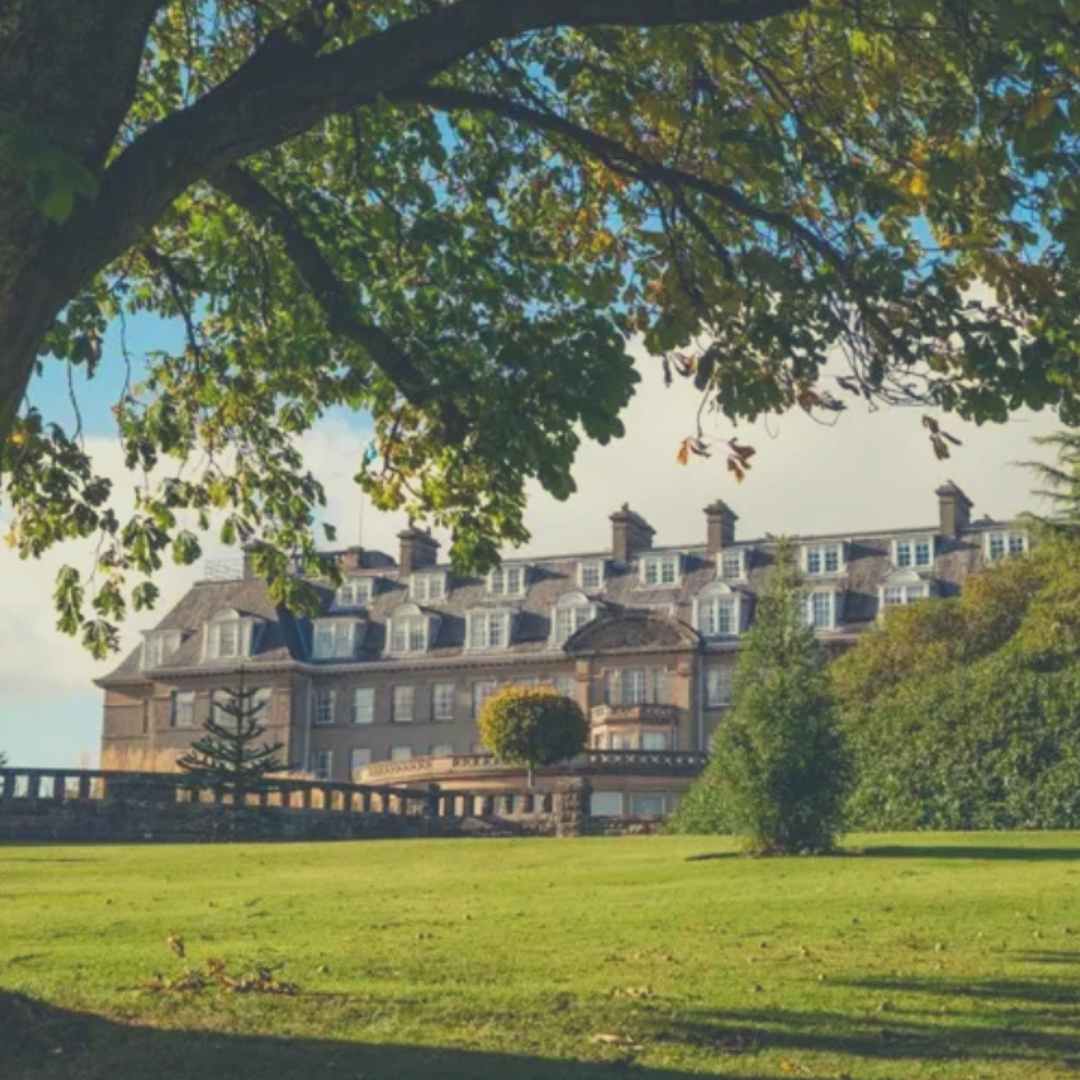 An Industry Perspective.
When Rouvin returned to Malta, he returned to Radisson and worked his way up the ranks with hard work, graft, and determination. He went from Bartender to Food and Beverage Director in just over sixteen years and also gained a BA Hons in Tourism Studies at the University Of Malta.
He recalls the five years at Radisson Golden Sands as one of his major professional challenges. Managing a vast operation with thirteen outlets, plus conferences and banqueting you learn everything there is to know about hospitality.
It's funny. When you think you've 'made it' or you reach a particular goal in life, sometimes it can feel like there's nowhere else to go and the challenge is gone. The fun aspect of striving and winning disappear in front of your eyes. This seems true for Rouvin. He got to the top of this game in a world-renowned hotel chain. But clearly, he was searching for more.
When his devoted stint at Radisson came to a timely end he worked for a short time, for The President Of Malta as a General Manager of the Presidential Palaces. Actually, as we spoke about this, he didn't think this was worth mentioning, but working for the President, for some of the strongest General Managers in Malta, dealing with that kind of superior pressure, is a unique experience not to mention, a real accomplishment. He remembers leaving their offices crying on a number of occasions but in his own words he said, 'It made me what I am today.'
Soon after this, he joined AX Hotels as their Operations Manager. He managed The Palace in Sliema and the five-star Victoria Hotel at the time, and it was at this point the concept for the One80 brand was brewing in the back of his mind.
An Entrepreneurs Perspective
Making the colossal decision to leave the comfort of a secure, well-respected job, (that I might add, he was clearly exceptional at) and jump into the unknown to start his own business is a brave one. Anyone who has ever dipped their toes into the hospitality industry knows that it's not for everyone. It comes with a consistent uphill struggle and much personal sacrifice. You miss out on family time, friendships, and when you do miss out – the urge to get things right expands and drives you to near perfection. Along with the sacrifices, you have to be smart, patient, and understanding, striving for excellence daily and your perspective radar has to be as sharp as your chef's best knife. Remember the old saying – you need eyes in the back of your head? Well, it's not just the eyes you need in this job, it's intuition. That sixth sense that we are all born with but only some use. Our instincts need trusting and relying upon and you then need the confidence to trust that unknown entity and that takes time, experience, and big dollop of ballsy courage.
I was curious about his incentive behind the decision to leave his job and follow his dreams.
Rouvin smiled; "It takes a lot of guts. Just mentioning it I get shivers you know?"

The challenge was on. Rouvin had relentlessly worked and trained and trained and worked to this very point. There was no going back. He knew the ins and outs of his craft well enough to jump ship and start something for himself. His legacy, for his family. Just like his father did for him.
A One80 Perspective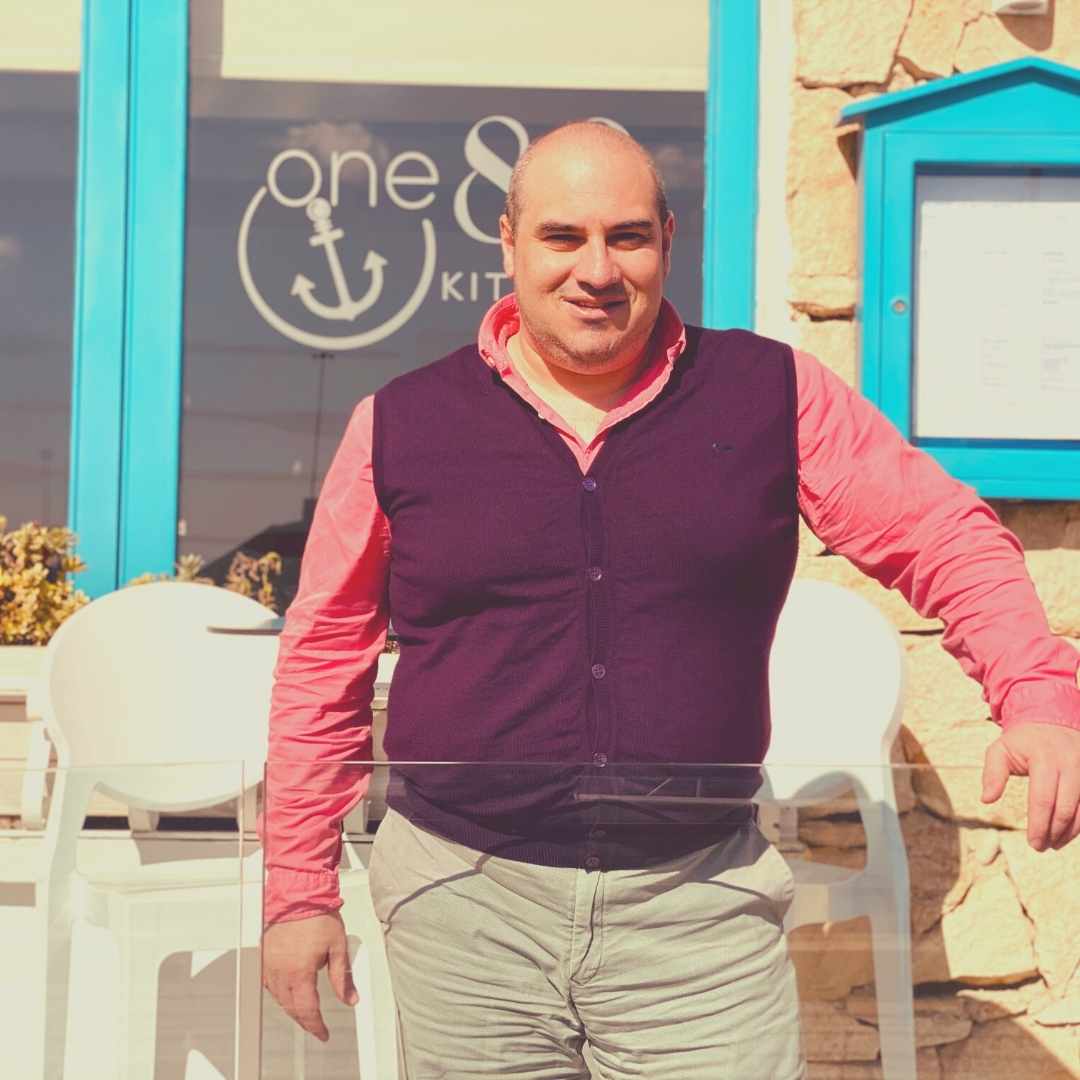 In 2016 the Mellieha outlet opened and the One80 Kitchen, dining concept was born. It was an addition to the market that hadn't existed before and was a hit in a matter of a few months. The format was something between casual and fine-dining. To offer a 'no rush, eat anytime you wish' experience serving the highest quality local, Italian and Mediterranean cuisine.
Soon after, an opportunity arose for a second site that neither Rouvin nor his partner Jesmond had this in mind at the time; "I wasn't looking for it – it came to me!" Rouvin laughed. The previous owner of the Mgarr outlet had visited One80 Kitchen in Mellieha and had mentioned that he was looking to sell. They didn't give it much further thought at that time but later on in the year, Rouvin was out with his family on Gozo and he was stopped by the owner to view the property. At that very point, the One80 Mgarr seed was planted and in 2019 their second baby was born.
"It's a very different experience to Mellieha, inspired by Sicilian and local cuisine," Rouvin explains. "You feel like you are in the Marina in Trani or Scoglitti when you sit on the terrace. And we serve small eats and stay away from the traditional starter, main course dessert."
Both outlets are open seven days a week, all day long. An achievement in itself and striving for consistency is a daily, ongoing battle.
"A lot of people ask me; what does it take to open your own business you know? " Rouvin sat back in his chair. "Just last week, I was helping some students with their Thesis and this question came up. I told them, there is only one word you need to answer…'guts'. You need to have guts." He continued. "Guts to make decisions and your gut to sense feelings. A mixture of gut feeling and common sense is essential." He paused, "then of course, you need the capital and the skill." Granted. But overall – his advice to anyone starting out was 'If you don't love it, don't do it."
Amen. That should be anyone's remit in anything they do.
He paused and spoke with a slightly different tone than before. "You need the passion and excitement and you need to have a vision…" Here is where his appetite lies. "you need to keep your feet on the floor and make moves at the right time and listen." His humility was clear.
"If you are in it just for the money – think again – there are plenty more things to do to make more money in this world."
Shared Perspectives
There is no question that the business partnership between Rouvin and Jesmond is a productive one. Business partnerships alone bring with them many challenges but when you find something that works, why break it? The duo feel that they have built something to be proud of and more importantly to them, something that can be built upon.
I asked him about his management style, knowing that if you get things right internally, it reflects externally and he feels, this along with his pride for the brand, is part of his success. "I am a very systematic person and when you see your systems working, it makes you proud and you see your guests leaving totally satisfied and then you see or hear the feedback, that is a proud moment for me."
He explained he uses the three 'F's with his in-house team. 'Firm, Fair, and Friendly', and this is clearly deeply rooted in respect. He understands necessary nurturing, the need for belonging and that taking care of his staff is essential.
I love that he brings the Mellieha staff to Mgarr and vice versa so they get to experience each others restaurant from the other side.
So, what's to come from this dynamic duo at One80? Well – we can let out a small secret about One80 at Mgarr. Rouvin, Jesmond, and the team have been busy behind the scenes working on an addition to the restaurant in the shape of a new bar concept that will be the first of its kind on Gozo. We can't say anything more than that right now so watch this space.
My chat with Rouvin had started to come to a natural close but we couldn't escape speaking about the current pandemic and how that has affected their immediate future. "Covid has brought a lot of us into our senses and made us realise that we shouldn't take anything for granted. We were lucky with the business as we were able to keep our staff and adapt."
In agreement, we spoke about the time to pause, reflect and assess. We talked about ideas and birthing ideas – and right timing. We talked about how a visionary's forte is to see something before it's finished and when you're excited, how you want to get to that end point as quickly as you can – but you have to remain grounded in the moment. It's a skill that needs honing. Everything has it's time.
A Family Perspective
The pandemic has certainly put family at the heart of many of our lives and switching from workaholic Restaurateur to husband and daddy, although challenging, is clearly his time for essential grounding. Rouvin and his wife are childhood sweethearts and I know she must be one heck of a lady to support her husband's efforts and manage the family. So how does he balance his personal and professional life?
"I only really switch off when I go abroad. So I haven't for a while now!" He chuckled. "My family are a huge stress-reliever for me. I don't get to spend as much time with them as I wish, but when I do, it makes me happy. The kids are all over me when I get home. I love to play hide and seek with them." But once everyone is in bed, the laptop re-opens and he is back into work-mode. "It's the only time that everyone leaves me alone! I get so much done at that time."
Having experienced burnout first hand, I was concerned when Rouvin got his 'me time'. "When I'm driving home at night in my car I put my favourite Spotify playlist on. And you know what? Sometimes I take the long way home just to hear a song all the way through, That's my time."
A 360 Perspective.
Rouvin is an industrious, dedicated soul who is super proud and committed to his brand. The One80 brand and its two successful outlets are the result of incessant, uncompromising hard work and that is backed up by the highest qualifications and decades of experience. Not at any point in Rouvin's life, has he sat back and took the easy road and this is apparent when you sit at either of the One80 establishments. A disciplined machine on the inside reflects like smooth crystal on the outside. From the little details at the table, the staff to the ever-changing and exciting menus. All the blood, sweat, and tears spent are totally justified. All that learning, dedication, commitment and sacrifices are paying off. Above all, he is a man who understands the complexity of perspective and knows how to accept that everyone's perspective is just that – theirs. He has learned to trust and translate his own and perhaps this is the secret of his success. But like Rouvin says, "You don't stop working hard and I'm still learning.'
His gaze deepens. "You have to trust and assume nothing. I have learned not to assume because if you assume, someone will interpret it differently."
And there lies his 360-degree perspective.
Indicative by half, of his beloved brand's name.