Looking for a kid-friendly hiking route in Gozo with top tips?
San Raflu lake and dwejra
Location: Ghadira ta' San Raflu, 
Time: 1-1.5 hour approximately with return
Distance: 3.1 km
Difficulty: Medium
Checking out Ghadira ta' San Raflu (San Raflu Lake) in Santa Luċija, one of Gozo's smallest hamlets and the Punic temple site is a great thing to in Gozo. You can park the car next to the lake (although it's more like a large pond!). The pond hosts numerous wild ducks, which you'll surely be able to hear quacking!
Trail add-on: If you're up for a longer hike, you can park next to the last residence in Santa Lucija and walk towards the pond, which adds around 2 kilometres each way. This part is a flat panoramic route on a paved surface, typically popular with locals on weekends.
Here is where your journey begins – facing North, head downhill on the road that leads to two quarries and look out for a side road on your left. It's unmistakable as it is a relatively wide paved path, but just in case you're unsure, it is the 4th entrance on your left (check out the Google map below if you prefer having a visual). Mind you, it's the only path that does not lead to a field so you'll know you're on the right track. Follow the paved road until it comes to an open area that looks more like a junction of several paths.
Once you're here, stop and admire the breath-taking views of the Gozitan countryside, especially towards the right where you'll get a bird's eye view of Dwejra. As with most scenic trails in Gozo, it can get a bit windy at this point so make sure you've got a good jacket with you.
Then turn left and once you arrive close to a small hill, you need to turn right and start following the path that goes down and around the referred hill and is closer to the cliff edge than the main trail. After you start going down, you will find plenty of paths to follow; be adventurous and choose randomly – the most important part is that you will need to end up West of the hill.
You will end up at the edge of a small drop with no temple in sight. Do not be fooled, it is right beneath you. You just need to get down there and yet another breath-taking view, this time around with the Punic temple in the background. Our ancestors surely knew how to make the most of the best sites in Gozo. Once you've taken a photo or two (who are we kidding, you'll take loads more!) it's time to head back on the main path. The path is slightly hidden and further inland (not the one close to the cliff edge). This will lead you to San Raflu lake, with the last 500 meters being a paved path.
Some tips: In summary, this trail is relatively flat, and the path is clearly visible for most of the trek. There are however some points where you need to climb up or down. Most of the path is along the cliff's edge, giving you spectacular views of Dwejra and beyond. Late afternoon trips make it ideal for the best sunset views.
Historical Background
The Punic Temple at Ras il-Wardija dates back to the 3rd century BC. The site remained in use throughout the Roman period and carved crosses on the walls suggest that the site became a Christian place of worship. More recently, the area was used as a defence point during World War II.  
Note: This historical site is situated on private land and the Ministry for Gozo's website recommends that contact should be made with the owners prior to visiting, by emailing l.spiteri24@gmail.com.
Hike Author and Images: Therese Galea
Loving this Dwejra hike? Check out these other hikes on Gozo.
meet your guides: the galea family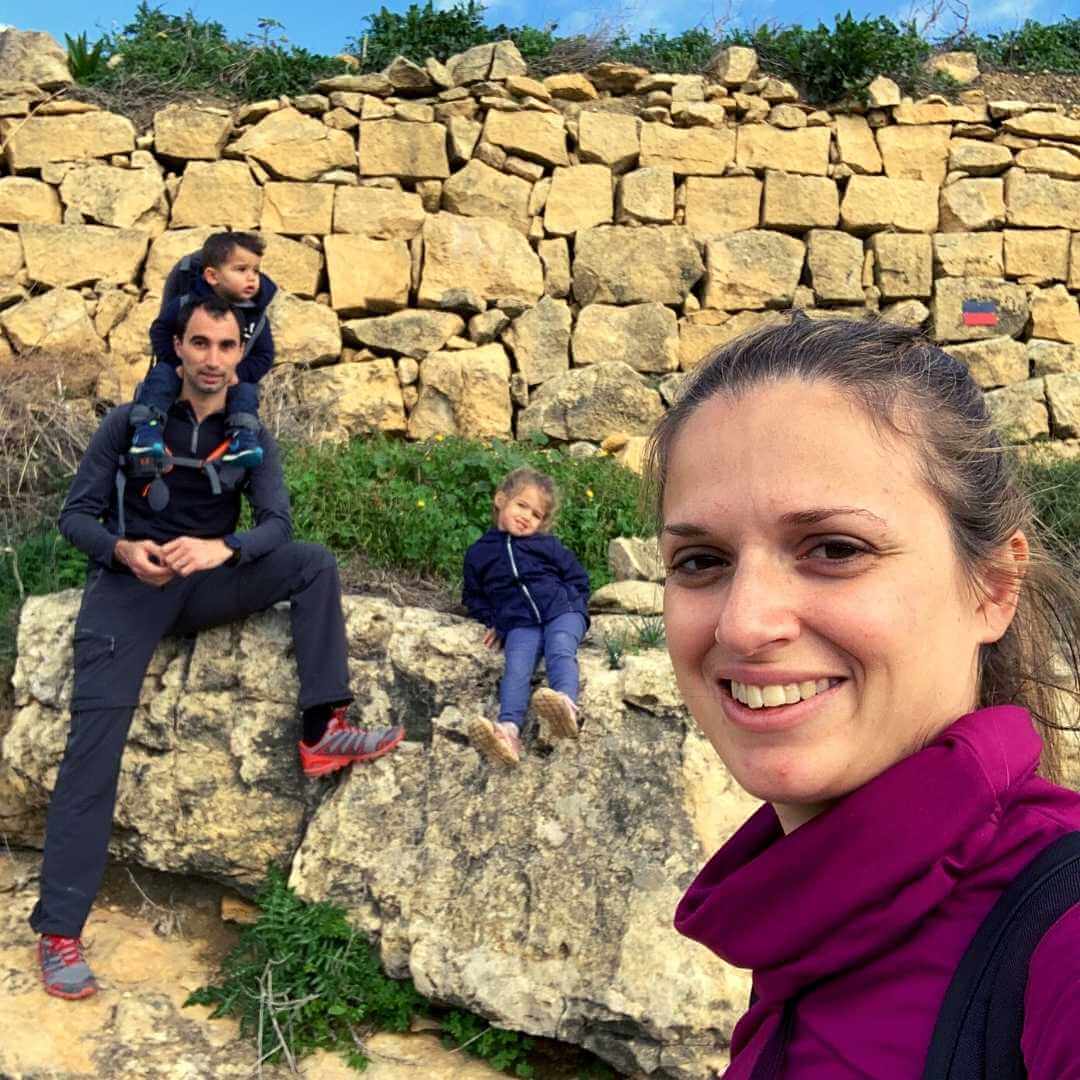 Meet the Galea family. Their life mission is to inspire families to experience Gozo in all weathers and offer practical tips to make the most out of your island hikes.