GITH Magazine has teamed up with the Galea family once again, to share another kid-friendly hiking route along with top tips and fascinating facts about Gozo.
The winter months tend to put us off going outdoors, especially with those strong northerly prevailing winds and occasional rain. If you add getting out with babies and young children to the mix, it can seem like an insurmountable challenge, even when we know it's what we should be doing! On Gozo, we experience first-hand the healing power of nature and how invigorating it can be, but what we forget is that it should absolutely be experienced most when you least feel the urge.
GITH Magazine, along with Offdisland Family Adventure challenge you to blow away the cobwebs and embrace the contrast of the winter freshness to the baking summer sun. We dare you to reverse your thinking and swap the sofa for fresh air and invite you and your family to suck up Gozo's luscious green winter coat and venture out on foot to capture this unique stunning scenery on our doorstep.
leaving the buggy at home
We hope you enjoyed their first blog in this winter walking series which explored the Northwest of Gozo. Before they sharing their second exciting hike, Therese and Joseph offer up some encouragement to take your little ones walking without their buggies. As a family, they've explored territory in other countries without buggies and are now committed to doing the same in Gozo which has allowed them to explore the island from a different perspective.
Here are The Galea family's five reasons to consider leaving the buggy at home on your next trip outdoors.
1. Off the beaten track
You'll get to roam freely and explore paths which you are unable to do with a buggy (or two, in our case). There's no better way to get lost in nature with little human interaction.
2. A breath of fresh air
Both adults and kids need this. Take some deep breaths, especially if you're close by the sea and you'll instantly feel calmer and more in control of your life.
3. Building self-confidence
Your kids get to explore first-hand the outdoor environment. They'll get to walk, climb, see different species of flora and fauna. They will also fall, get muddy, get stung by thorns – and that's ok. They will build self-confidence with every step. You'll eventually get to hear them chatter excitedly and recount their adventures.
4. Taking schooling outside
Nature can provide countless stimuli and opportunities to learn. With some parents having opted to homeschool this scholastic year, some are feeling overwhelmed with this additional duty over and above the existing workload. In nature, kids can experience first-hand sights, smells, sounds and textures. This, in turn, provides opportunities for discovery and creativity. As the saying goes, not all lessons come from books.
5. Get kids moving
Young children are full of energy. Studies suggest that young children should be physically active every day for around 3 hours as this is important for their healthy growth and development. Trekking on rough terrain uses up some of their energy. Plus, an earlier bedtime is guaranteed. Which also means you get to unwind and enjoy a glass of wine!
Now let's share with you a trail which is well suited for newbies, as most of it is either a paved path or a clearly visible foot trail.
hike 2 San Raflu lake and spectacular dwejra
Location: Ghadira ta' San Raflu
Time: 1-1.5 hour approximately with return
Distance: 3.1 km
Difficulty: Medium
Have you ever been to the Ghadira ta' San Raflu (San Raflu Lake) in Santa Luċija, one of Gozo's smallest hamlet? Most probably yes, but it's perhaps less likely you've gone further and explored the Punic temple site. Once you arrive there, park the car next to the lake; I consider it more of a pond than a lake as it's surface area is quite small. There is plenty of parking space right next the lake. The pond hosts numerous wild ducks, which you'll surely be able to hear quacking.
Trail add-on: If you're up for a longer hike, you can park next to the last residence in Santa Lucija and walk towards the pond, which adds around 2 kilometres each way. This part is a flat panoramic route on a paved surface, typically popular with locals on weekends.
Here is where your journey begins – facing North, head downhill on the road that leads to two quarries and look out for a side road on your left. It's unmistakable as it is a relatively wide paved path, but just in case you're unsure, it is the 4th entrance on your left (check out the Google map below if you prefer having a visual). Mind you, it's the only path that does not lead to a field so you'll know you're on the right track. Follow the paved road until it comes to an open area that looks more like a junction of several paths. Once you're here, stop and admire the breath-taking views of the Gozitan countryside, especially towards the right where you'll get a bird's eye view of Dwejra. As with most scenic trails in Gozo, it can get a bit windy at this point so make sure you've got a good jacket with you.
Then turn left and once you arrive close to a small hill, you need to turn right and start following the path that goes down and around the referred hill and is closer to the cliff edge than the main trail. After you start going down, you will find plenty of paths to follow; be adventurous and choose randomly – the most important part is that you will need to end up West of the hill.
You will end up at the edge of a small drop with no temple in sight. Do not be fooled, it is right beneath you. You just need to get down there and yet another breath-taking view, this time around with the Punic temple in the background. Our ancestors surely knew how to make the most of the best sites in Gozo. Once you've taken a photo or two (who are we kidding, you'll take loads more!) it's time to head back on the main path. The path is slightly hidden and further inland (not the one close to the cliff edge). This will lead you to San Raflu lake, with the last 500 meters being a paved path.
Some tips: In summary, this trail is relatively flat, and the path is clearly visible for most of the trek. There are however some points where you need to climb up or down. Most of the path is along the cliff's edge, giving you spectacular views of Dwejra and beyond. Late afternoon trips make it ideal for the best sunset views.
Historical Background
The Punic Temple at Ras il-Wardija dates back to the 3rd century BC. The site remained in use throughout the Roman period and carved crosses on the walls suggest that the site became a Christian place of worship. More recently, the area was used as a defense point during World War II.
Note: This historical site is situated on private land and the Ministry for Gozo's website recommends that contact should be made with the owners prior to visiting, by emailing l.spiteri24@gmail.com.
Hike Author and Images: Therese Galea
We really hope you enjoy this stunning and historical walk. Remember to take some snaps and tag @githmagazine on your Socials. Happy hiking!
Did you find this article interesting? Follow the Galea family on Facebook, Instagram and their Website for more adventures, tips and ideas!
meet your guides: the galea family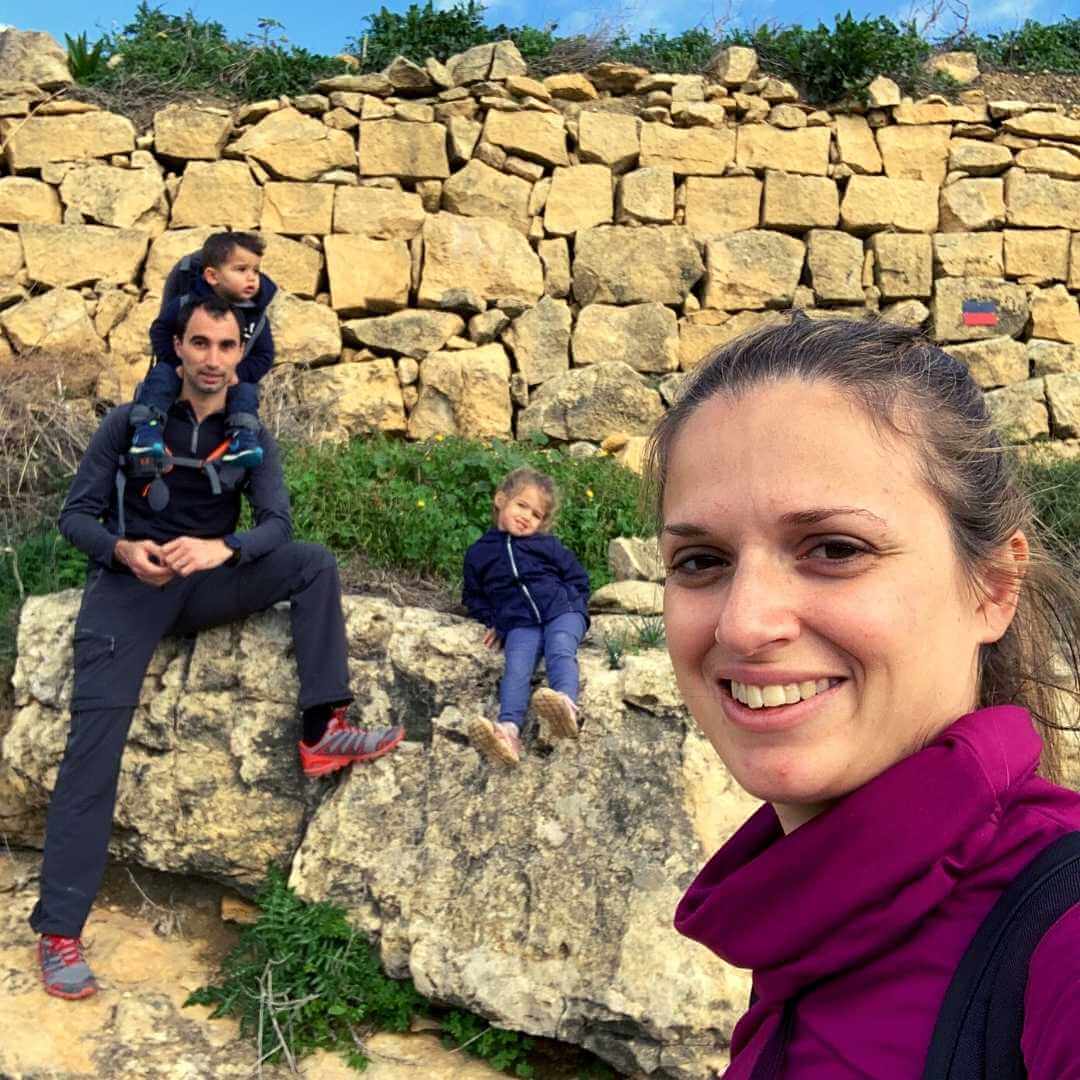 Meet the Galea family. Their life mission is to inspire families to experience Gozo in all weathers and offer practical tips to make the most out of your island hikes.