The Ultimate Guide To Churches On Gozo.
Landmark churches dotted across the island dominate the Gozitan horizon. When you visit Gozo be sure to experience their Baroque beauty.
did you know There are over 40 active churches on Gozo in total and Gozo In The House are about to give you a run down on them all.
As soon as you step off the ferry you are greeted by the expansive strength and exuberant designs of Gozo's churches. They form an integral part of the island's culture and whether you are religious or not, they are well worth a visit. Sundays are a day of worship and gathering together with family and friends and the cafes surrounding the churches are usually bustling with people before services begin across the island.
Many of the main churches celebrate throughout festa season on Gozo, below, learn where the Gozitan churches are situated and when they celebrate their feasts.
Għajnsielem
Ghajnsielem meaning 'peaceful sprint' is the first village that greets you from Mgarr and the ferry terminal. If you look up your eyes will feast on the two of the four churches in the village. Our Lady of Loreto was built in 1820 and still stands today – the new Ghahnsielem parish church opened in 1924 and St Cecilia Chapel, a former Roman Catholic chapel was built around 1540, but it was deconsecrated in 1644, being converted into an ancillary building for the nearby Santa Cecilia Tower. Ghajnsielem celebrates year-round with feasts in February, June, August, and November.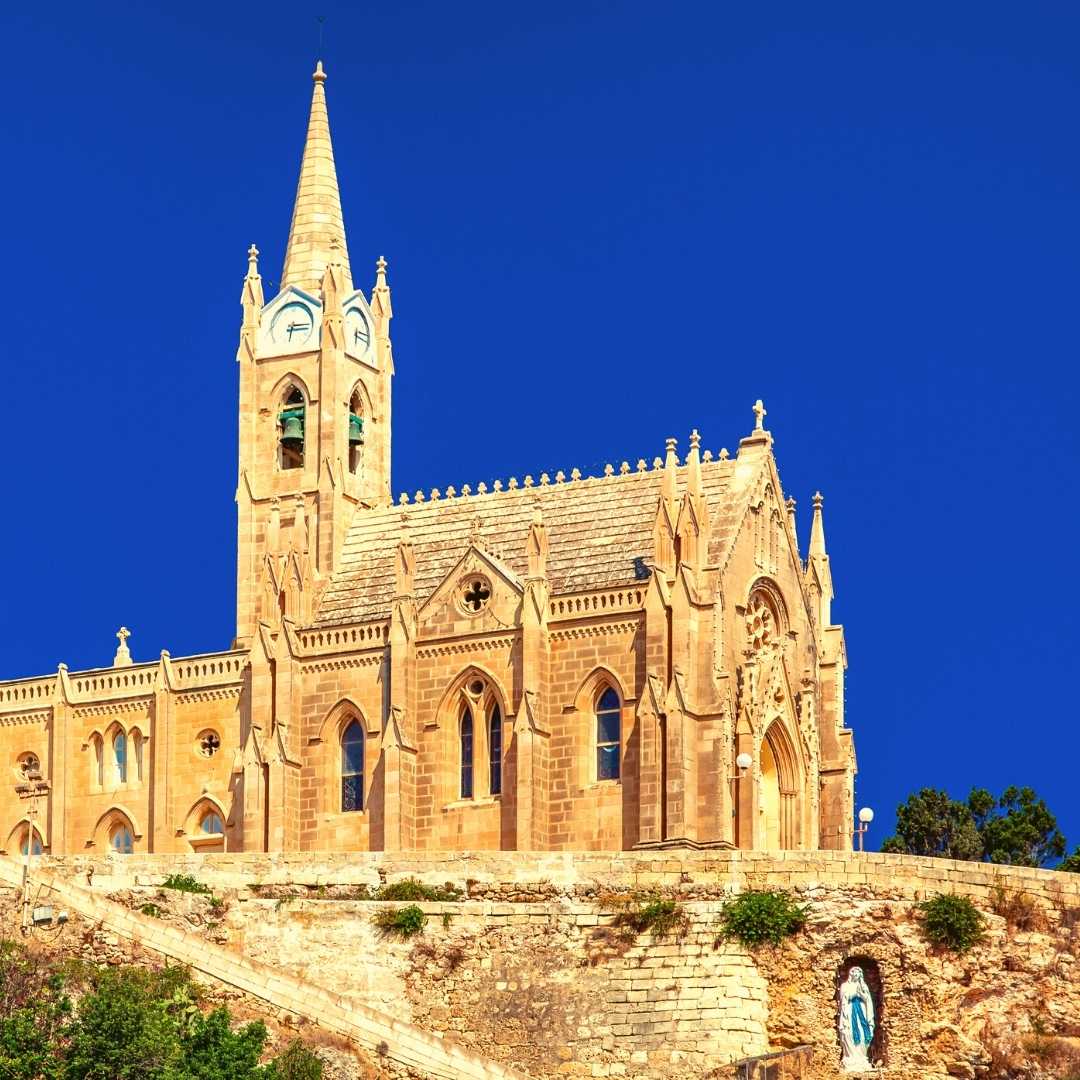 1. Church of The Madonna of Lourdes
Dedication: The Madonna of Lourdes
Address: Triq Lourdes, Għajnsielem, Malta 
Phone: +356 2166 6537
Feast: 11 February
2. Il-Kappella ta' Santa Ċeċilja
Dedication: St Ceclia
Address: 53 Triq il-Ġnien, Għajnsielem, Malta
Feast: 22 November
3. Għajnsielem Parish Church
Dedication: Our Lady Of Loreto
Address: Pjazza Indipendenza, Għajnsielem, Malta 
Phone: +356 2155 4615
Website
Feast: Last Sunday of August
4. Għajnsielem Parish Church
Dedication: St Anthony of Padua
Address: Triq Sant' Antnin, Għajnsielem, Malta
Phone: +356 2155 6095
Feast: June
qALA
Qala is the village overlooking Malta and nearby Ħondoq ir-Rummien bay. Just up the hill from Mgarr and Għajnsielem, it boasts a coastline with salt pans and caves which are super popular with snorkellers and divers. The two churches in Qala are a stone's throw away from each other. St Josephs in the main square and the Immaculate Conception Of Our Lady is on the way down to Ħondoq.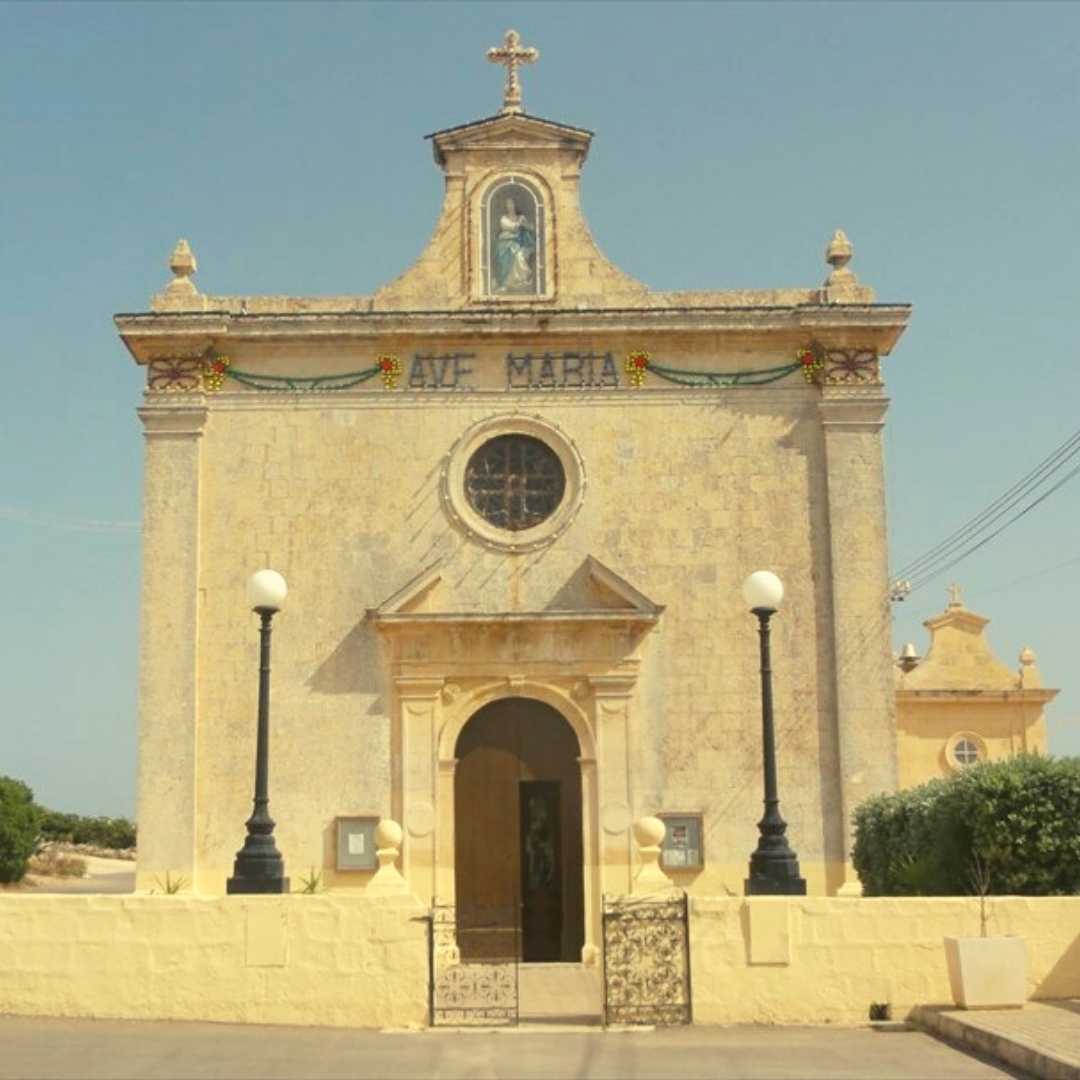 5. Immaculate Conception of Our Lady Church (Tal-Hondoq)
Dedication:Immaculate Conception
Address: Immaculate Conception Street (Triq il-Kuncizzjoni)
Website
Feast: 8 December
6. Qala Parish Church 
Dedication: St Joseph
Address: Triq In Nadur, Qala, Malta
Phone: +356 2155 6684
Feast: First Sunday of August
NADUR
Nadur is located in the Eastern part of Gozo. The second biggest town on the island, known as the 'second city'. Famous for its square, bakeries and of course, the parish church, Nadur derives from the Arabic word 'nadara', which means 'lookout'.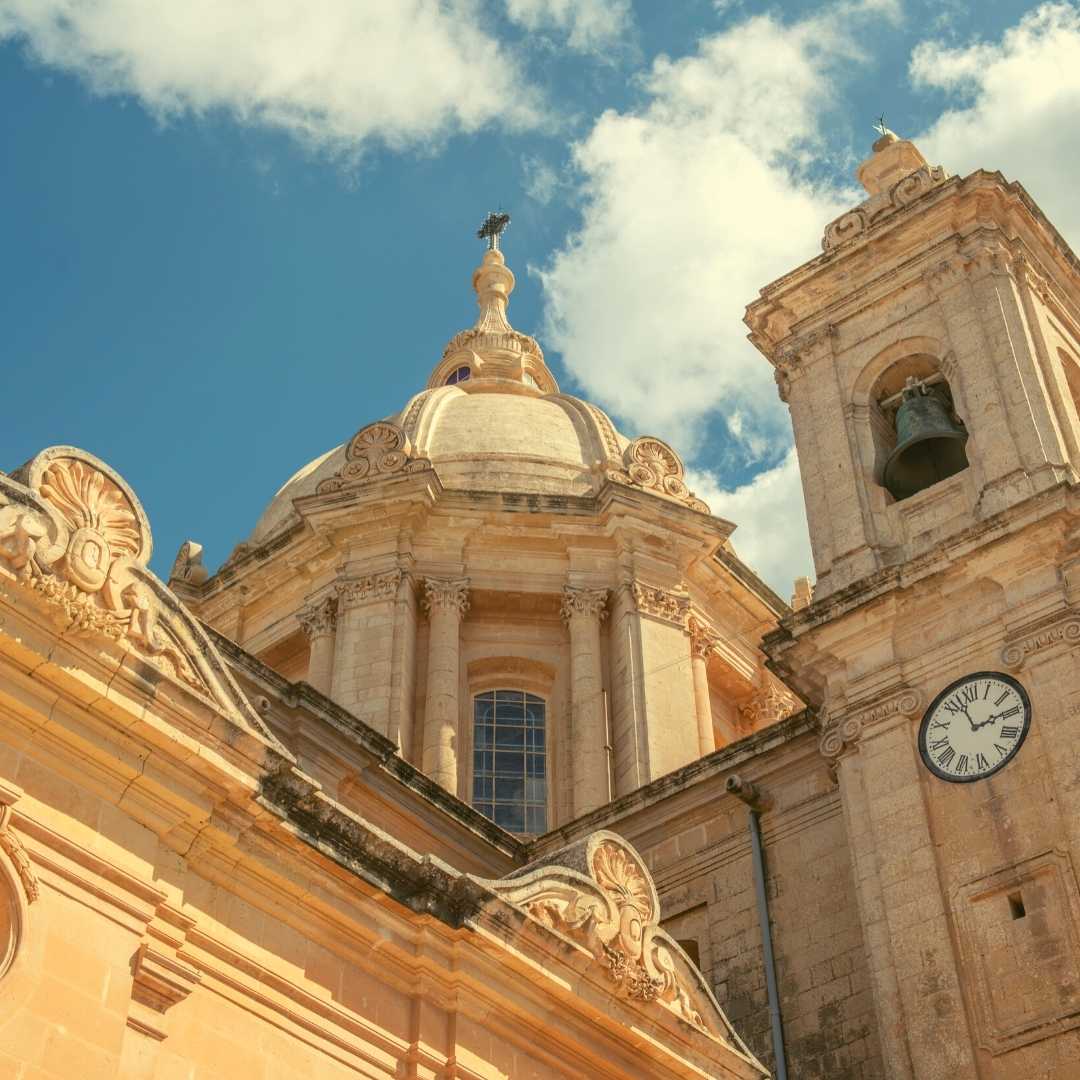 7. Nadur Parish Church
Dedication: Basilica of St Peter and St Paul
Address: Pjazza t-28 ta' April, 1688 In-Nadur, Malta
Phone: +356 2155 1649
Feast: 29 June
XewKIJA
Xewkija is the fourth largest and oldest town in Gozo. It boasts two magnificent churches, one with a rotunda that simply must be seen. The Church of Saint John the Baptist, commonly known as the Rotunda of Xewkija or Xewkija Rotunda, is a Roman Catholic church built by Ġużè Damato in the 20th Century. The dome is the world's third-highest unsupported dome measuring 27 metres (89 ft) in diameter, 75 metres (246 ft) high and weighs 45,000 tons. It's supported by 8 large concrete columns covered with stone.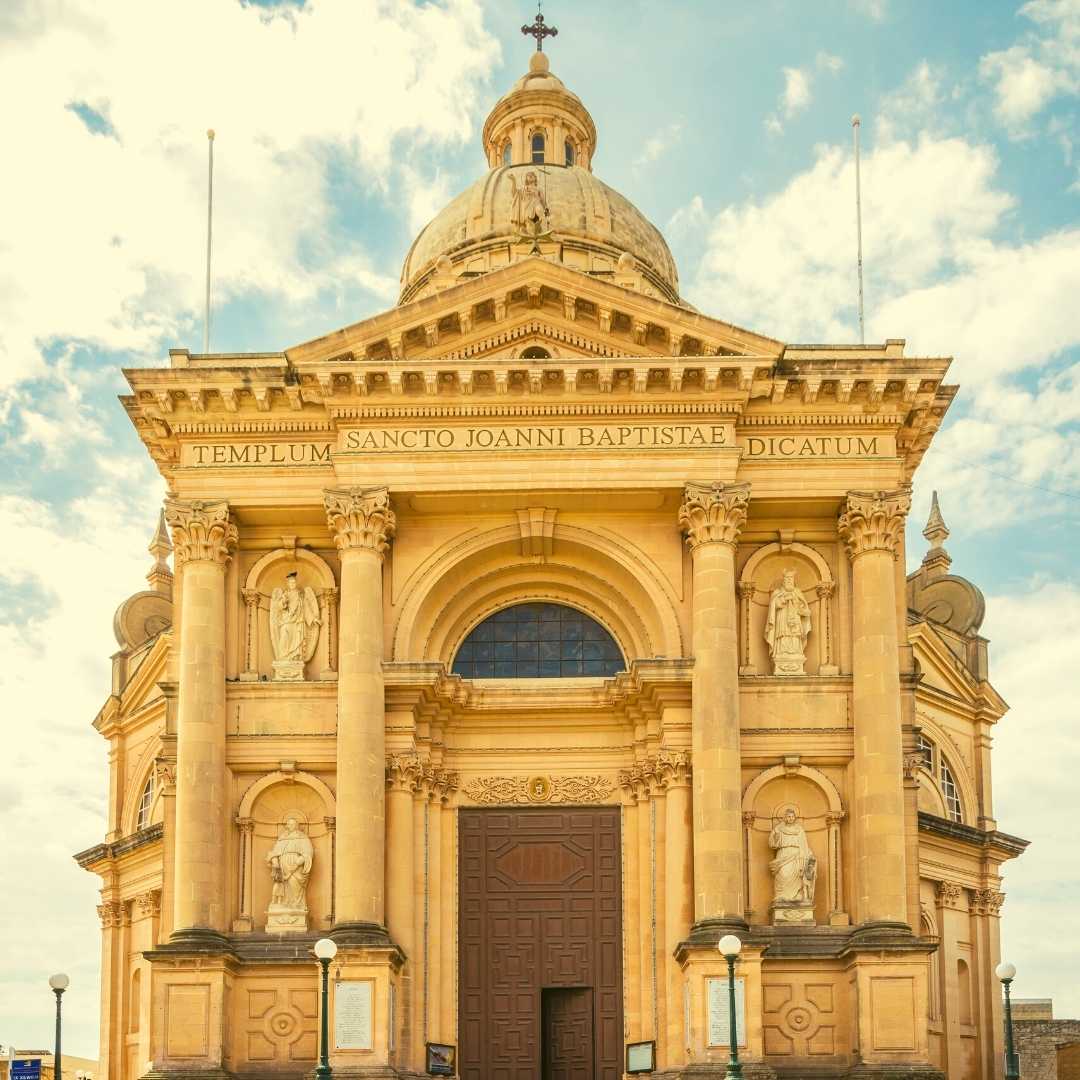 8. Rotunda St. John Baptist Church
Dedication: St.John he Baptist
Address: Xewkija, Malta
Website
Feast: Sunday after 24 June
9. Xewkija Chapel
Dedication: Our Lady of Mercy
Address: St Bartholomew Street (Triq San Bert) Xewkija, Malta
Sannat:
Ta' Sannat is in the south of Gozo, popular for its very high cliffs, ancient cart ruts, temples and dolmens, and rich fauna and flora. The Queen visited a house called "The Lace house" once which is located in a small square in called "Pjazza Tax-Xelina". The parish church is a beauty and has been documented as functioning since 1575.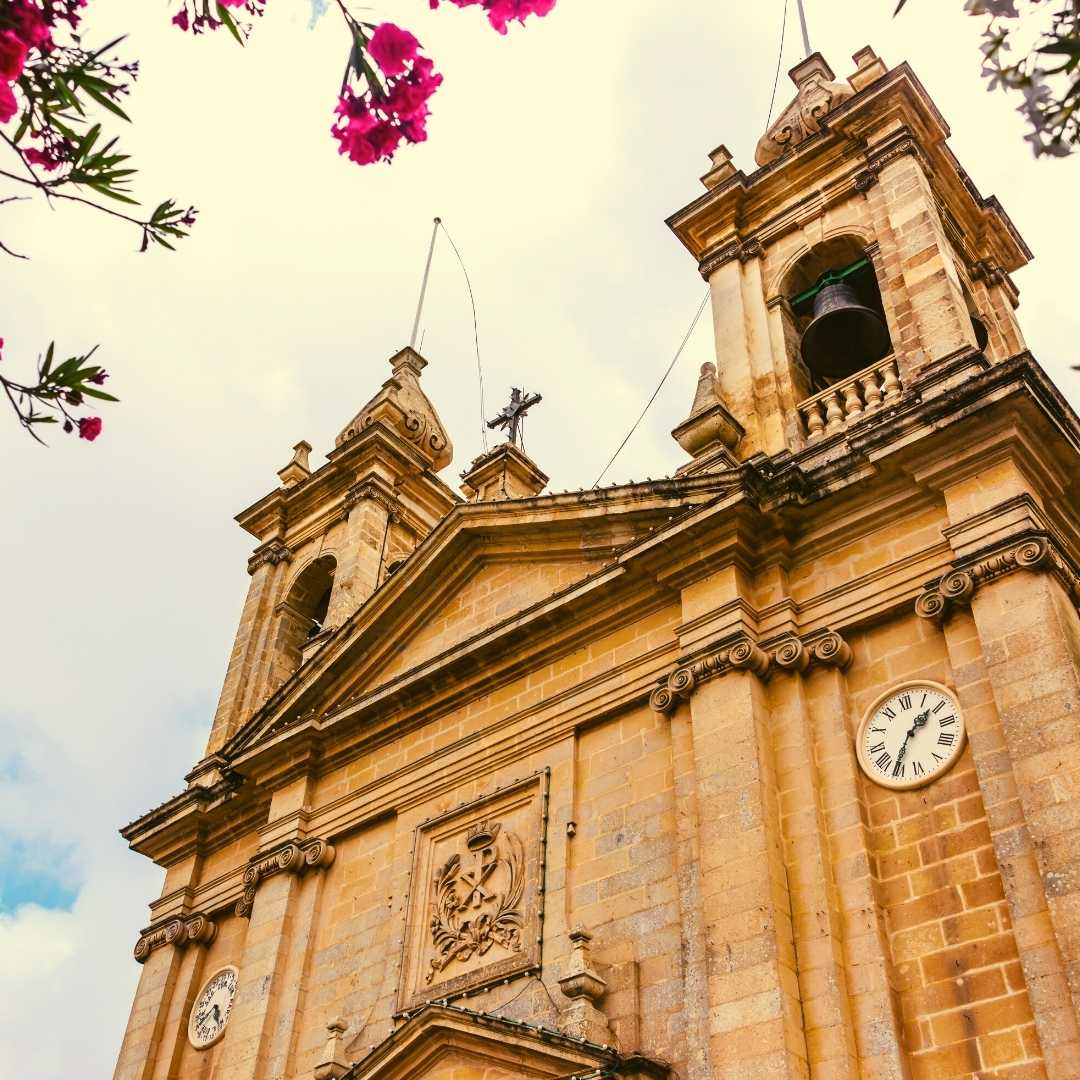 10. Sannat Parish Church
Dedication: St Margaret
Address: St Margaret's Church, Triq Ta Cenc, Ta' Sannat, Gozo, Malta, 
Phone: +356 2155 1435
Feast: 4th Sunday of July
Munxar:
Close to Sannat you will find the village of Muxar. Close by is the beautiful Xlendi Bay. Prior to the building of the first church, the villagers used to attend services at the Church of St Margaret in Sannat, but as the population grew there were petitions for the building of a church in Munxar itself. A small chapel dedicated to St Paul was built on the spot of the current church, during the late 19th century and after some years another petition was made to rebuild a larger church that stands today. Completed by 1921 and consecrated in 1925. Munxar became an independent parish from Sannat on 12 December 1957, and the church of St Paul became the parish church of Munxar.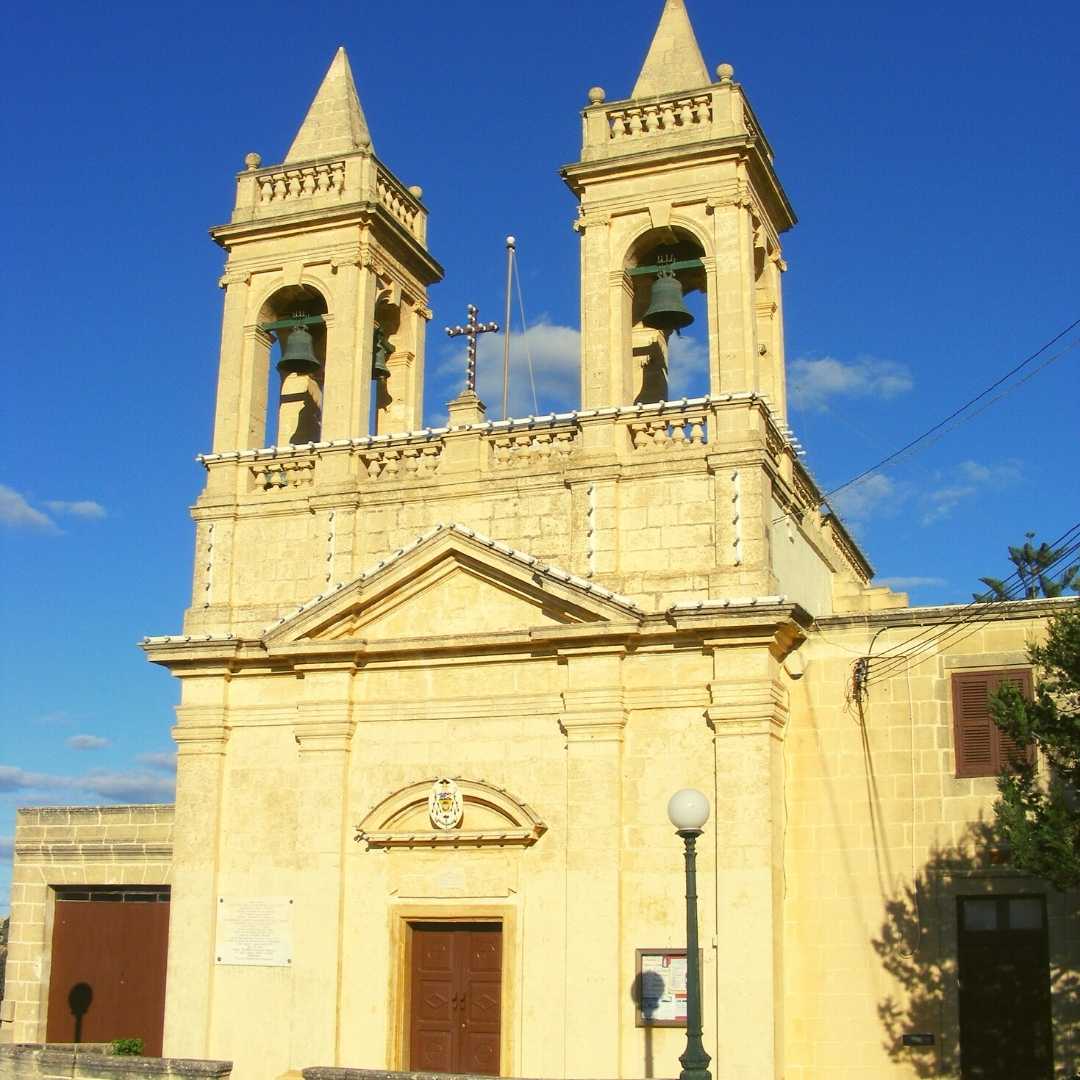 11. Munxar Parish Church
Dedication: St Paul
Address: 12 December Street (Triq it-Tnax ta' Diċembru), Il-Munxar
Phone: +356 2156 0845
Feast: Last Sunday of May
12. Our Lady of Mount Carmel
Dedication: Our Lady of Mount Carmel
Address: Munxar, Malta
Phone: +356 2155 4611
Feast: 1st Sunday of September
Fontana:
Once a suburb of Victoria, Fontana (Spring in Italian) is locally known as 'It-Triq tal-Għajn' (the way to the spring), and it took its name from a spring at the bottom of the road leading to Xlendi, known locally as "l-Għajn il-Kbira", (the big spring). On the lower part of Fontana, on the right-hand side of the road to Xlendi, one cannot help but notice the evergreen Lunzjata Valley going up to the village of Kerċem. Local farmers are busy all year long in this fertile part of Gozo. Fontana has its own parish church, The Sacred Heart of Jesus Church and also offers the Manresa Retreat House.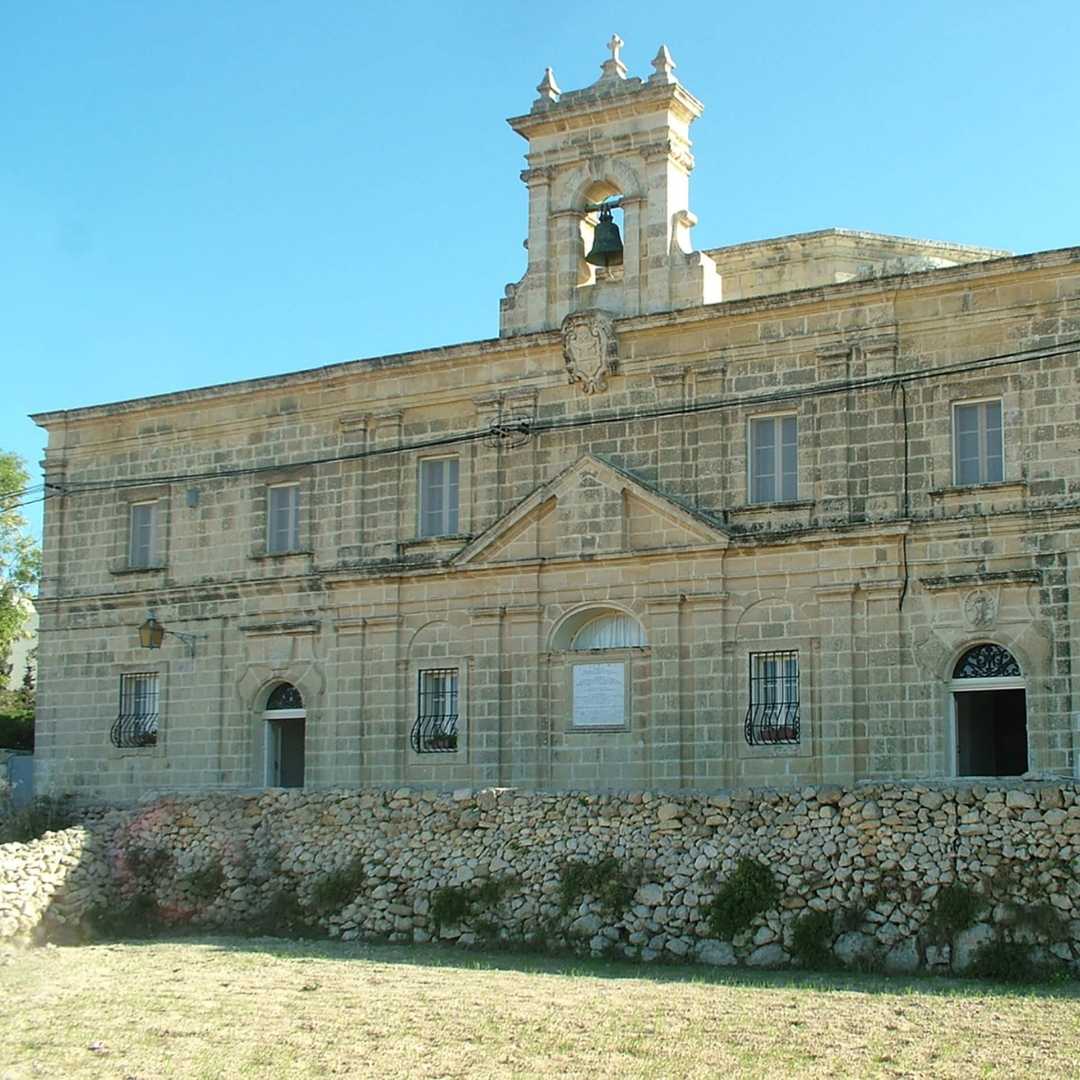 13. Manresa Church
Address: Triq Santa Dminka, Ir-Rabat Għawdex, Malta
14. Fontana Parish Church
Dedication: Sacred Heart Of Jesus Parish Church
Address: Spring Street (Triq tal-Għajn), Fontana
Phone: +356 2155 6097
Feast: 3rd Sunday of June
Victoria:
Still known as Rabat with the locals, Victoria is the capital of Gozo and stands central with the Citadel in full view from all corners of the town. There are approximately twelve churches in the vicinity, all can be reached on foot while wandering around the town. The Cathedral of the Assumption of the Blessed Virgin Mary into Heaven is the Gozo Cathedral in the Cittadella of Victoria and simply has to be seen.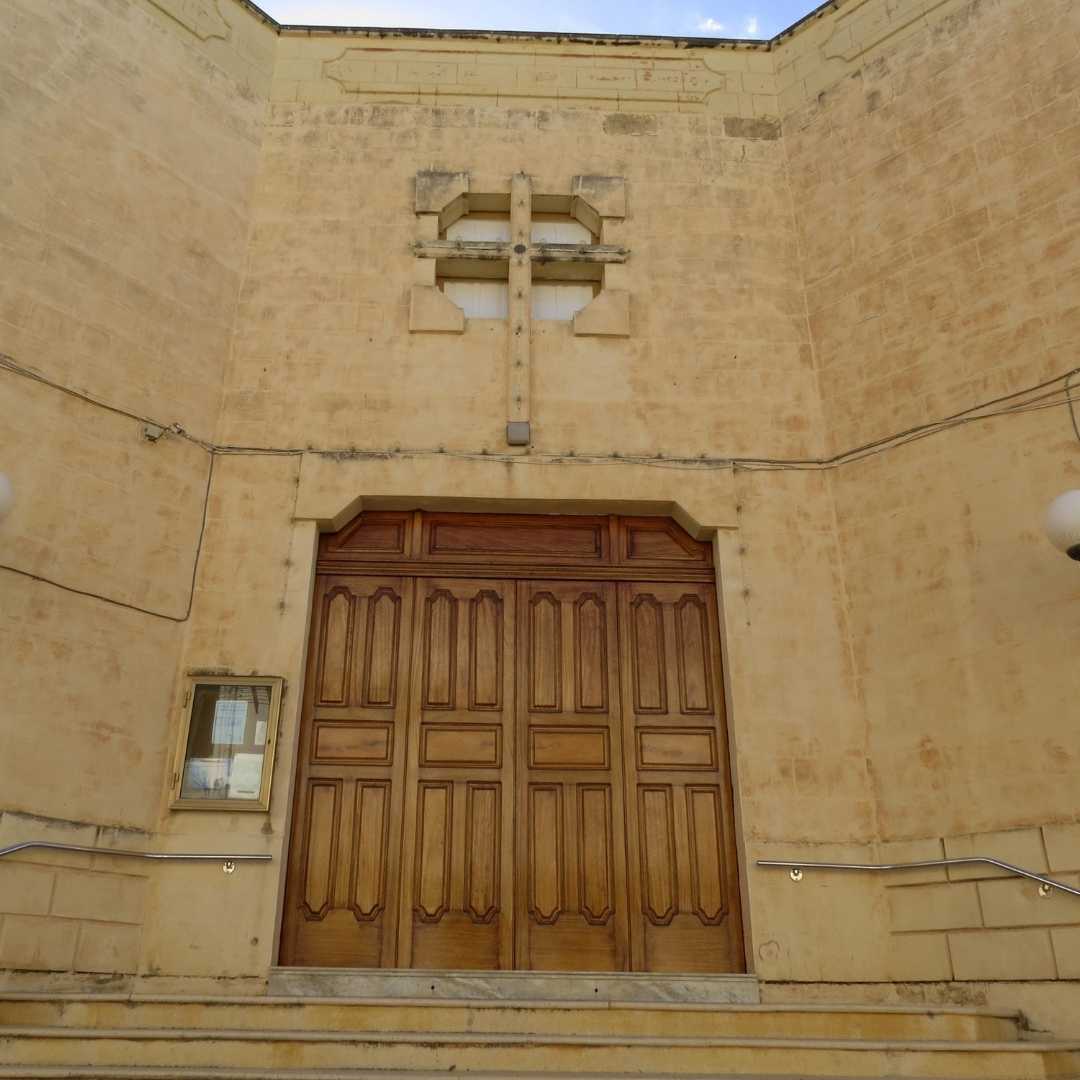 15. Good Shepherd Church 
Address: Triq il-31 ta' Marzu 1979, Ir-Rabat Għawdex, Malta
Phone: +356 2155 196615,
16. Madonna ta' Pompei Church
Dedication: Immaculate Conception
Address: Triq Enrico Mizzi, Ir-Rabat Għawdex, Malta
Feast: 8 May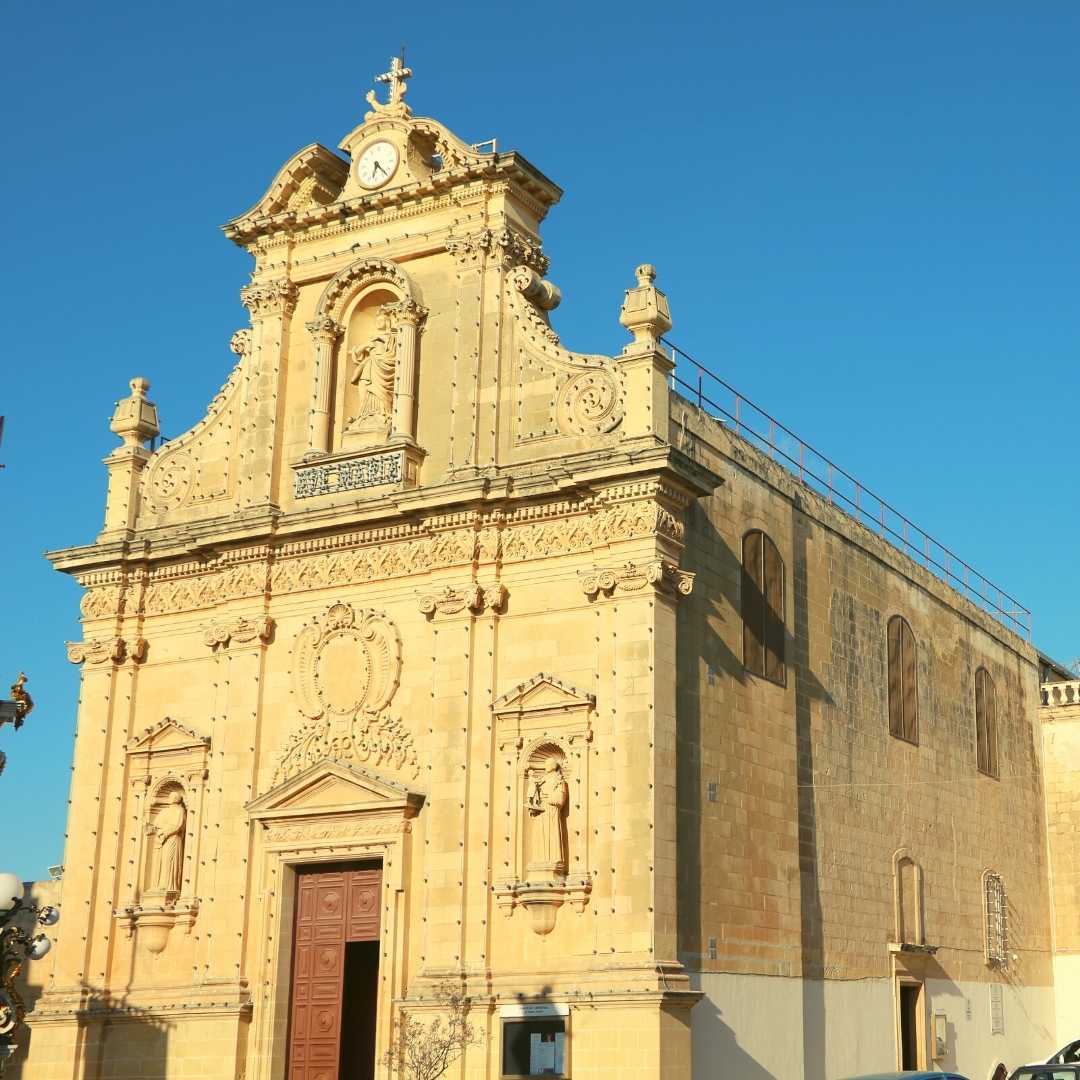 17. Conventual Church of St Francis of Assisi (Knisja ta' San Franġisk)
Dedication: St Francis of Assisi
Address: Pjazza San Franġisk, Ir-Rabat Għawdex, Malta
Phone: +356 2156 2528
Feast: 4 October
18. Church of St Augustine, Victoria Gozo
Dedication : St Augustine
Address: St Augustine Square Gozo, Ir-Rabat Għawdex, Malta
Phone: +356 2155 6060
Feast: 28 August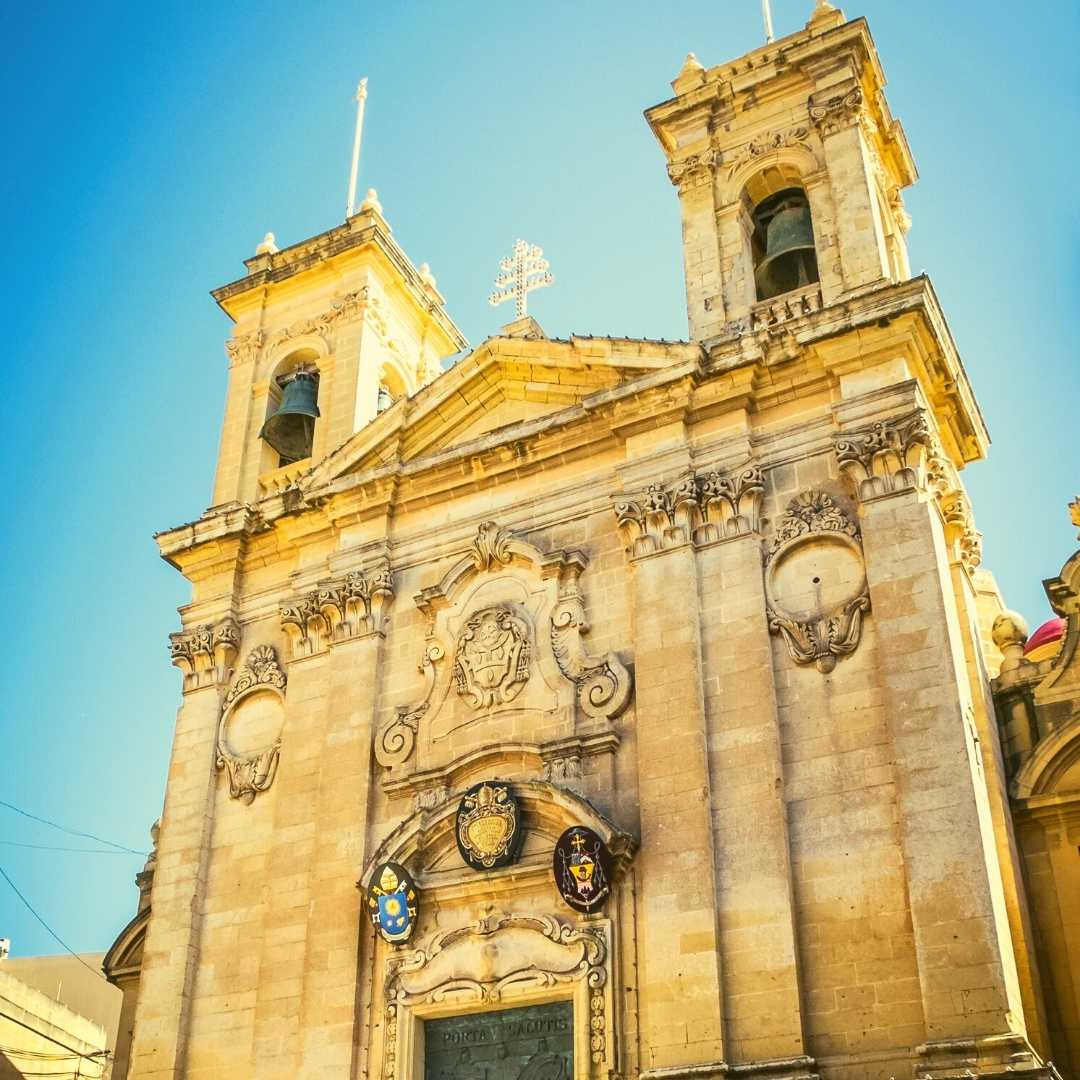 19. St George's Basilica
Dedication: St George
Address: Pjazza San Ġorġ, Victoria VCT, Malta
Website
Feast: 3rd Sunday of July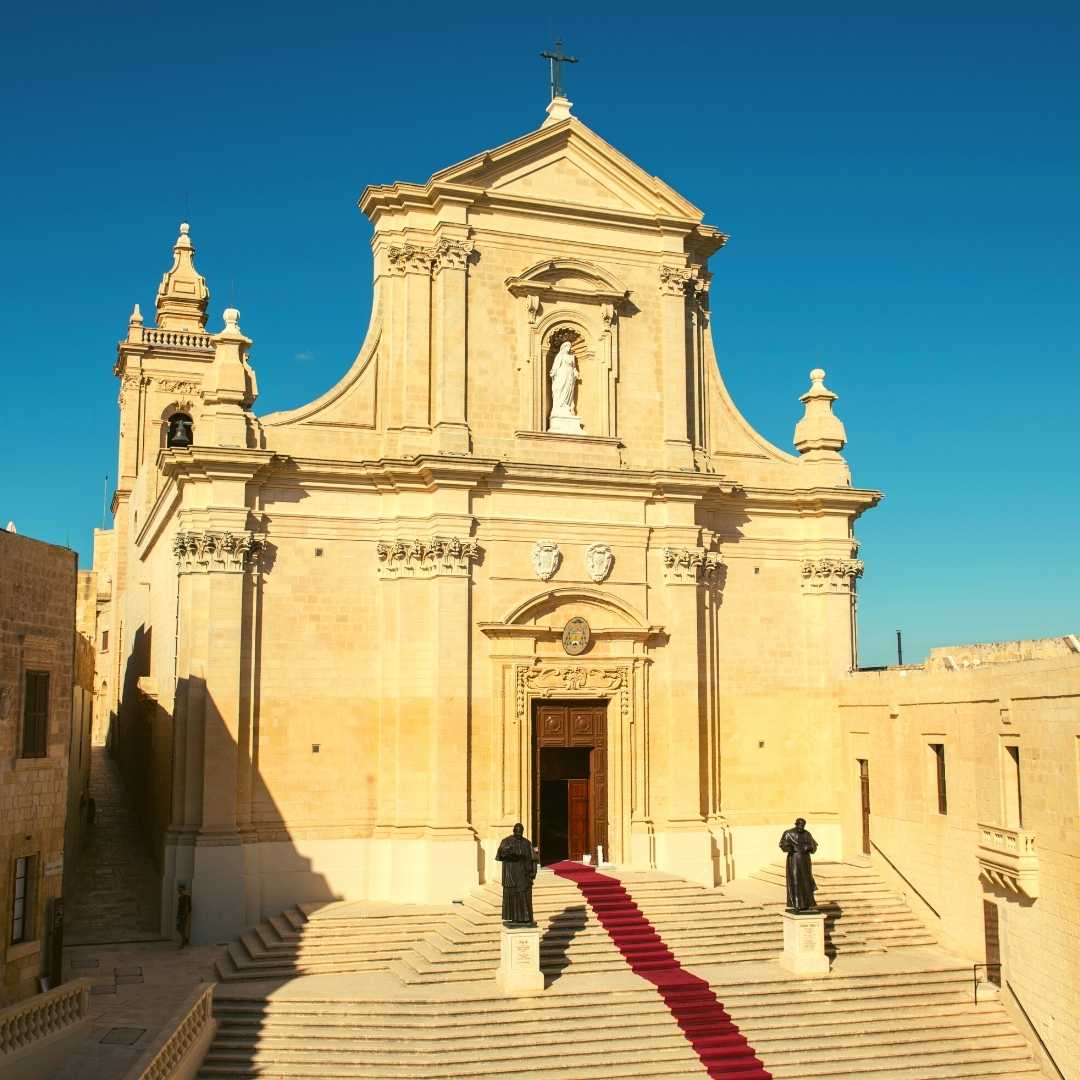 20. Gozo Cathedral
Dedication: Assumption of Mary
Address: It-Telgħa tal-Belt, Ir-Rabat Għawdex, Malta
Phone: +356 2155 4101
Feast: 15 August
21. Santa Savina Church
Dedication: Nativity of Mary Ta' Savina
Address: S Marija, Ir-Rabat Għawdex, Malta
Phone: +356 2156 3684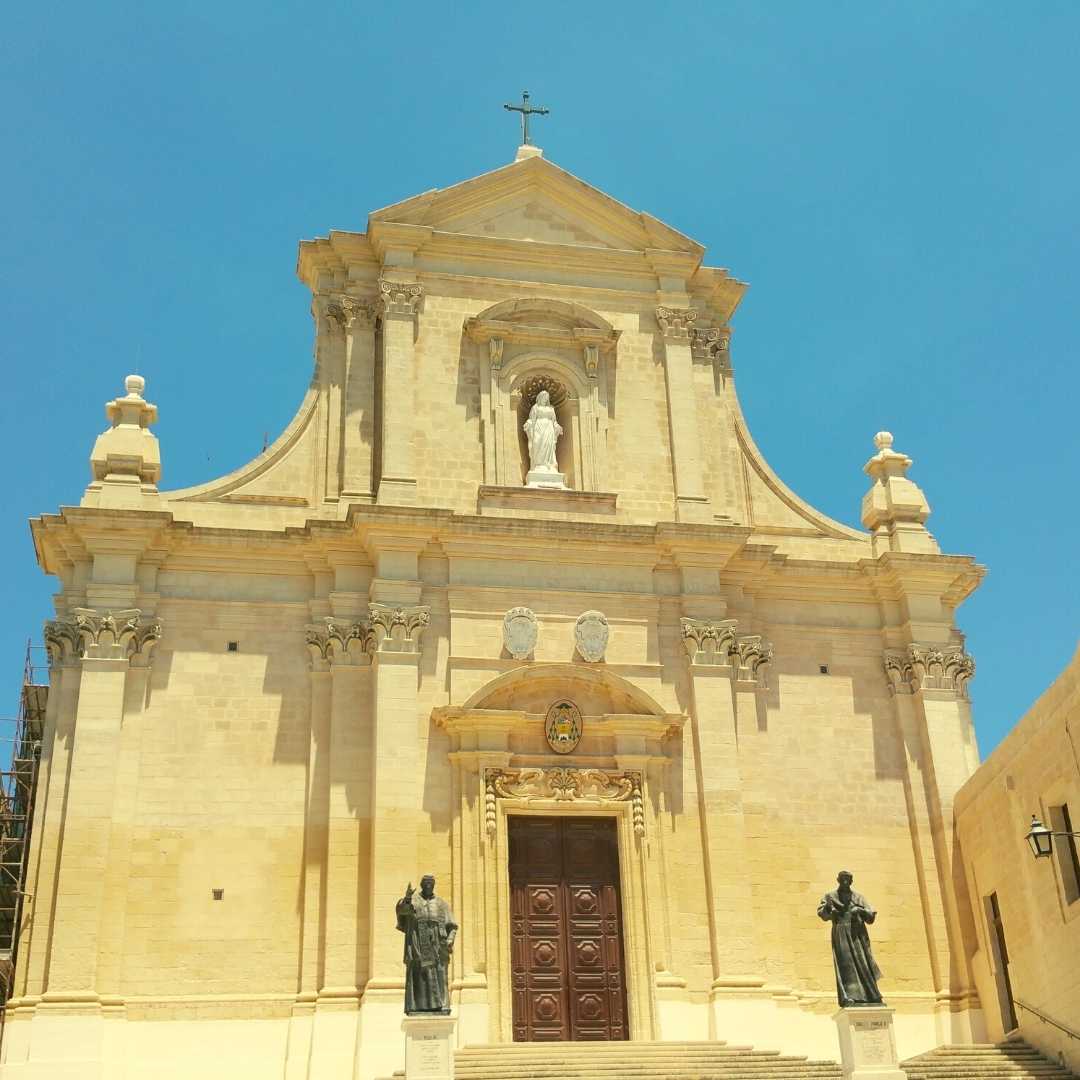 22. Saint James' Church
Dedication: St James
Address: Pjazza l-Indipendenza, Ir-Rabat Għawdex, Malta
Hours:  Open ⋅ Closes 7:30PM
Feast: 25 July
23. Annunciation Chapel, Victoria
Address: Lunzjata Valley (Wied il-Lunzjata)
Feast: 25 March
24. Immaculate Heart Of Mary Church
Dedication: Mary
Address: Palm Street (Triq Palma)25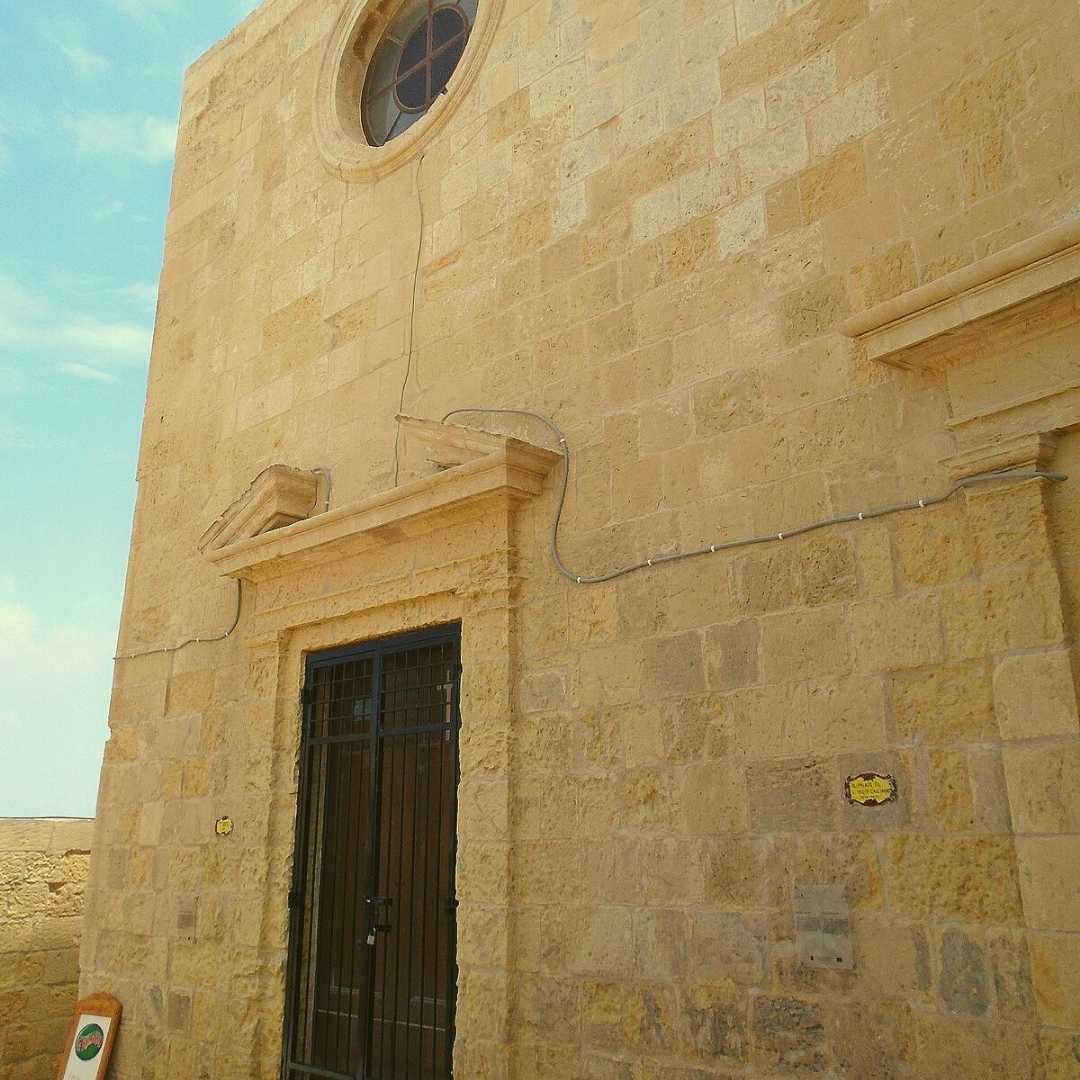 Old St Joseph's is a Roman Catholic Church located in the medieval walled Cittadella in Victoria, Gozo, Malta.
25. St Josephs Chapel
Address: Old St Joseph's fiċ-Ċittadella
Feast: 19 March
26. Santa Marta Chapel
Address: Triq l-Arċisqof Pietru Pace, Ir-Rabat Għawdex, Malta
Website
KERCEM
The village of Kerċem lies close by to the south-west of Victoria, spread between the picturesque Lunzjata Valley, the green hills of Tal-Mixta, Għar Ilma and Ta' Dbieġi, and stretching up to the Pond of Għadira ta' San Rafflu and Xlendi cliffs. The Church of St Lucy is a rural small church located in a hamlet of Santa Luċija.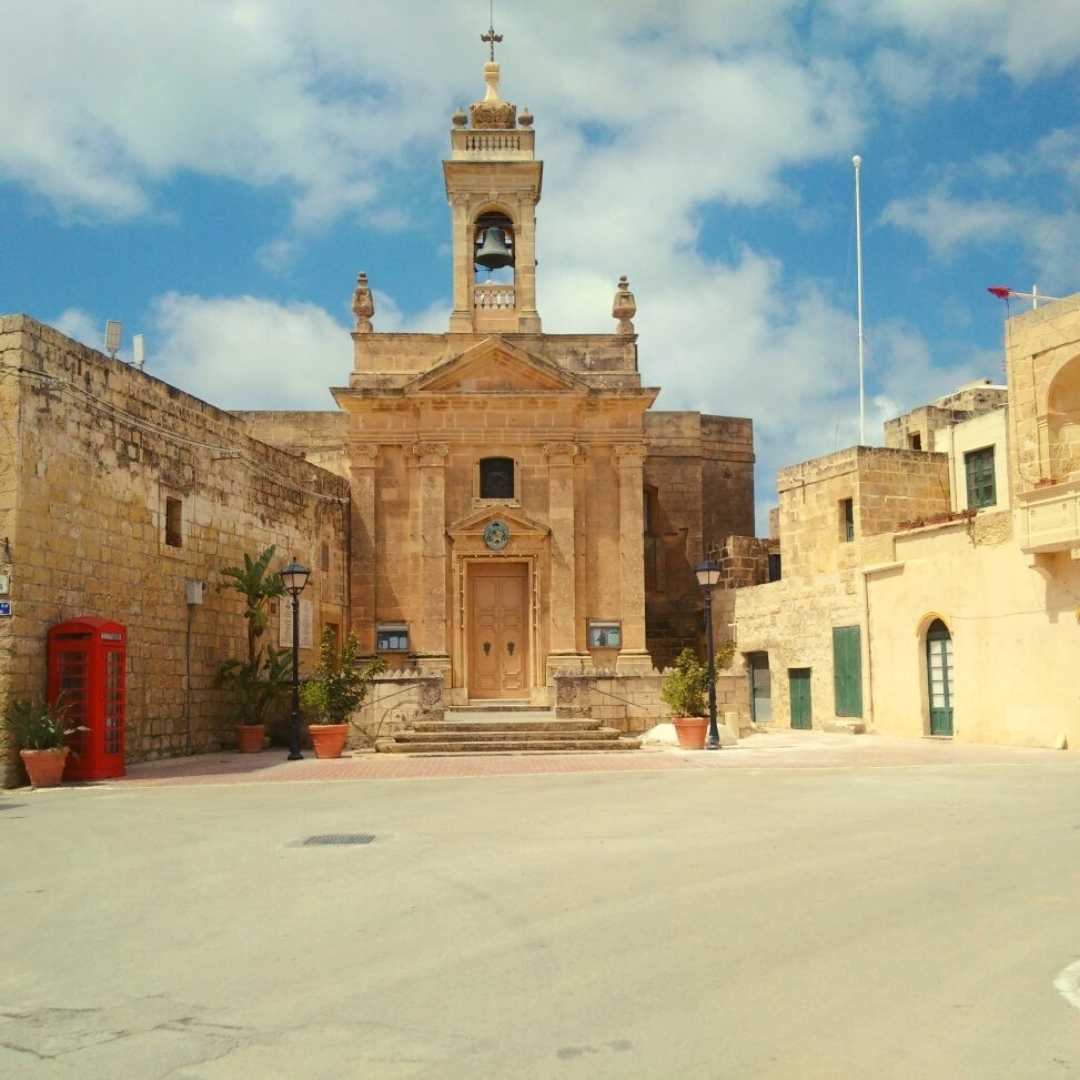 27. St Lucy's Church, Gozo
Dedication: St Lucy
Address: St Lucy Square (Pjazza Santa Luċija), Santa Luċija hamlet
Feast: Sunday nearest 13 December
28. Kercem Parish Church
Dedication: St Gregory and Our Lady of Soccorso
Address: Our Saviour's Square (Pjazza Salvatur)
Feast: 2nd Sunday of July
san lawrenz
San Lawrenz is a pretty town in Gozo which boasts the Dwejra nature reserve and Inland Sea and of course, the former Azure Window. The village has two churches, the pretty parish church in the square and St Annes down at Dwerja. A stunning and unique spot and a must visit.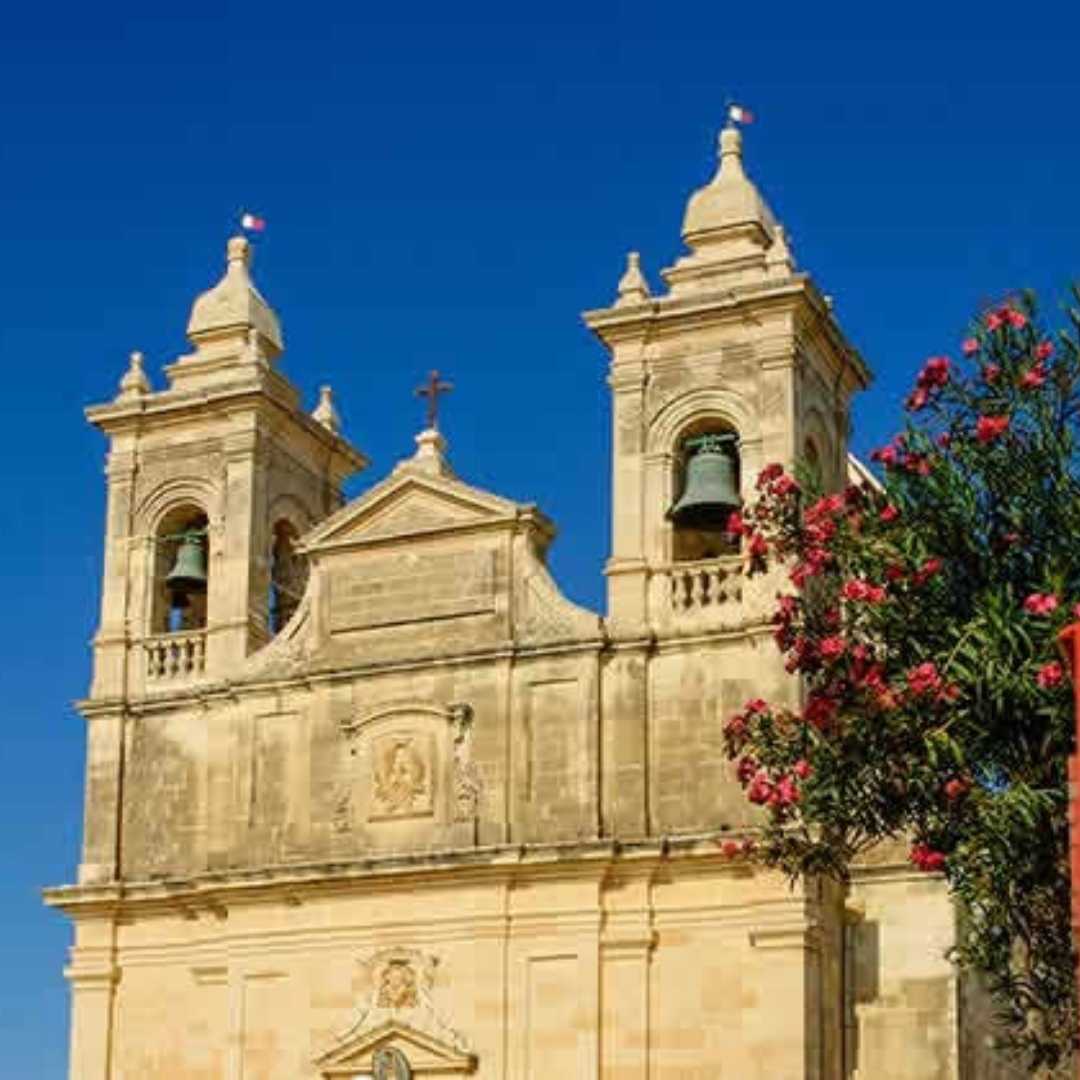 29. San Lawrenz Parish Church
Dedication: St Lawrenz
Address: St. Lawrence Square (Pjazza San Lawrenz), San Lawrenz
Phone: +356 2155 6073
Feast: Sunday after 10 August
30. Kappella Sant' Anna
Dedication: St Anne
Address: Triq id-Dwejra, San Lawrenz, Malta (A 3-min walk from the Azure Window)
Feast: 26 July

Gharb:
Gharb, the old Maltese word for 'West' is located at the westernmost point of the island and boasts The Basilica of the National Shrine of the Blessed Virgin of Ta' Pinu. This national shrine is dedicated to the Blessed Virgin of Ta' Pinu and is a magnificent landmark.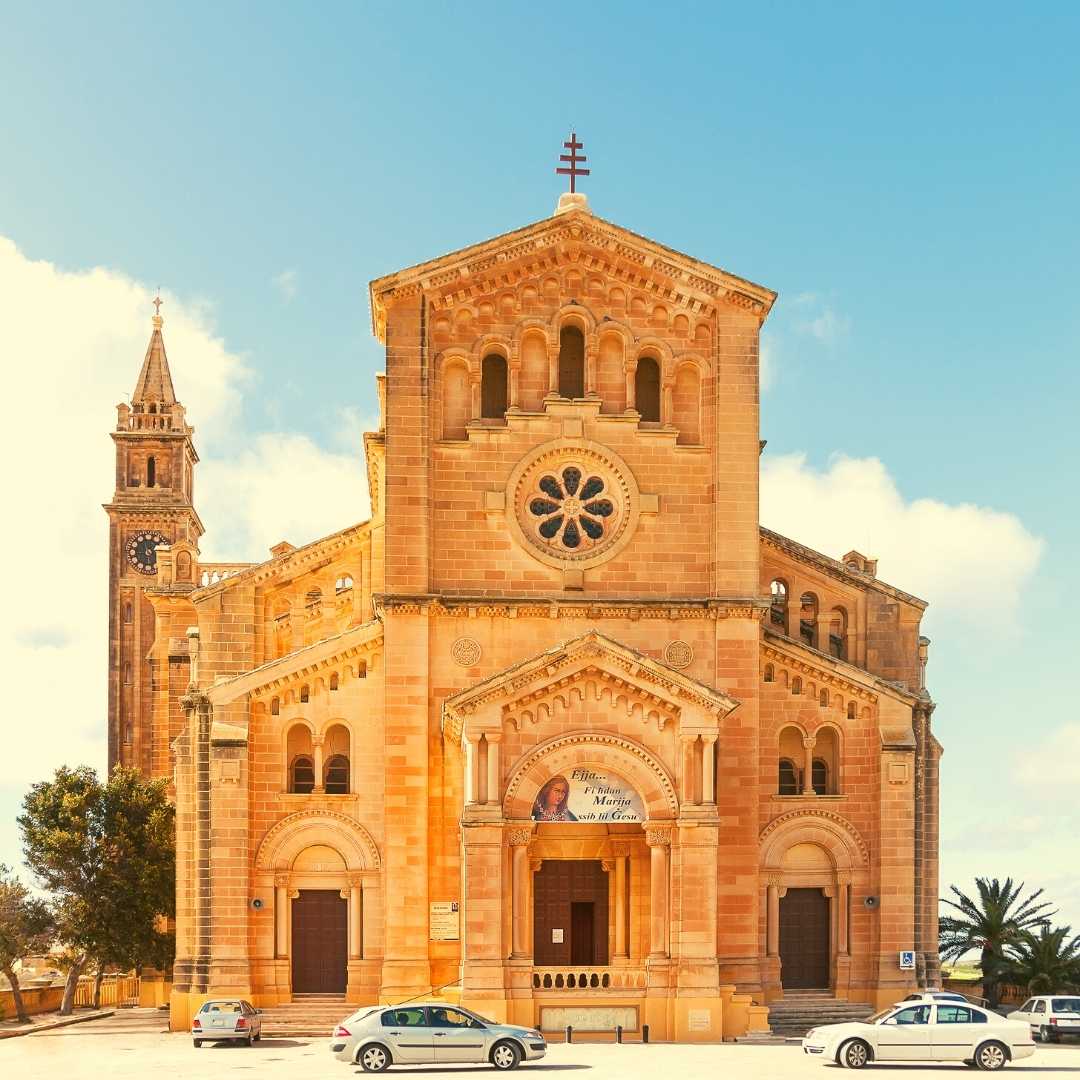 31. Gharb Parish Church - Basilica of The Visitation Gharb
Dedication: Visitation of Our Lady to St Elizabeth
Address: Trux Street (Triq Tat-Trux)
Phone: +356 2155 6129
Feast: First Sunday In July
32.St Dimitri Chapel, Gharb
Dedication: St Dimitri
Address: Ta Birbuba
Phone: +356 2155 6129
Feast: 3rd Sunday of October
33. Basilica of the Blessed Virgin Of Ta' Pinu
Dedication:Our Lady of Ta' Pinu
Address: Shrine, Ta' Pinu, Road, Gharb, Malta
Phone: +356 2155 6187
District: Roman Catholic Diocese of Gozo
Feast: 22 June
Ghasri
Ghasri lies between the hills of Zebbug and Ghammar. Dominated by the Giordan Lighthouse it boasts three epic churches. St Publius' Chapel is a small Roman Catholic church, The Basilica of Our Lady of Patronage is a small countryside church located in Wied il-Għasri and the Corpus Christi Church.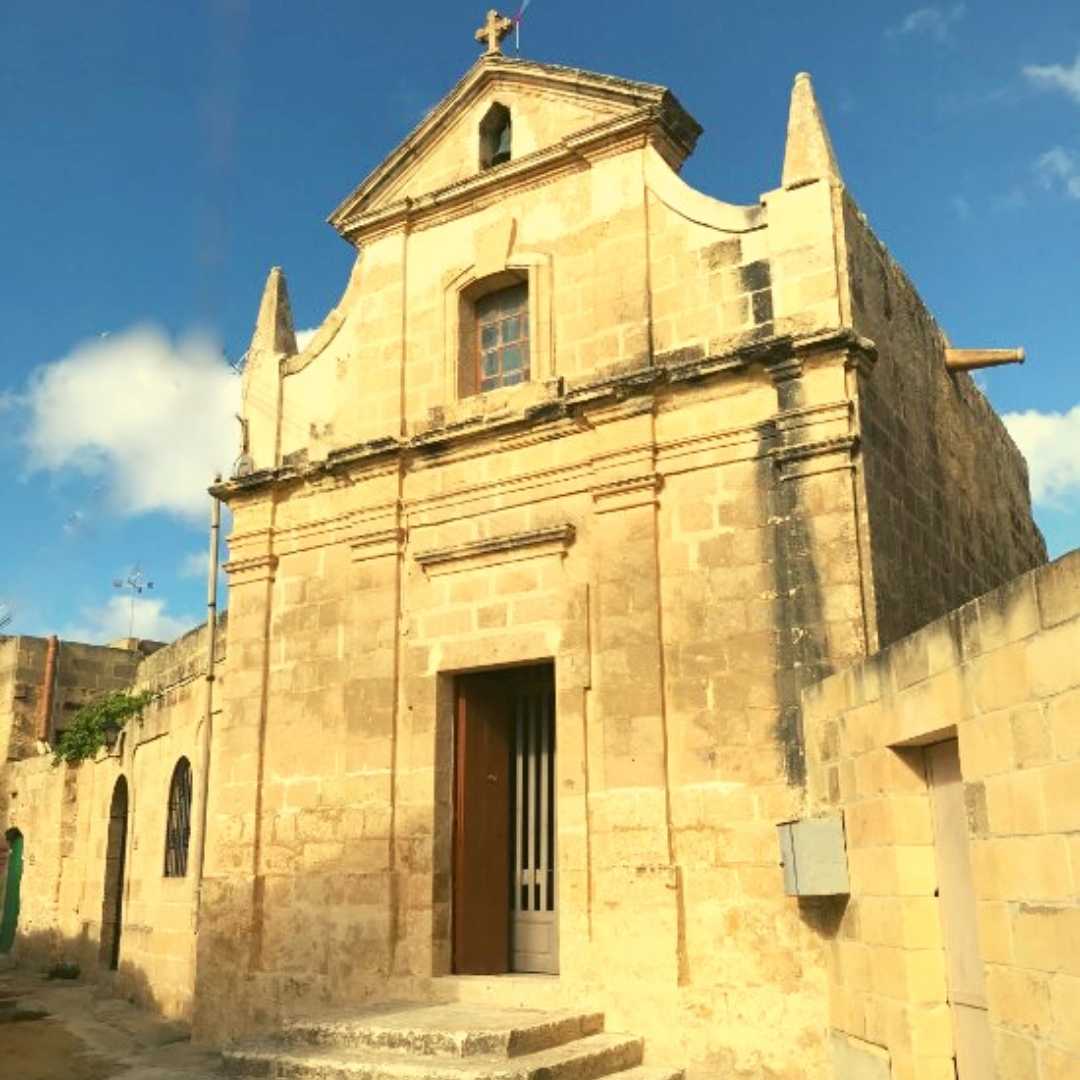 34. Knisja San Publju
Dedication: St Publius
Address: St Publius Street (Triq San Publiju)
Feast: 3rd or 4th Sunday of January
35. Ghasri Basilica Chapel
Dedication: Basilica of Our Lady of Patronage
Address: Triq il-Knisja, L-Għasri, Malta
Phone: +356 2156 0137
Feast: October
36. Ghasri Parish Church
Dedication: Corpus Christi 
Address: Our Saviour's Square (Pjazza s-Salvatur), Għasri, Malta
Phone: +356 2156 0137
Website
Feast: 1st/2nd Sunday of June
ZEBBUG:
Zebbug, s a small village overlooking the northwest coast of the island and means "olives" in Maltese. It is close to Gharb and Ghasri and just up the road from Marsalforn, where you can on of the two churches in the village.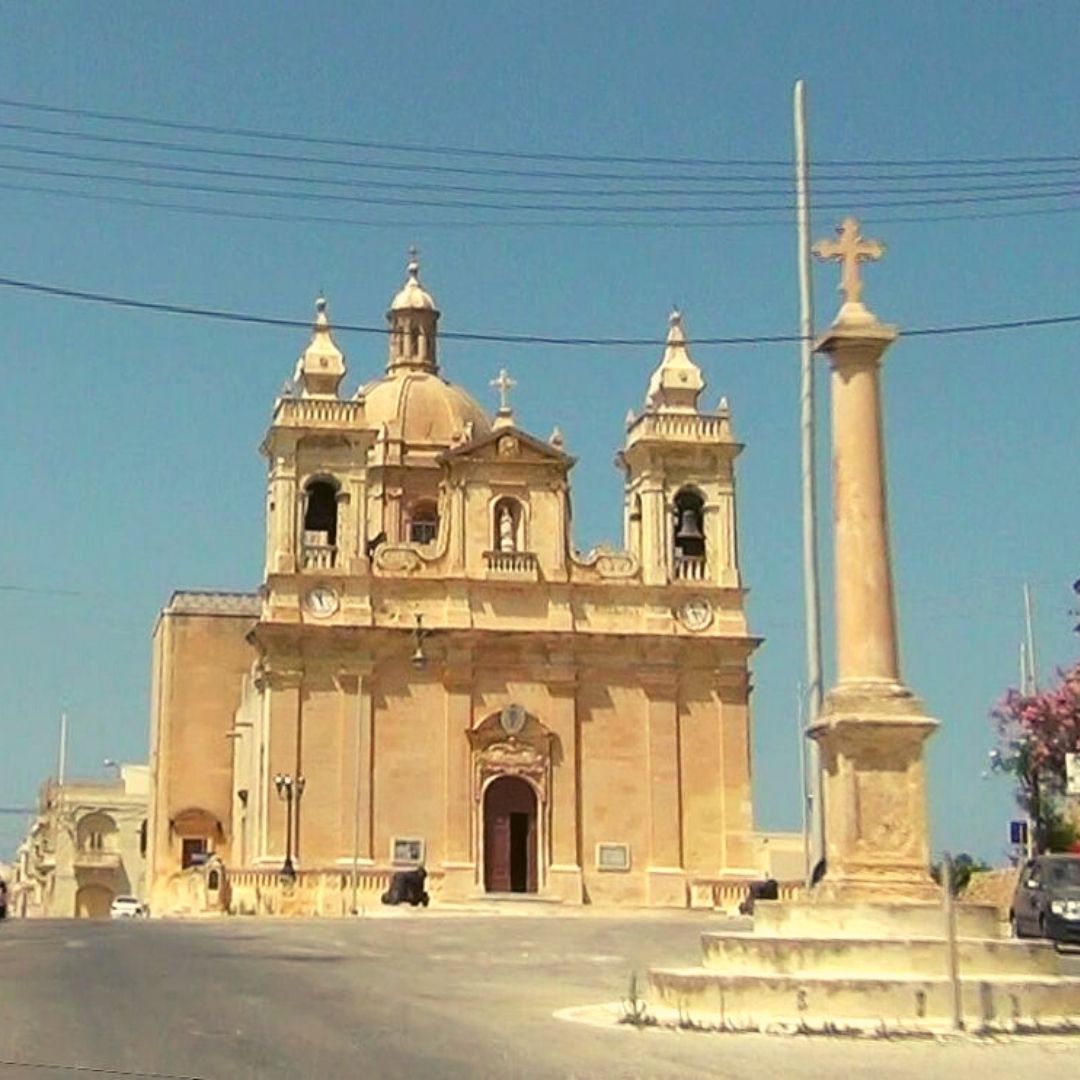 37. Żebbuġ Parish Church
Dedication: Assumption of Mary
Address: Pjazza L-Assunta, Iż-Żebbuġ, Malta
Phone: +356 2155 4882
Feast: Sunday after 15 August
38. St Paul's Church
Address: Triq Għar Qawqla, Iż-Żebbuġ, Malta
Phone: +356 2155 1010
Website
Feast: January
Xaghra:
Xaghra is a well-inhabited town on Gozo and home to the Ġgantija megalithic temples which date back to the year 3600BC and the Xagħra Stone Circle. Natural underground features such as Xerri's Grotto and Ninu's Cave can be found in this town, along with Calypso's Cave which overlooks the red sandy beach of Ramla. The Parish Church is always a hubub of activity, especially at feast times and Christmas.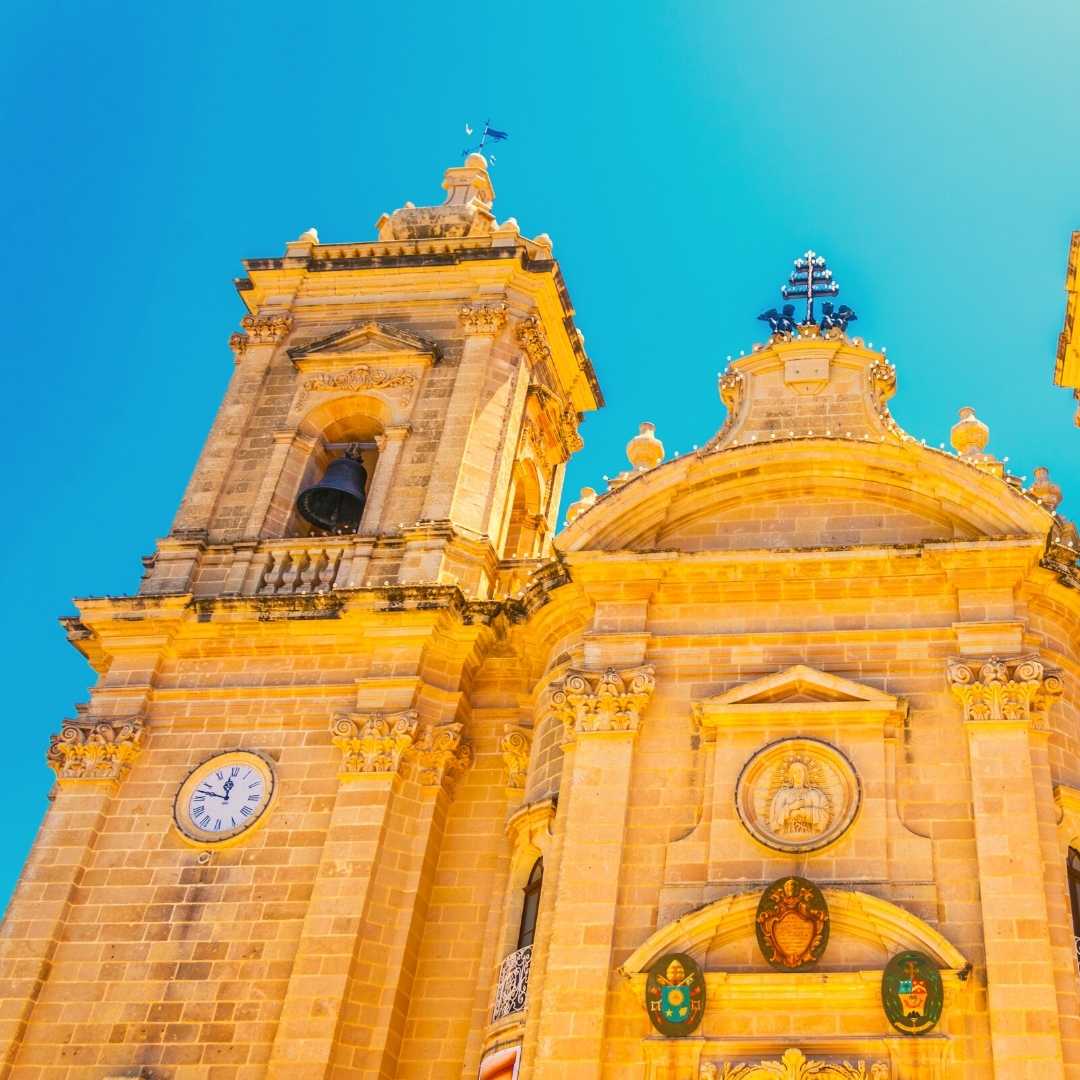 39. Xaghra Parish Church
Dedication: Nativity Of Mary
Address: Victory Square, Xaghra, Malta
39. Phone: +356 2155 1042
Feast: 8 September
40. Jesus of Nazareth Church (Knisja Gesu Nazzarenu)
Dedication: Jesus of Nazareth
Address: Triq Gnien Xibla, Xaghra, gozo, Malta
Phone: +356 2156 0813
41. The Church of Saint Anthony the Abbot
Dedication: St Anthony of Egypt
Address: 23-109 Triq Sant Anton, Ix-Xagħra, Malta
Feast: January
Have we missed any? Contact us!