An exhibition created exclusively for the Victoria International Arts Festival's 25th anniversary opens in Gozo at Il-Ħaġar.
Celebrate Gozo's Scattered Beauty At Il-Ħaġar with Maltese artists Debbie Bonello and Andrew Borg.
Il-Ħaġar – Heart of Gozo Museum and Cultural Centre is located at the heart of Victoria (Rabat), and offers an authentic experience of Gozitan heritage recounting the history of this island through its people: their beliefs, their abilities and their products. This week sees the opening of a dual exhibition from Maltese artists Debbie Bonello and Andrew Borg, who have collaborated on a new collection exploring the scattered beauty and local landscapes of Gozo island.
Exhibition: Whereabouts - Debbie Bonello & Andrew Borg 
Date: 12th June - 25th July 2022
Time: Open Monday – Sunday 9am – 5pm
Where: Il-Ħaġar – Heart of Gozo, Pjazza San Ġorġ, Victoria VCT1101, Gozo, Malta
Entrance: Free
Group Visits: Kindly send us an email to: info@heartofgozo.org.mt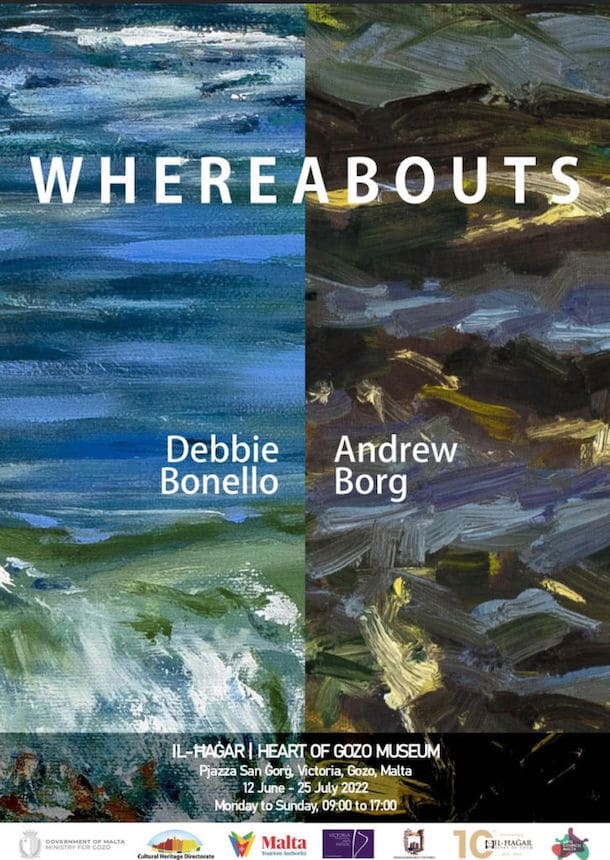 Who is Debbie Bonello?
Debbie Bonello is a visual artist based in Malta. Having always had a passion for the arts from a young age, Debbie pursued her career as an art tutor prior to establishing herself as an independent artist. Whilst she is mostly self-taught, Debbie attended printing classes at the Malta Government School of Art in 2007 with Anton Grech. However, she mainly credits lessons with Debbie Caruana Dingli and Tonio Mallia in 2016, as well as the artist Andrew Borg for re-igniting her creative flare. Excelling in the medium of painting, particularly in oils, the canvas is a space where Debbie's loose and soft handling of the brush evokes her powerful yet delicate gestural strokes. In a unification between her academic background and daily practice, she conveys her talent in numerous subjects, ranging from nature and en plein air, to an appreciation for the human body in her series of portraits of both people and animals alike. Essentially, all subjects are grounded in personal experiences of the artist.
Debbie's work is located in private collections both across and beyond Europe, namely in Malta, Sicily, England, and The Netherlands, as well as in Canada and the US. Moreover, she has been participating in collective exhibitions since 1997, including Polarities (2000) and Feminae (2019). However, she has most recently been establishing herself through her solo exhibitions, debuting with [ONE] (2017) at Palazzo de Piro, Mdina, and most recently, Gatherings (2021) at Il-Kamra ta' Fuq, Mqabba. In 2018, Debbie was selected to participate in the prestigious Chinese cultural programme, and in 2021, she further established herself as one of the first local artists to unite art with blockchain, by translating her work into an NFT. She is looking forward to presenting at Il-Ħaġar.
---
Who is Andrew Borg?
Andrew Borg is intrigued by capturing interesting shapes, tonalities and moods from an off-beat angle and any source of these facets would be enough to tempt him towards painting. He finds joy in searching for unusual subjects in his travels but all the while location seems to be not that important for Borg. He takes pleasure from choosing a well-worked subject and transforming it through a fascinating angle whether by way of composition, perspective or mood.
Borg is mainly a minimalist and works in oils, watercolour as well as charcoal, each medium bringing out a different facet of the artist. His paintings are based on loose yet bold brushstrokes that are employed to capture unconventional compositions that convey a sense of space and which combine realism with abstraction, where the focal point of the composition is pushed to the extreme edge of the canvas support. He also enjoys depicting mundane subjects, normally overlooked in everyday life, and lifting them up spectacularly on canvas.
Borg expanded upon his artistic training by studying academic drawing and painting under Chinese artist Jason Lu who lived in Malta between 2002 and 2010. He is also an avid en plein air painter, capturing light and colour of unusual viewpoints on canvas.
He has held a number of successful solo and collective exhibitions since 2007, both locally and overseas. Borg's work has also significantly featured in several local articles as well as international magazines, such as Outdoor Painter and PleinAir Magazine.
Today, Andrew Borg shares his artistic know-how and technique through demonstrations and workshops that focus on capturing light and shadow in both watercolour and oils and looks forward to being part of this exhibition at Il-Ħaġar.
The Exhibition opens 12th June and runs until 25th July 2022.