Experience Gozo like a local. Check out this must-do list of things to do in Victoria this summer.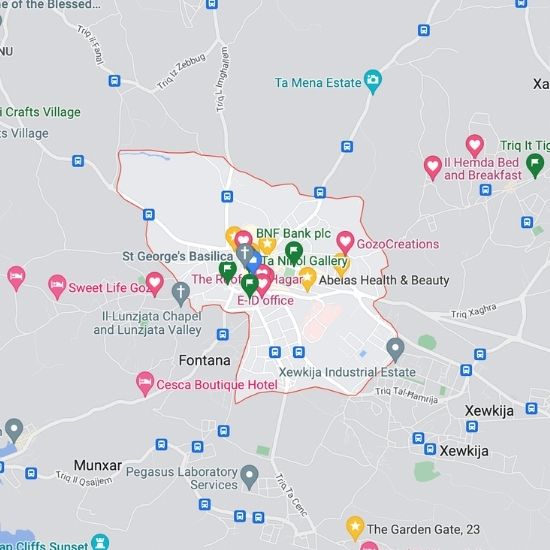 Getting to Victoria
Victoria (formerly known as 'Rabat' ) is Gozo's capital and the largest town on the island. From the Gozo Ferry Terminal, it takes just 15 minutes to reach the centre by car, where there are options for free and paid parking. Victoria is well connected by bus to all other localities and most bus routes pass through the centre every hour. If you are travelling to Victoria by bus from the ferry, you take routes 301, 303 or 323.
In Gozo all roads lead to Victoria, the island's picturesque capital and hub of cultural activity which fuses days gone by with modern life. Although the centre can feel busy at times, you can easily escape the crowds and explore the maze of photogenic backstreets or dine in one of the three charming squares and watch the world go by.
Independence Square or It-Tokk is situated in front of the City Hall and has several open-air cafes and market stalls selling local produce and souvenirs (open Monday- Saturday mornings). St. George's Square is in the older part of town and is the gateway to the labyrinth of quaint alleyways, dotted with colourful wooden balconies, statues and numerous boutiques and art galleries. St. George's Square is brimming with al fresco eateries with views of the magnificent baroque St. George's Basilica. Lastly for a more local feel visit the recently renovated St. Francis Square, positioned behind the bus terminus. Here you can eat and drink like a local for a very reasonable price!
Things To Do In Victoria. Eat, Drink, See, Be, Do, Stay.
Check out our favourite accommodation, cool places to eat and drink, plus must-see sights in Victoria. Find the balance between being and doing, and leave a little room for some magic. Bookmark this page if you're visiting us soon as we update it often – and get in touch if you would like us to curate your island experience.
---
Eat
Breakfast
Kick start your day with a hearty breakfast from Aurora Bistro Cafe located on the main street in Victoria. Choose from fresh bagels, eggs benedict, french toast or traditional Maltese ftira. A beautiful, light and airy building with an ornately painted ceiling – one for Insta!
Lunch
For a memorable dining experience, settle down for a leisurely lunch at Grapes Wine Bar in St. George's Piazza with views of the Basilica. Graze on meat, seafood, or a vegetarian sharing platter of regional produce, or try a local speciality such as rabbit stew.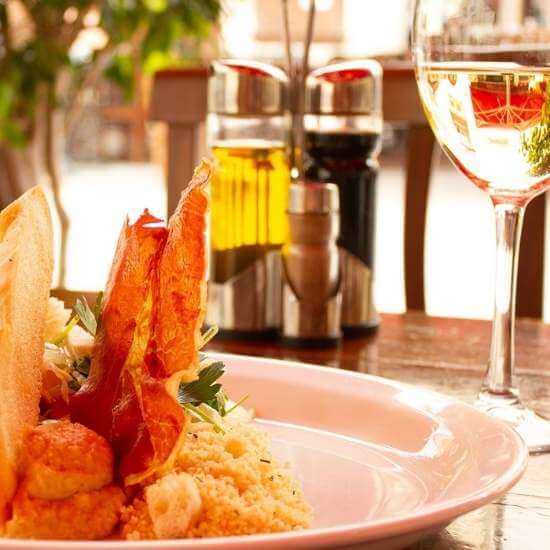 Dinner
Casa Vostra brings city vibes to Victoria, with funky décor, an open kitchen, charismatic staff, and knock-out Italian dishes. They are one of the best for authentic pasta and pizza. Grab an Aperitivi, soak up the atmosphere, and let that Italian aroma send you into a heavenly spin!
Drink
Boozey
Experience traditional authentic Gozo at Ta' Rikardu Restaurant. This hidden gem is tucked away in a wonderfully rustic old building within the Cittadella walls and boasts a rooftop with spectacular views. Sample homemade cheeses and wines produced from Rikardu's local vineyard and farm so can you truly taste the Med.
Non-Boozey
Coffee lovers are spoilt for choice at 7ten! As well the usual coffee suspects they offer gourmet beverages; how does a double espresso with pistachio cream, a turmeric latte, or matcha tea sound? They also serve a variety of sweet and savoury items and cater to vegan, gluten-free and dairy-free. Sit in or grab a takeaway and explore.
---
See
The Cittadella
Transport yourself to centuries ago as you wander the narrow alleys of this magnificent fortress and see city walls still intact from Medieval times. Other areas of the Cittadella have been restored and there's a plethora of museums, gift shops, cafes and an interactive visitors centre. From up top the 360 views of the Gozitan terraced hilltops are priceless, especially for sunset, a more peaceful time to visit and enjoy a sundowner. Discover more top tips for exploring the Cittadella here.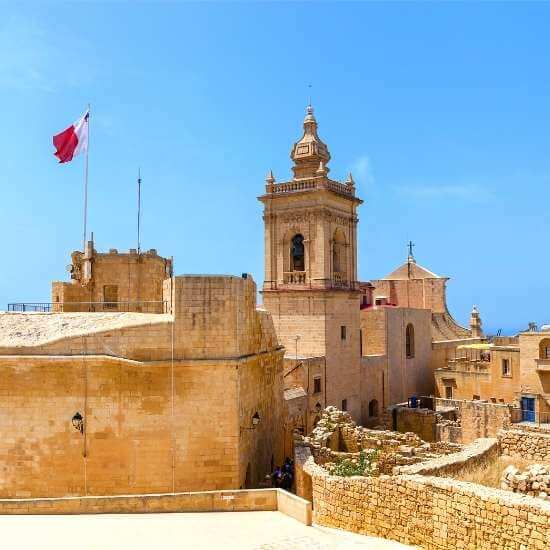 Villa Rundle
An oasis in the heart of Victoria, the Villa Rundle Gardens provide a tranquil space with shaded benches and beautifully maintained gardens to escape the crowds, sip your coffee or fresh orange juice and get stuck into some holiday reading. During the key festivals, the gardens come alive with vibrant decorations, fairy lights and pop-up artisan markets selling local produce. Keep an eye on our events calendar to see what's happening whilst you are in Gozo.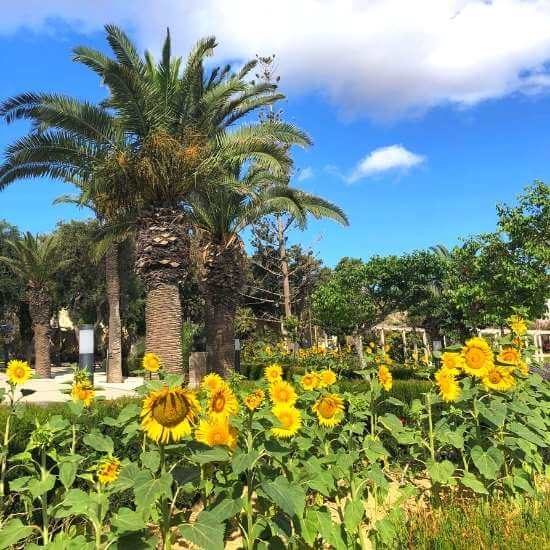 ---
Do and Be
Shop Local
Browse the centre's collection of lovely boutiques selling local produce, artisanal gifts, jewellery and clothes. Bindi Boutique offers a stunning collection of the most colourful items sourced from the owner's worldwide travels. For something more local visit Gozo Weaving & Creations and treat yourself to a bespoke woven gift using eco-friendly materials which is a whole lot better (and cheaper) than Zara Home.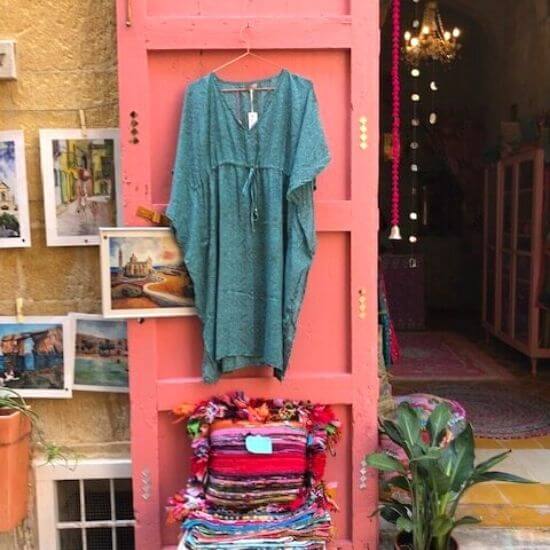 Meander The Backstreets
While away the hours and escape the mid-day heat in the charming back streets of Victoria. Start at St. George's Square and admire the beautiful architecture in the labyrinth of what is the real Rabat. Enjoy the stillness and opportunities and get creative with your camera, remembering to look up at the quaint wooden balcony and the many statues adorning the street corners. Along these streets, you will also find several art galleries.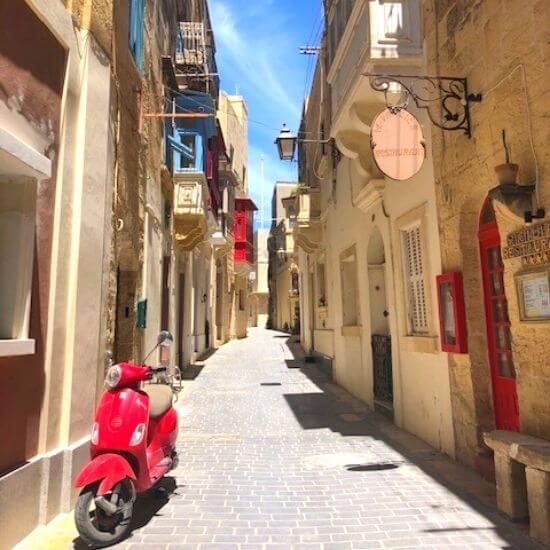 Stay
Best Of Victoria And Close By
And Lastly…
Dont miss these 5 things to see and do in Victoria
Pick up a freshly baked Pastizzi (traditional savoury pastry snack) from one of the vendors on Triq Taht Putirjal.
Visit the Cittadella in the evening to watch a magical moonrise.
Buy a piece of Gozo treasure from Pio's Antique Shop in Salvina Square.
Join in the festivities. Victoria is a hub of activity during the summer with Festas, Carnival, Art Exhibitions, Live Music, Street Dancing, Operas and Musical Theatre. Check our events calendar to see what's happening.
Tuck into juicy local fruit from the stands dotted around the main car park, think peaches, figs and cooling watermelon, perfect for those sizzling summer days!
---
Did you enjoy this article? Share it on your favourite Social Network. Get in touch if you want a bespoke experience on Gozo Island or feel you should be mentioned on our Victoria page.