Add Ta Tona to your 'places to eat in Gozo' list for the ultimate local dining experience.
This restaurant is certainly up there in the top 5 restaurants in Gozo for us.
Contented and happy 'mmms' alongside words like 'wow!' and 'sooo lovely!' are literally bound to fall out of your mouth once you walk away from the bustling treat that is Ta Tona. Few restaurants in Gozo have the ability to instantly seduce you, but with all boxes of the golden restaurant manual ticked with glee, this one will no doubt lure us back time and again.
This established restaurant takes one of the prime positions on Triq Manoel de Vilhena, the little cobbled cul-de-sac opposite Mgarr Harbour. Serving beautifully plated food from land and sea, with love, care and attention, this family-run Gozitan eatery is truly magical. Just like opening a favourite gift, and like the 'onion' Gozo is, as you peel off each enchanting layer you fall deeply in love.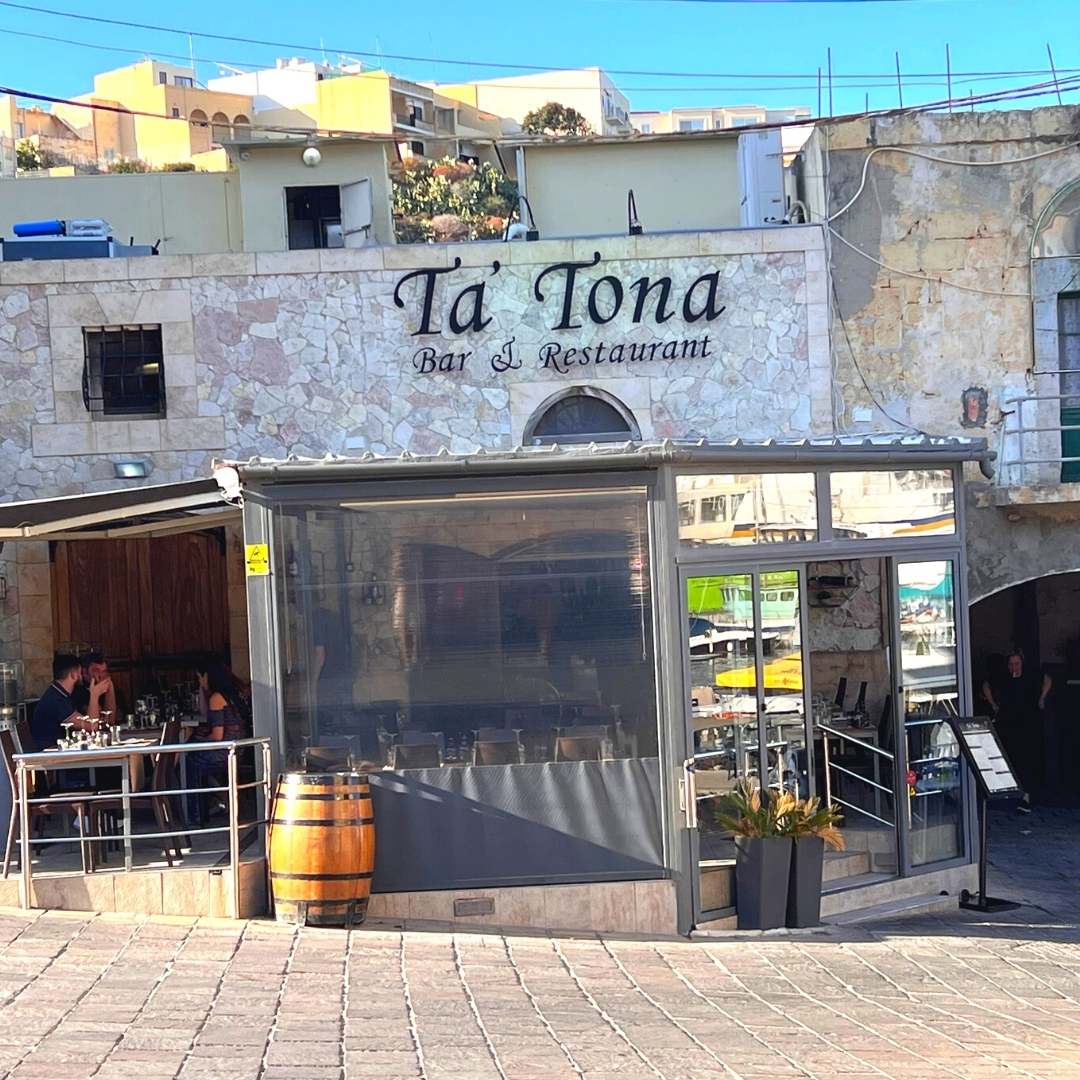 The Ta Tona Story
This place is a real convivial family affair. Your hosts, husband and wife team Jacob and Josefa and their warm-hearted staff will go over and above to make you feel at home. With huge smiles and enthusiastic hugs to regulars, it is clear they have both the respect from and for their customers.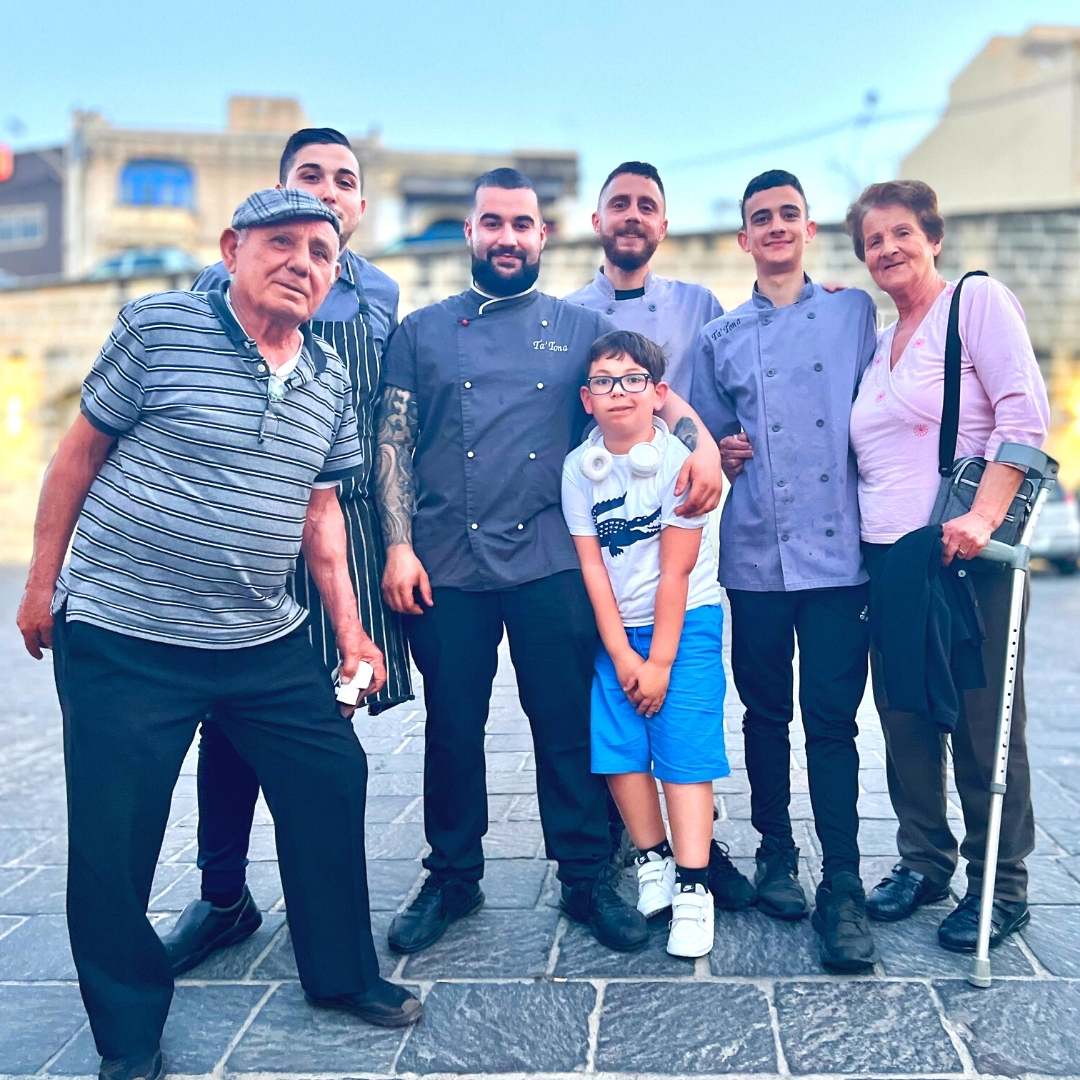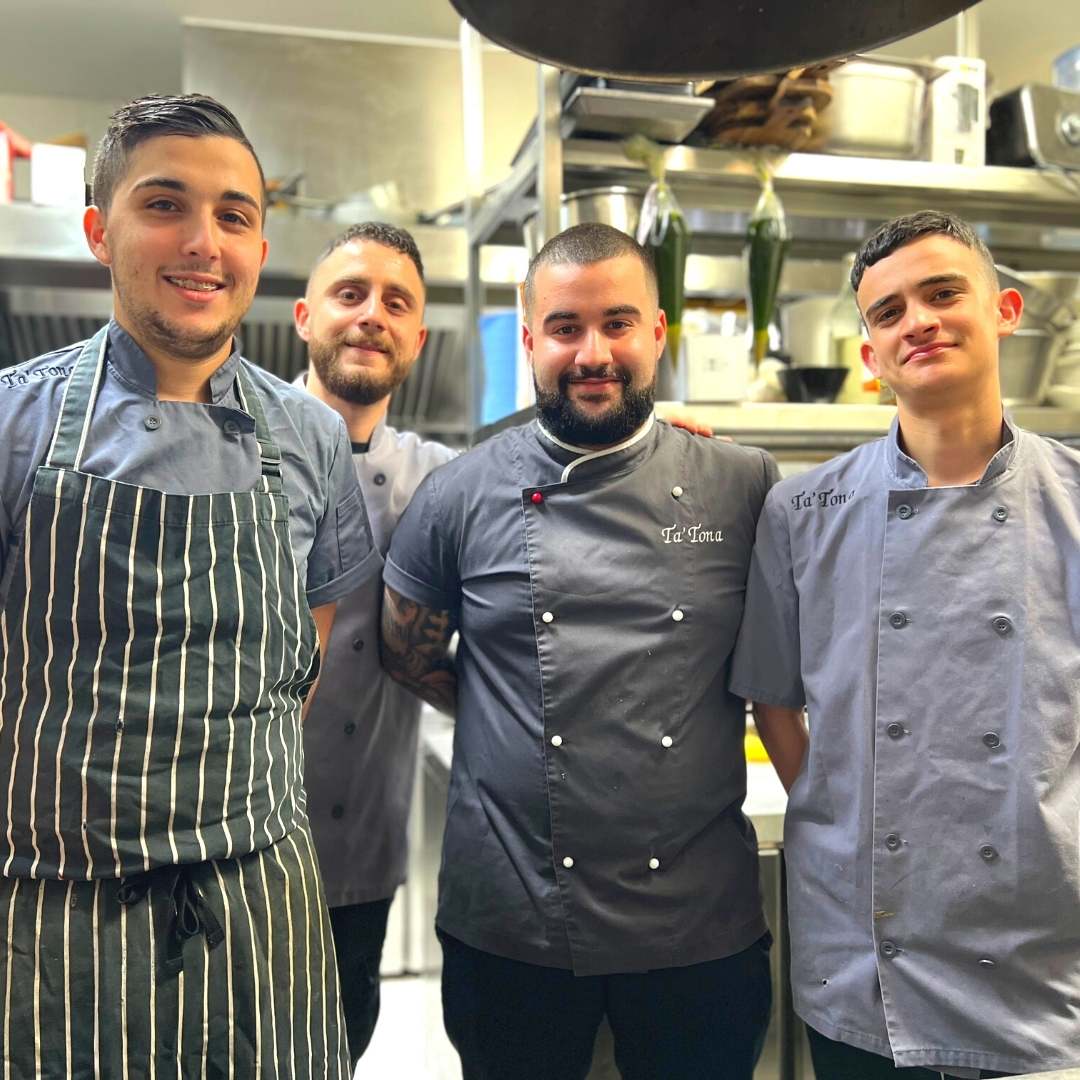 We were quick to learn that the restaurant was named after Tona, Josefa's mother who started many years ago. Every day, even now she watches over the kitchen while eating dinner with her family of an evening. We could have chatted with her for an age. "I love to cook." she smiles. "I take my time. There is no rush. I prepare sauces, and traditional food that people love." Cooking is clearly something she loves and this gift has been generously passed down the ranks to the current Ta Tona squad – and every one of them is her 'family' as she so lovingly referred.
What To Eat
The Ta Tona menu will satisfy any craving, but for us, it's all about the fish. It's vibrant, it's cooked with love and it's local. Jacob knows exactly when the best catch comes in, and from whom and his loveable character will no doubt ensure he nails every sale. "I know tomorrow, one of my fishermen will be getting the best Tuna you can find' he said. "We have waited for this to come in for weeks."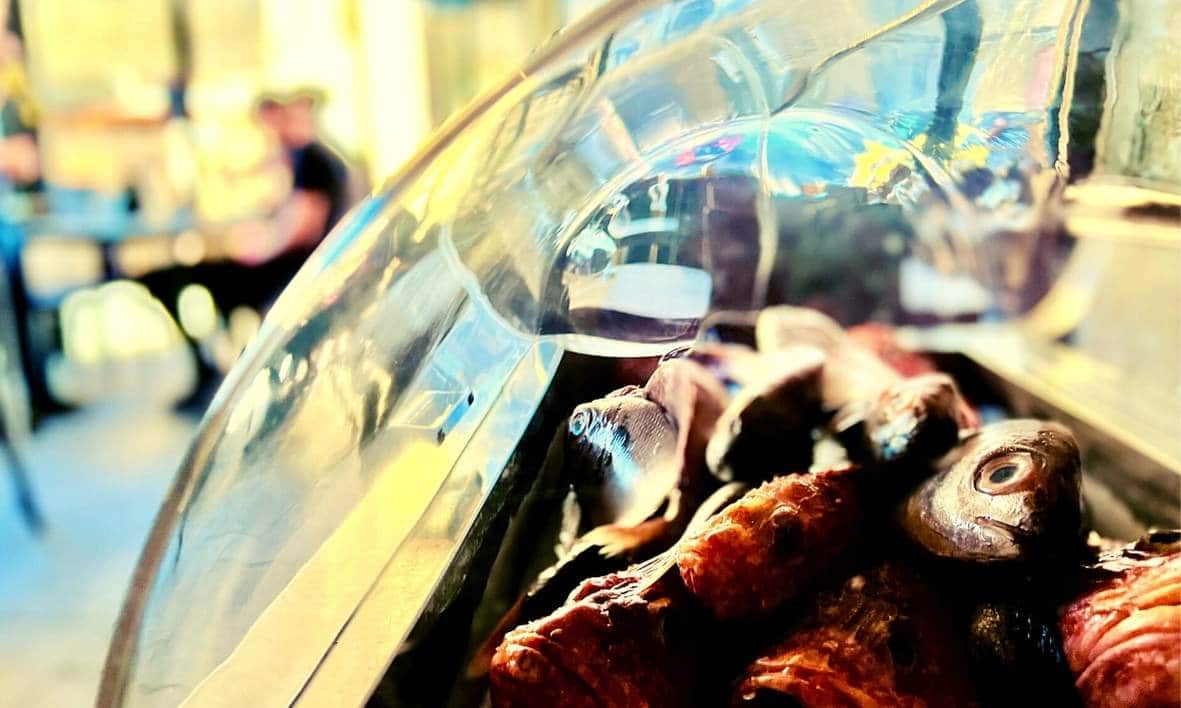 Crudi
The specials change weekly, dependent upon the catch, but if you are lucky enough to see them on the menu, the sharing plates are fit for a king with a smorgasbord to satisfy the most extravagant fish lover. Try the crudi, plated with the finest salmon, Gillardieu oysters (note cute pipette of Herb oil), local red prawns that melt like butter on the tongue, and swordfish, served with pickled seaweed, micro herbs and sweet potato and yellow cauliflower puree.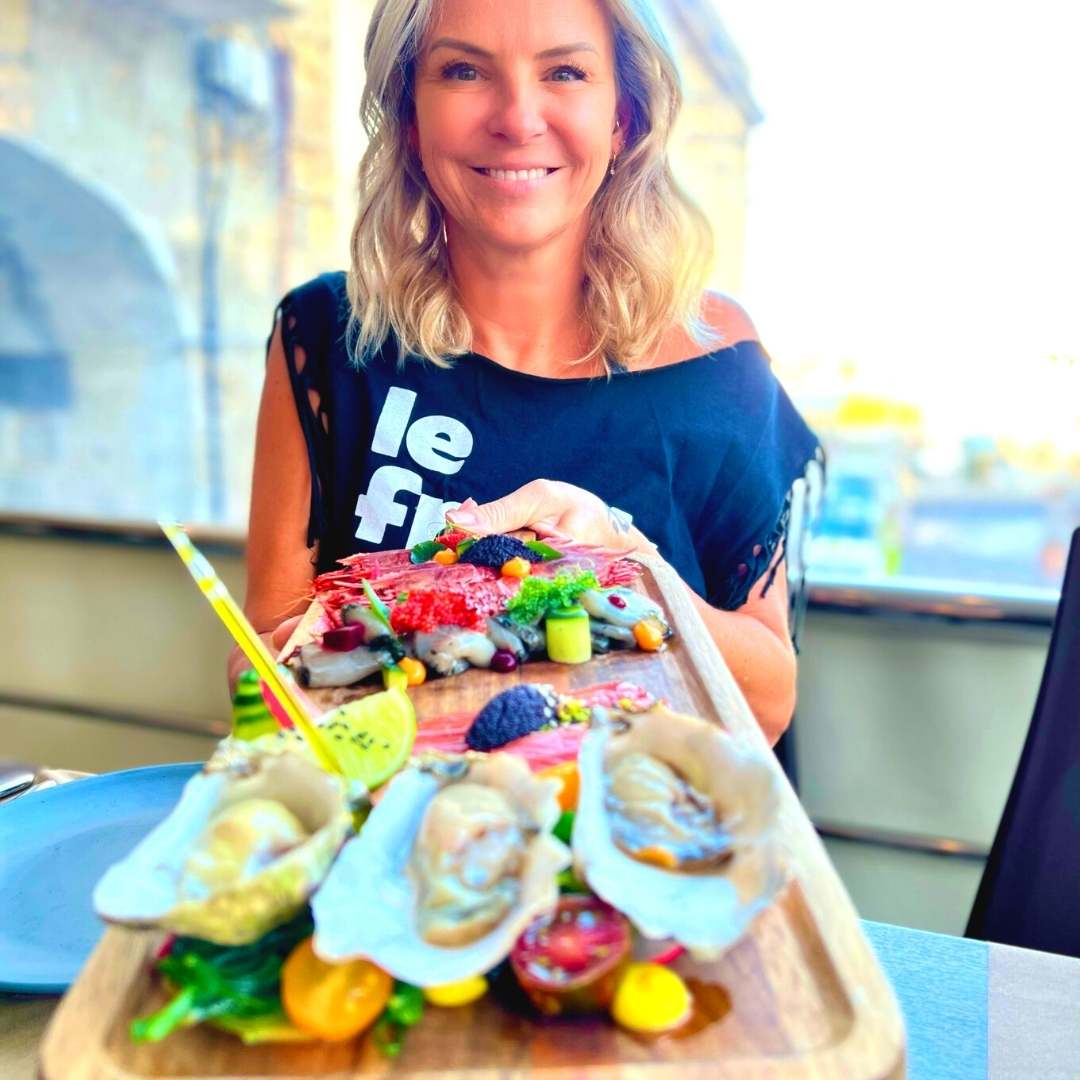 Pasta
These guys know exactly how to cook a plate of pasta. They also know exactly what to do when you get your clothes messy! The Linguini al nero di seppia, fresh cuttlefish, garlic, basil, white wine, cherry tomatoes and cuttlefish ink is super tasty and so is the Linguine Frutti di mare; a mix of local seafood cooked in white wine, garlic, basil and cherry tomatoes.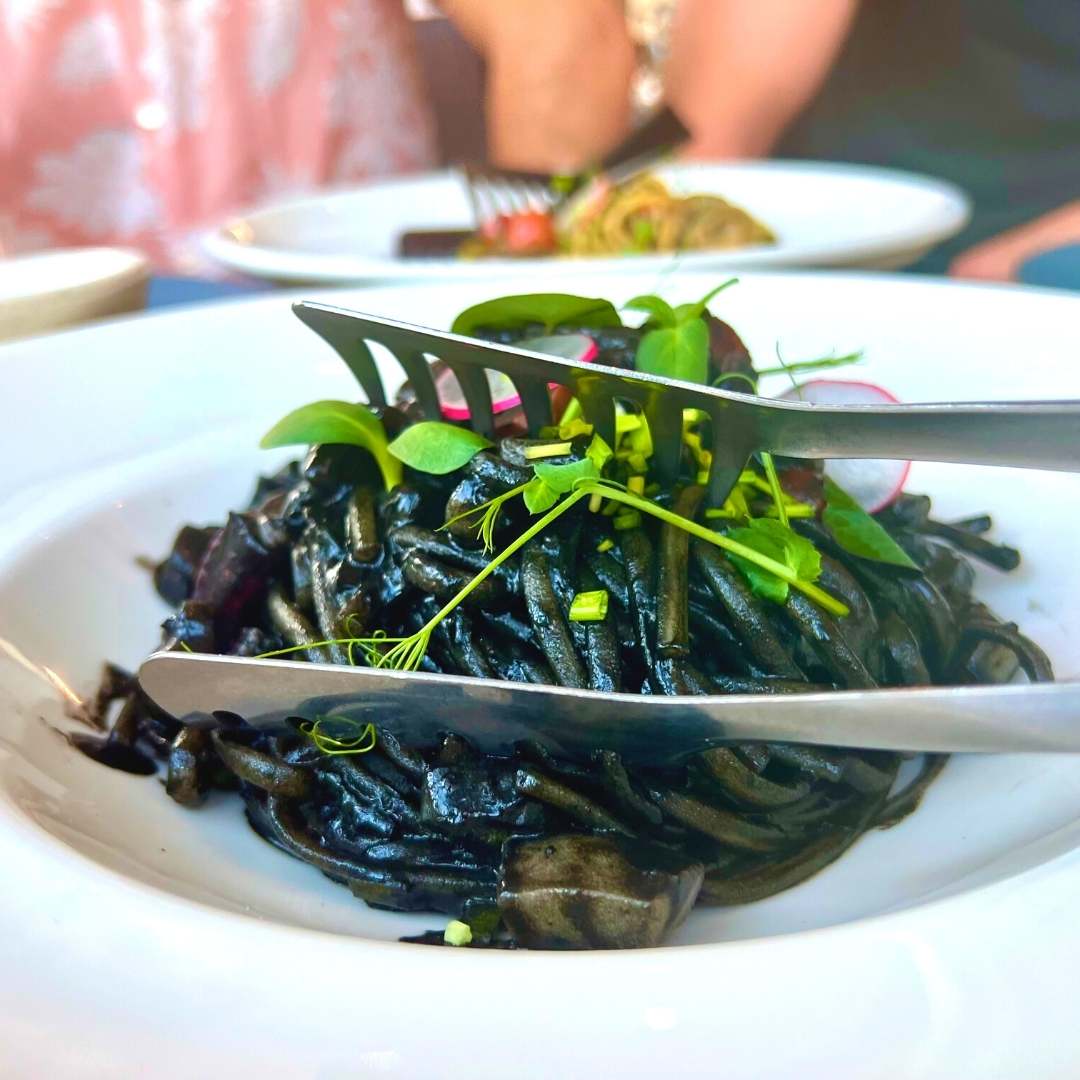 Fish Platter
Also, for the perfect fish supper, opt for a fish platter. It's fun for the table and guarantees to have a quintessential selection of seasonal local fish and seafood to tuck into. Ours had Grouper – the days catch, whitebait, fresh local prawns, grilled and fritti calamari, fresh mussels, served with their infamous and super tasty potatoes (seriously – these babies are divine!) alongside a delicate salad and dip.
Knockout. Cooked to perfection and a great sharing option. We paired ours with a locally produced Ta Betta white, Jean Parisot.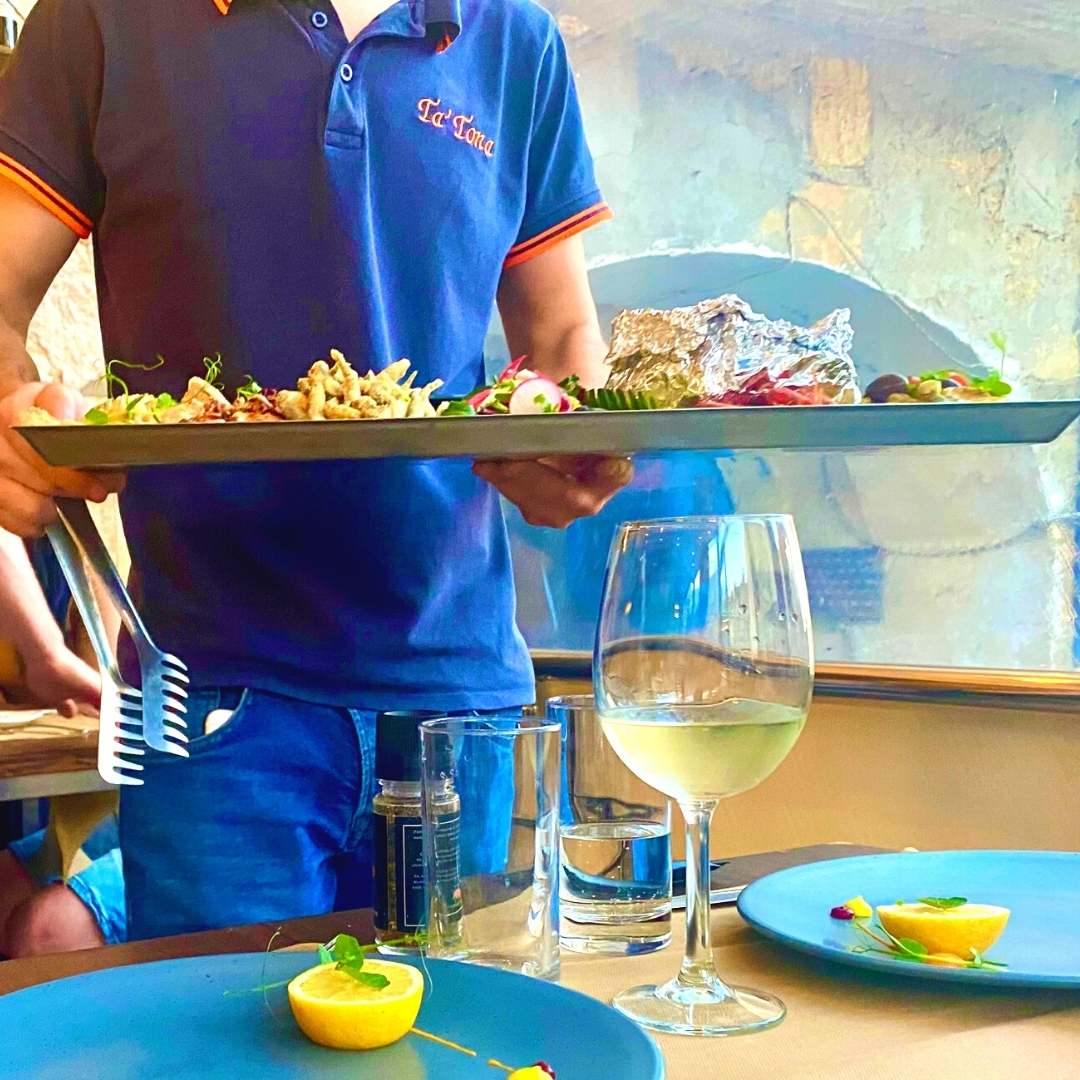 Dessert
For dessert, try the freshly made Chocolate Mousse served with fresh and fruity strawberries, their fine, warm Apple Crumble made with home-grown apples or their signature Deconstructed Cannelloni. All are proudly presented in glorious technicolour. True Ta Tona style.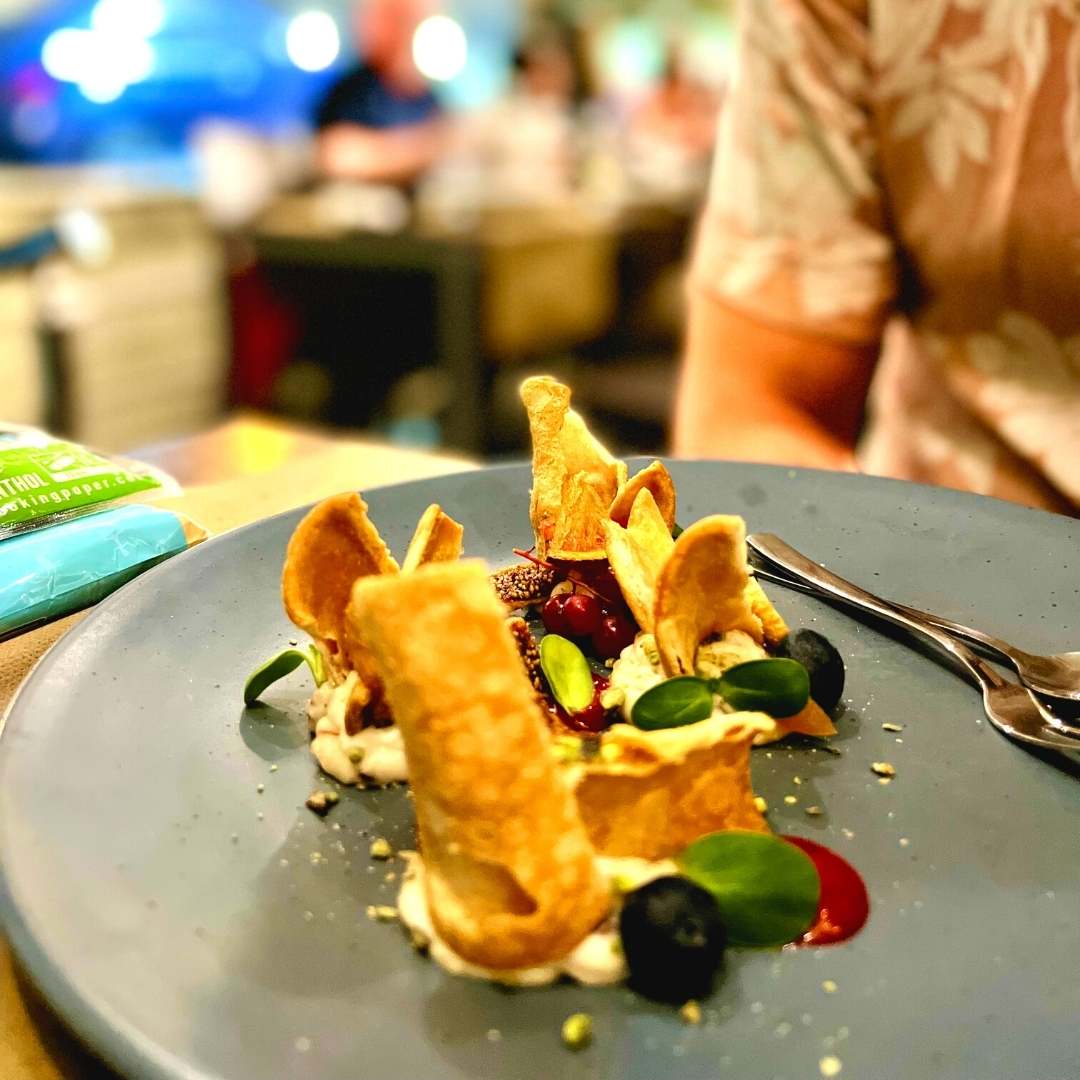 Ta Tona is a treasure chest of goodness from the moment you step in the door to the time you leave. It's the choice of the local people, the locals local. If you're visiting and you want an authentic eating experience, then book ahead for good vibes all round. They close on Tuesdays.