All The Information You Will Ever Need When Visiting Gozo.
How do you get to Gozo? How long should you stay in Gozo? And how do you get around? Gozo In The House is the ultimate travel guide to Gozo, search the site for everything you will ever need to know.
A complete Gozo guide written by locals. Enjoy a slower pace, explore rich culture and historic locations, revel in the island's distinct, quirky nature and relax and recharge by the surrounding blue sea. Eat fantastic food, explore the great outdoors, swim, dive, ride, hike, dance, do yoga, meditate and we guarantee you will sleep your best sleep. Welcome to the ultimate travel guide to Gozo.
---
The Ultimate Travel Guide To Gozo: Contents
---
1. Why should you visit Gozo?
The beaches on Gozo are unique to the island. Whether it be rocky or sandy they all boast clear waters

for swimming, snorkelling and diving

and offer the perfect getaway to take in the Mediterranean sunshine. Take a look at our features on the Ultimate Guide To Gozo's Beaches and for those that wish to get away from the crowds, the Hidden Beaches on Gozo.
This magical island is embedded with Calcite crystal which makes for a high vibrational, relaxing and rejuvenating experience. All you have to do is let go of everything that doesn't serve you when you board the ferry! And if you are unsure of what that is – you will soon know!
There's never a bad time of year to visit Gozo. Whether it's the heat you long for, or just cooler temps all around. Choose the best time to come via our link below.
Love walking and hiking? The long out-of-season walks will be some of the most rebalancing moments you will find. There are some incredible sights on offer throughout the year. Take a look at our hiking series for tips on where to go.
Gozo boasts a rich cultural history and there are various experiences on the island for you to get yourself educated.
Restaurants on Gozo are always a unique and memorable experience. We've already done the hard work for you, so take a look at our Gozo Restaurant Guide for top tips.
Shopping local on Gozo is they way forward. The island is full of independent businesses offering everything a visitor needs. From food, produce, fashion and accessories to ethical buys. Browse our listings on The Gozo Guide.
Gozo In The House TOP TIP: The sunny and magical island of Gozo lies approximately 90 km south of Sicily and 280 km north of Africa. It's the second biggest island in the Maltese islands archipelago, Malta being the largest and Comino, the smallest. Its population is just over 34K. 
---
2. How To Get To Gozo From Malta By Ferry
Once you have arrived in Malta, there are two ways to make the crossing to Gozo and only one, if you are travelling by car. If you are on foot or plan to take taxis or buses while hot-footing across the island, you can take your pick from either of the two ferry services listed below.
Get to the ferry port By car:
If you are travelling by hire car or using a car ride-sharing company when visiting Gozo, you will need to opt for the Gozo Channel Ferry from Ċirkewwa Ferry Port. Follow the signs to Ċirkewwa, the northernmost tip of Malta. It takes around 40 minutes from Malta Airport.
travelling by taxi or Bus:
If you are travelling by taxi or bus and want to get to Gozo, you have the choice to opt for the Gozo Channel Ferry or The Gozo Fast Ferry services. Both are fabulous and your choice will mainly depend upon personal timings and where you are in Malta. If you are close to or in Valletta, it's a no-brainer to head to the Fast Ferry Terminal. If you are further north, then mosey up to Ċirkewwa and use the traditional Gozo Channel Ferry service. Both ferry options arrive at the port of Mgarr.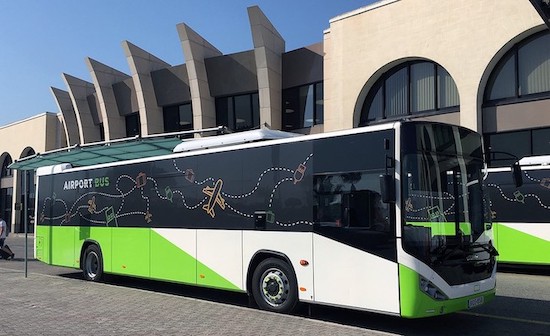 Malta Public Transport operates a super reliable service from all the major Maltese hotspots. Take a look at the Malta Bus Journey planner here. Our advice is to plan upfront as they mainly operate on the hour. From Malta International Airport, the X1 bus goes to Ċirkewwa Ferry Terminal for the Gozo Channel Ferry and the X4 bus goes to the main bus station in Valletta then you jump on the X113 or walk across towards the Tourist Information Office and step on the 130 to Lascaris Wharf Terminal for the Fast Ferry services.
---
3. Which Ferry Should I Take To Gozo?
Read our Gozo travel guide below and you will learn you have to take a ferry over to Gozo Island from Malta. There are two options to choose from. Check what time you land to work out the best option for your journey.
a) The Gozo Channel Ferry from Ċirkewwa.
(40-60 min cab ride from the airport – 20 min journey to Gozo)
The Gozo Channel Ferry is a staple of Gozo Island. It's the original crossing option and is always a joy to use. It carries both foot passengers and vehicles and operates a fantastic service throughout the year and throughout the night. Catch this service at the Ċirkewwa Ferry Port which is just past the town of Mellieha, north of Malta.
Gozo Channel Ferry: Next Ferry | Schedule
Crossing Time: Approximately: 25 Minutes
Operates: Daily
b) The Gozo Fast Ferry from Valletta
(10 min cab ride from the airport – 40 min journey to Gozo)
You can get a Gozo Fast Ferry from Lascaris Wharf Terminal in the Grand Harbour in Valletta- Malta to Mgarr Harbour Terminal in Gozo.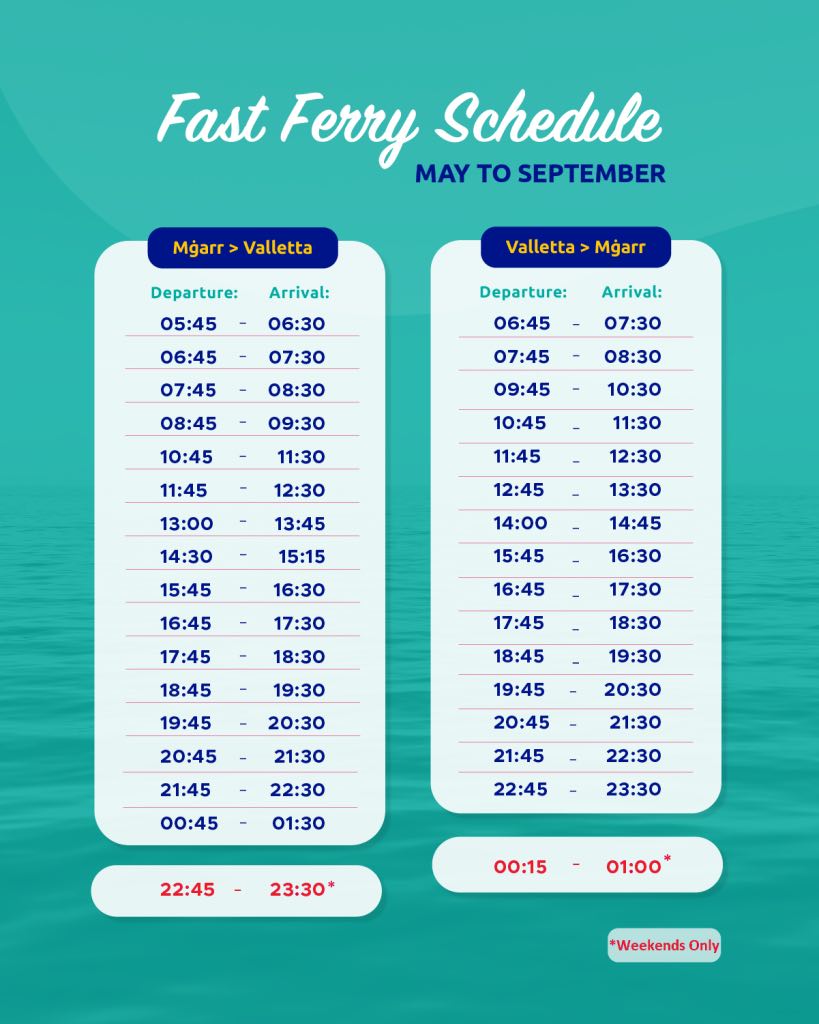 Gozo Fast Ferry: Gozo Fast Ferry Schedule | Virtu Ferries Gozo Schedule 
Crossing Time: Approximately: 40 Minutes
Operates: Daily. (Weather Dependent. Please check links above.)
---
4. When's The Best Time To Come To Gozo?
This is the ultimate travel guide to Gozo remember? Well, browsing the pages of Gozo In The House, you will see that Gozo really does have something for everyone all year round, but let's get specific in terms of when's best to come. There is a Shoulder, High and Low season determined by the weather. The Shoulder Season is between March and June. The High Season is between July and September and the Low Season is from October through to March. All bring their own joy and reasons to visit but overall, most definitely sunnier temps than most other parts of Europe.
We've listed what we believe is good advice for finding out the best time to come to Gozo, for you.
March – June – Shoulder season
Shoulder Season is quite simply a favourite of ours. Think of a chilly but sunny Spring in London, only with consistently perfect blue skies, lush green lands and temperatures on average, reaching up to the mid-20s almost every day. Nice!
Approx Temperature: Low 20° - High 25°
Approx Sea Temp: Low: 17° - High 22°
Atmosphere: Shoulder Season. Starting to get lively, more businesses are opening up for the forthcoming season.
Experience Gozo Like A Local: Explore the island on foot before it gets too hot. Check out our hiking series.
July – September – HIGH SEASON
The High Season on Gozo obviously has the majority of visitors throughout this period. They come for the hot weather, the beaches and the azure blue ocean.
Approx Temperature: Low 30° - High 35°
Approx Sea Temp: 26°
Atmosphere: Peak High Season
Experience Gozo Like A Local: Head to the beaches after 7pm to barbeque and swim like a local. Check out our Hidden Beaches article.
October – MARCH – LOW SEASON
Think of an extended Summer with temperatures still reaching the mid-20s. The rain season starts in October but it never sets in for too long and the electric storms are really quite something. We think it's the most perfect time to swim, wind and weather permitting (Gozitans may not agree!) We feel like we are getting some special extra sun time and although the island quietens down and returns to its pre-summer slumber the essence of Gozo's charm is most certainly realised.
Approx Temperature: Low 9° - High 25°
Approx Sea Temp: Low: 14° - High 18°
Atmosphere: Slow and steady.
Experience Gozo Like A Local: Extend your summer, enjoy the ocean and transition the seasons like a pro and book a retreat.
---
5. Buses On Gozo
All buses lead to Victoria, the capital city. The Malta Public Transport Bus terminal is central to all amenities and there are plenty of choices for food, coffee and snacks while you wait. When searching our Gozo travel guide, we advise checking your onward journey before travelling. Jump to the GOZO section on this timetable for an interactive route map.
Gozo Public Transport Routes
| | | |
| --- | --- | --- |
| 301 | Rabat (Victoria) – Xewkija – Mgarr/Ferry | |
| 302 | Nadur – Ramla l-Hamra – Xewkija – Rabat (Victoria) – San Lawrenz – Dwejra | |
| 303 | Mgarr – Qala – Nadur – Xewkija – Rabat (Victoria) | |
| 304 | Rabat (Victoria) – Nadur – San Blas | |
| 305 | Sannat – Munxar – Rabat (Victoria) – Gharb – San Lawrenz | |
| 306 | Xlendi – Fontana – Rabat (Victoria) – Marsalforn | |
| 307 | Santa Lucija – Kercem – Rabat(Victoria) – Xaghra | |
| 308 | Rabat (Victoria) – San Lawrenz – Ta' Pinu | |
| 309 | Rabat (Victoria) – Zebbug | |
| 310 | Rabat (Victoria) – Marsalforn | |
| 311 | Rabat (Victoria) – Dwejra | |
| 312 | Rabat (Victoria) – San Lawrenz | |
| 313 | Rabat (Victoria) – Santa Lucija | |
| 322 | Mgarr – Nadur – Ramla l-Hamra – Xaghra – Marsalforn | |
| 323 | Rabat (Victoria) Circular | |
Gozo Bus Numbers And Routes Operating from The Gozo Bus Terminal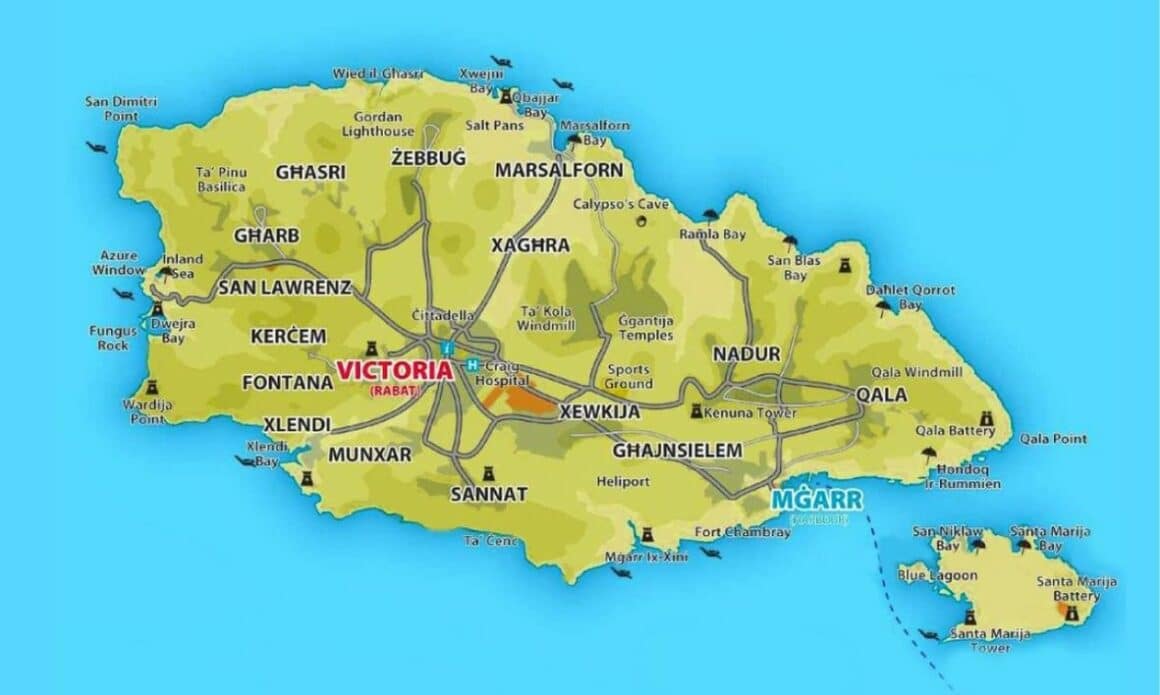 Experience Gozo Like A Local: Got some time to pass before your next bus? Grab a local pastizzi from a nearby Kiosk, a tasty Gelato from Vanilla or grab a snack from Cupcake or the Coffee Break Cafe.
---
6. Other Ways To Get Around Gozo
There are plenty of taxi options in Malta and Gozo, whether it be booking privately online, or downloading a handy taxi app. ECabs, Bolt, and MaltaTaxi are a few of our favourites. They are both reliable and fast and easily managed online or via their Apps.
---
7. How Long Should You Stay In Gozo?
Want to know how long you should stay in Gozo? This would not be the ultimate travel guide to gozo without sharing some super itineraries to help you decide how long to stay. Read below and find out how best to spend your time here. Bookmark this page as changes are often made to keep these tips current.
Want More Tips?
Come and explore twenty-six square miles of rustic countryside, traditional villages, winding cobbled streets, knockout coastlines, and some of the coolest hidden swim spots you can find on one of the top diving destinations in the Mediterranean. This is the ultimate travel guide to Gozo. Look no further and browse more articles below.