Experience Gozo like a local. Check out this must-do list of things to do in Marsalforn.
Getting To Marsalforn
Marsalforn is a super-popular seaside resort on the north coast of Gozo. Getting to Marsalforn is easy. From the Gozo Ferry Terminal, it takes 15 minutes by car and it is serviced by a large car park minute from the water's edge. If you are travelling to Marsalforn by bus from the ferry, you take the 323, or 301 to Victoria, then the 310 to Marsalforn Bay. Or the direct 322.
Marsalforn Bay is pulsating with life from May to October so there are plenty of things to do, especially throughout the summer months when it becomes alive with choices. Choose from a plethora of bars, restaurants, kiosks offering everything from first-class dining, local seafood, vegan and ice-cream and family offerings. You will also find a cool selection of independent shops selling clothes, souvenirs, and everything you need for the beach. Marsalforn is also home to numerous dive schools so it's no surprise that it's a favourite location amongst divers and snorkellers worldwide.
The recently renovated promenade is pedestrianised and busy from morning until night during the high season. There is a small sandy and pebbly beach plus plenty of rocky, beachside areas to laze around on. To the left of the bay, you will find the water polo site and lots of places to jump in from the shore. To the right of the beach, if you continue to walk past the fishing port, you will arrive at Għar Qawqla, a large rocky area, perfect for sunbathing, swimming and snorkelling. During the high season here, there are sun loungers available and a kiosk serving drinks and snacks. It's also a great place to watch the moonrise from October to December.
August is the busiest month in Marsalforn
In August, the Maltese and Gozitan families spend their holidays by the sea so you get a real feel for local culture during the highest season. The heat is on so it's all about things to do in the sea until the sun cools down at dusk! The little working port at Marsalforn is busy throughout the year with small fishing boats in and out with their daily catch, plus you can take a trip to Comino and the Blue Lagoon from here too.
Gallery Of Marsalforn
Things To Do In Marsalforn. Eat, Drink, See, Be, Do, Stay.
Check out our favourite places to eat and drink, things to do and see and places to stay in Marsalforn Gozo. Find the balance between being and doing, and leave a little room for some magic. Bookmark this page if you're visiting us soon as we update it often – and get in touch if you would like us to curate your island experience.
Eat
Breakfast
Start your day with a nourishing smoothie from Alive Bistro. Their menu is crafted with wellness in mind and includes smoothie combos such as Summer, Detox, and Matcha. They also sell divine vegan cakes… grab a slice for takeaway and enjoy it with an ocean view.
Lunch
Escape the midday heat and dine at this traditional waters edge eatery. Il-Kartell serves catch of the day from ocean to plate and has a super choice of elegant Mediterranean dishes, platters and salads. For seafood fans, we recommend their signature Linguine al Kartell.
Dinner
Have dinner with a view at Ristorante Arzella. This gorgeous restaurant takes prime position on the right-hand corner of the bay with an elevated dining area to watch the sunset. Enjoy a creative menu of superb fish dishes and choice cuts of meat plus pasta and risotto options.
---
Drink
Boozey
Does anything say holiday more than sipping a cocktail with a sea view? Unwine'd have resident mixologist Antonio Salerno from Genyouin Cocktails on hand to meet all your botanical needs – bomba!
Booze-Free
Coffee lovers rejoice. Coffee Circus Joy is friendly and vibrant hang out to get your caffeine fix along the seafront. They serve up specialty coffee that is delicious and fair to the farmer and also has a selection of sweet bakes.
See
Salt Harvesting In Xwejni
Take a walk from Xwejni Bay to the unique chequerboard salt pans. From mid-May to the end of August you can watch the salt being harvested once a week, using traditional methods; this is a true labour of love and a must-see. Be sure to buy a bag of salt from Xwejni saltpans shop – it tastes divine!
Wied Il-Ghasri
Visit in the morning before temperatures soar. Located about 20 minutes by foot from the saltpans, Wied Il-Ghasri is a secluded inlet with a pebble beach and a crystal clear sea canyon, accessed by around 100+ steps. Bring your snorkel to discover underwater caves and allow time to soak up the magical energies.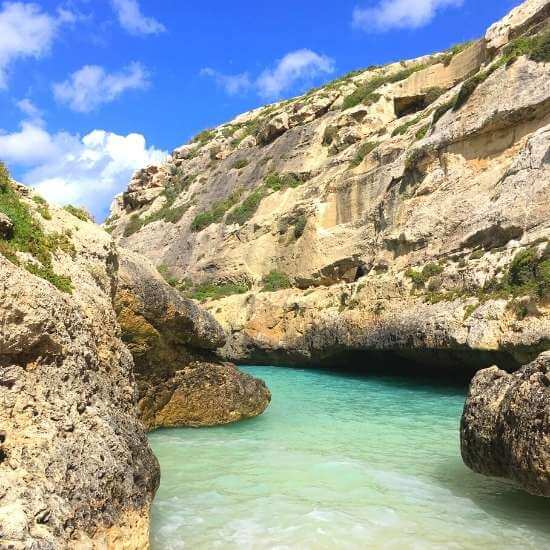 ---
Do
Go Diving
Whether you are an experienced diver or a complete beginner there are many first-class diving schools, in Marsalforn. Discover exactly why Gozo is considered one of the top spots for diving in the Mediterranean.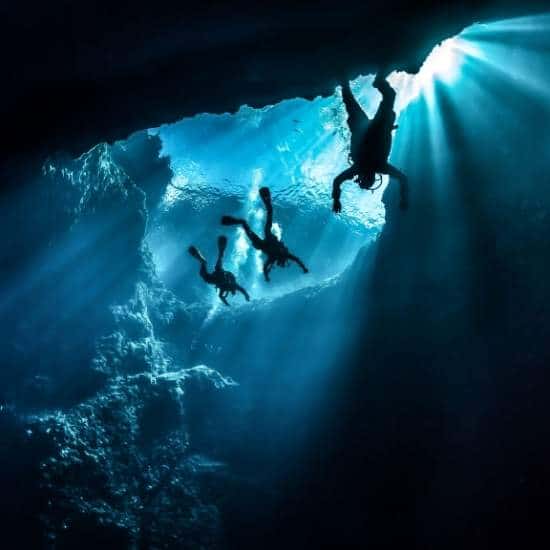 Take A Selfie
Find the quirky double coloured bench located near the main bus stop and grab an Instagrammable selfie. The landmark bench is so famous it even has its own Google Map address.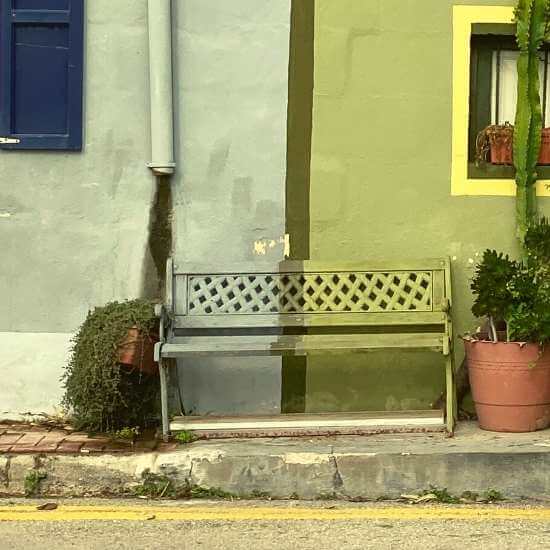 Be
Watch The Sun Set
Be in the present moment and watch the sunset illuminate the sparkling saltpans at Xwejni – a truly mesmerising sight. Top tip – head to the nearby Crab Shall Kiosk Xwejni (5 minutes by foot) on a Wednesday evening for a live jam session with laidback island vibes.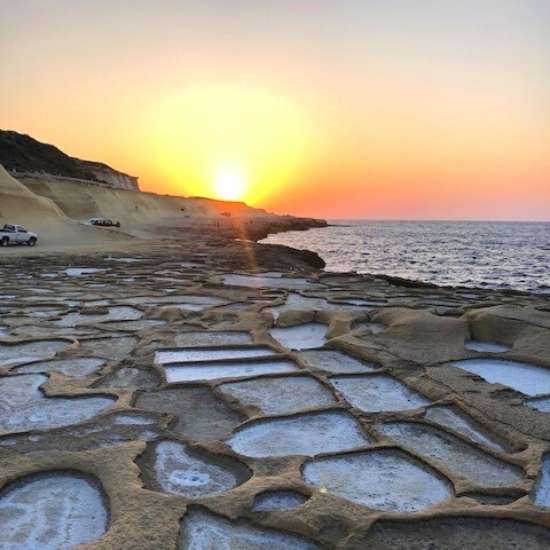 Sunbathe At Ghar Qawqla
Rent a sunbed and umbrella at Għar Qawqla, a tucked-away swim spot around the bend from the main bay which offers a vast rocky area that's perfect for sunbathing, swimming and snorkelling. Check our listing of swim spots in Gozo including those which are off the beaten track.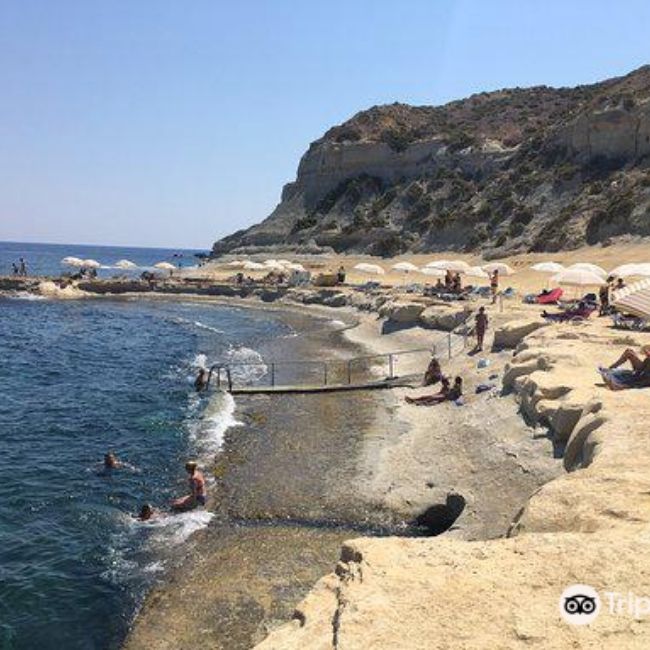 Stay
Best Of Marsalforn
---
And Lastly…
Don't miss these 5 things to see and do nearby to Marsalforn
Walk the cliffs to the right of the bay towards Għar Qawqla, to get a birds-eye view of Marsalforn Bay.
Take a Paddy course at a local dive centre.
Visit Dreams of Horses Equestrian Therapy Centre (12-minute drive from Marsalforn)
Dine with a view and a spectacular sunset in Zebbug (June- September).
Visit the ancient Ggantija Temples in Xaghra (10 minutes drive from Marsalforn)
Did you enjoy this article? Share it on your favourite Social Network. Get in touch if you want a bespoke experience on Gozo Island or feel you should be mentioned on our Marsalforn page.