Experience Gozo like a local. Check out this must-do list of things to do in Xaghra.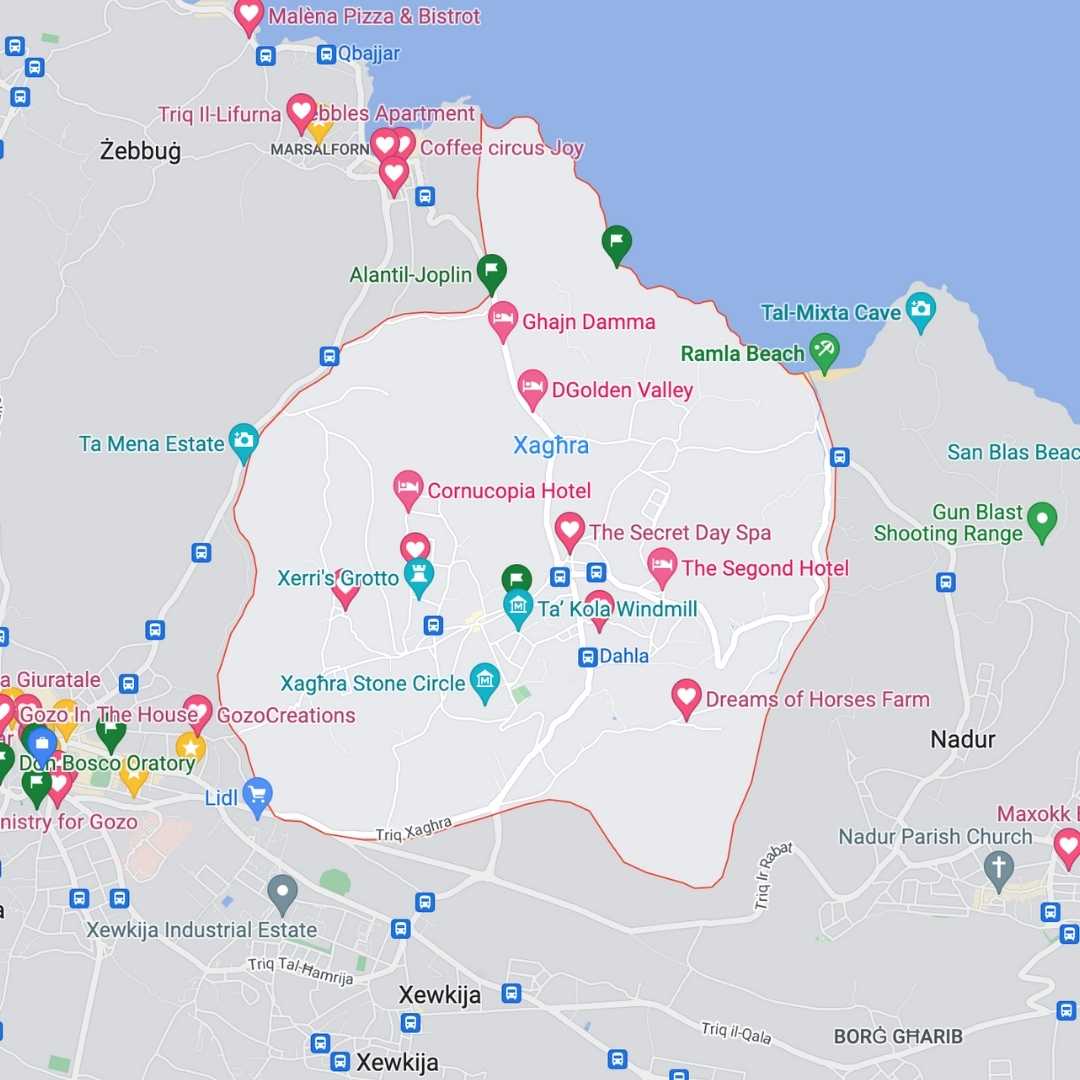 Getting to Xaghra
Xaghra is one of the largest towns in Gozo and one of the earliest inhabited parts of the island. It is home to the Ġgantija megalithic temples which date back to the year 3600BC and the Xagħra Stone Circle, natural underground features such as Xerri's Grotto, Ninu's Cave and Calypso's Cave which overlooks Ramla Beach. Situated to the North-East of Gozo's capital Victoria it takes just 10 minutes from the Gozo Ferry Terminal and is well connected by bus. Take route 307 from Victoria.
More About Getting To, From And Around Gozo Here.
Staying in Xaghra makes sense if you are excited about the geographic and ancient wonders of Gozo. Xaghra also stands out for it's bustling square full of bars and restaurants which come alive at night. The town is also well equipped with banks, local shops and supermarkets and like most places in Gozo, centred around the parish church. Also, there is easy access to beaches such as Ramla Bay, Marsalforn, Xwejni Bay and the Salt Pans which can be found just 10 minutes down the road.
Things To Do In Xaghra. Eat, Drink, See, Be, Do, Stay.
Check out our favourite accommodation, cool places to eat and drink, plus must-see sights in Xaghra. Find the balance between being and doing, and always leave room for the magic. Bookmark this page if you're visiting us soon as we update it often – and get in touch if you would like us to curate your island experience.
---
Eat
Breakfast
Kick start your day with a hearty or healthy breakfast or brunch at Cafe Reale. Located centrally on the main square, you can choose from fresh bagels, cakes and croissants, omelettes and eggs, sausages and toast or fresh fruit. Perfect for people watching!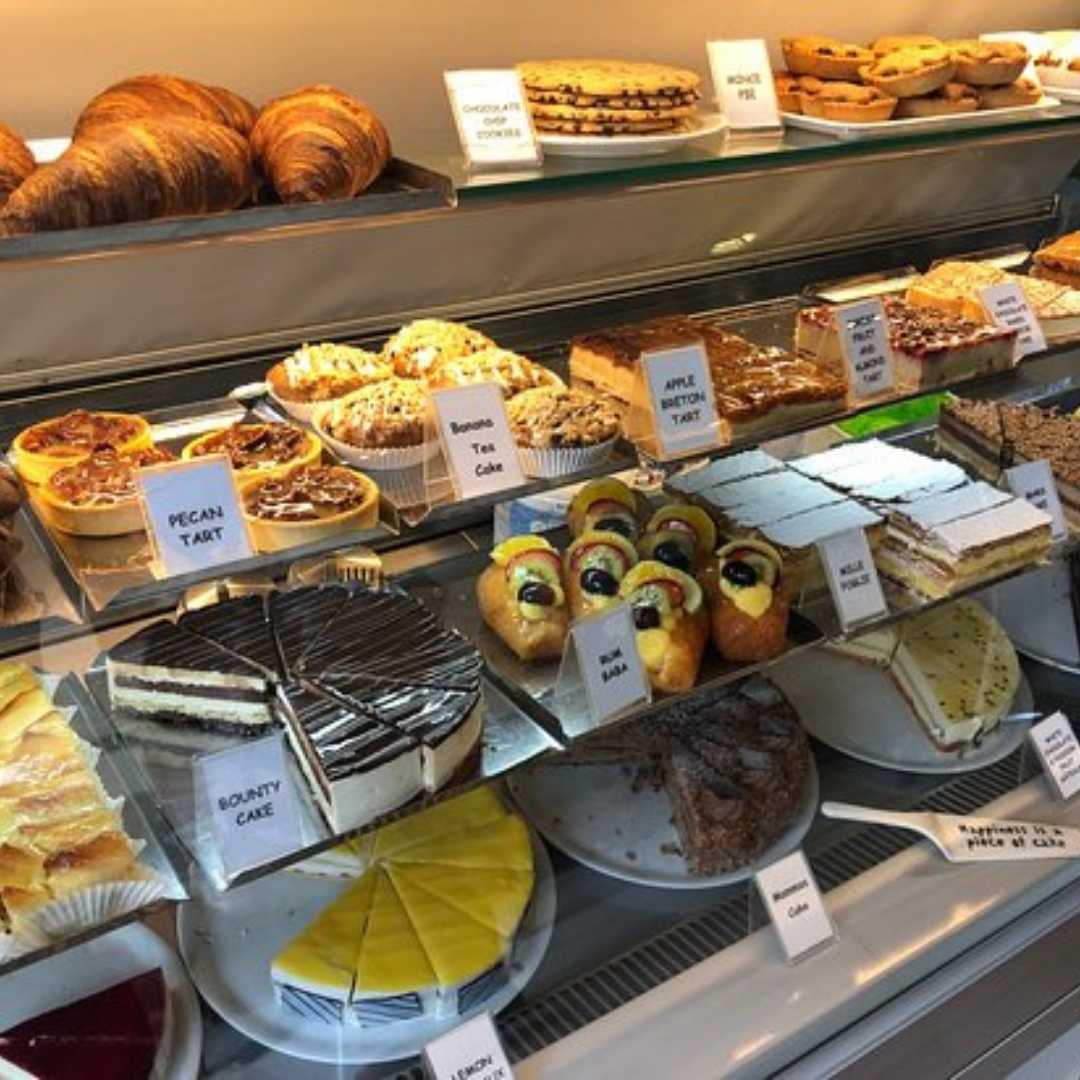 Lunch
For a memorable dining experience, settle down for a leisurely lunch at Latini Restaurant in Victory Square. Located at the opposite end of the church, graze on Mediterranean dishes cooked by their chef of 15 years. Try the fresh Burrata. It's delicious.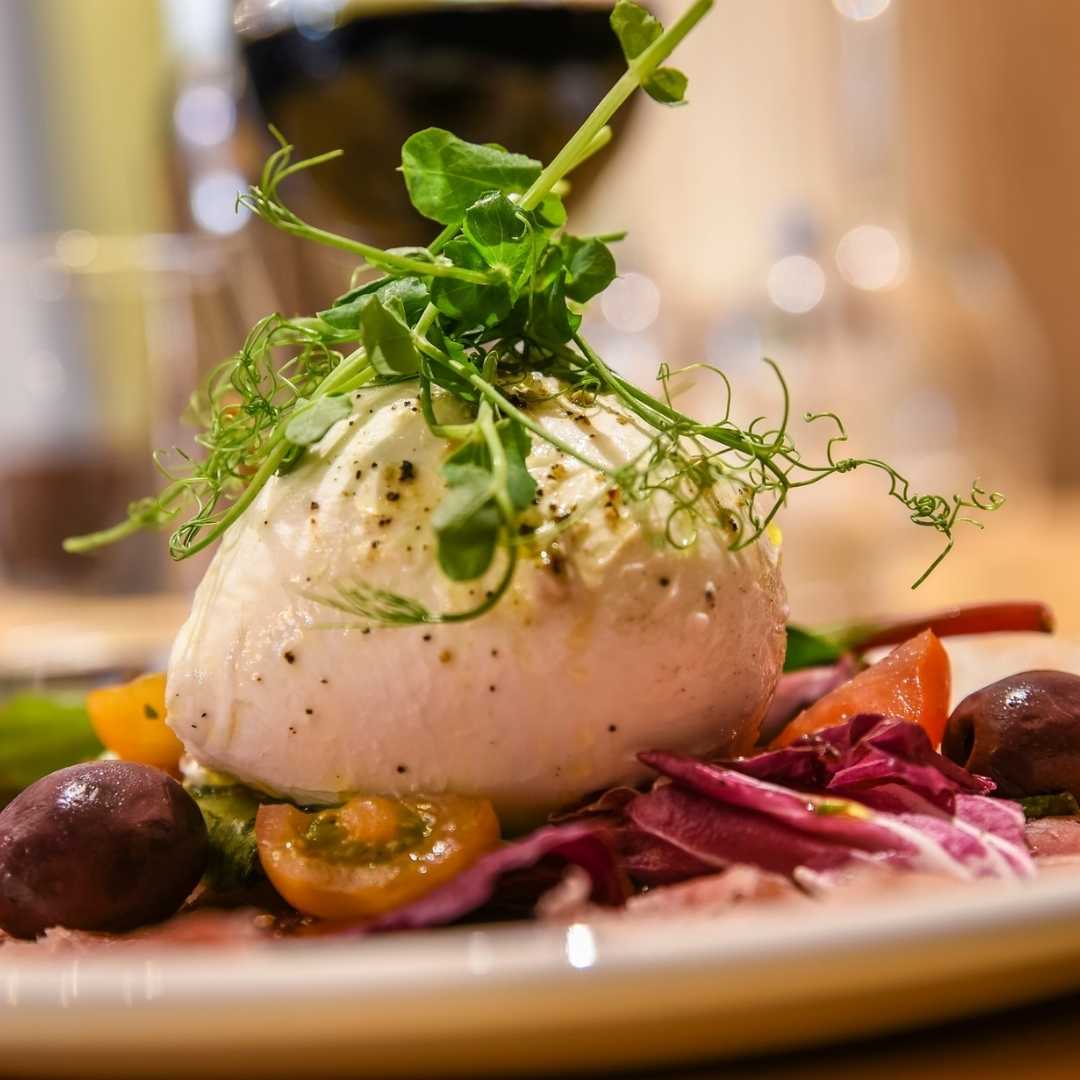 Dinner
Al Sale brings failsafe Mediterranean vibes along with the taste of close-by Italy to Victory Square. They offer good veggie and vegan options so cater for all. Spaghetti and seafood are the orders of the day with fresh catches delivered daily. We love their Risotto.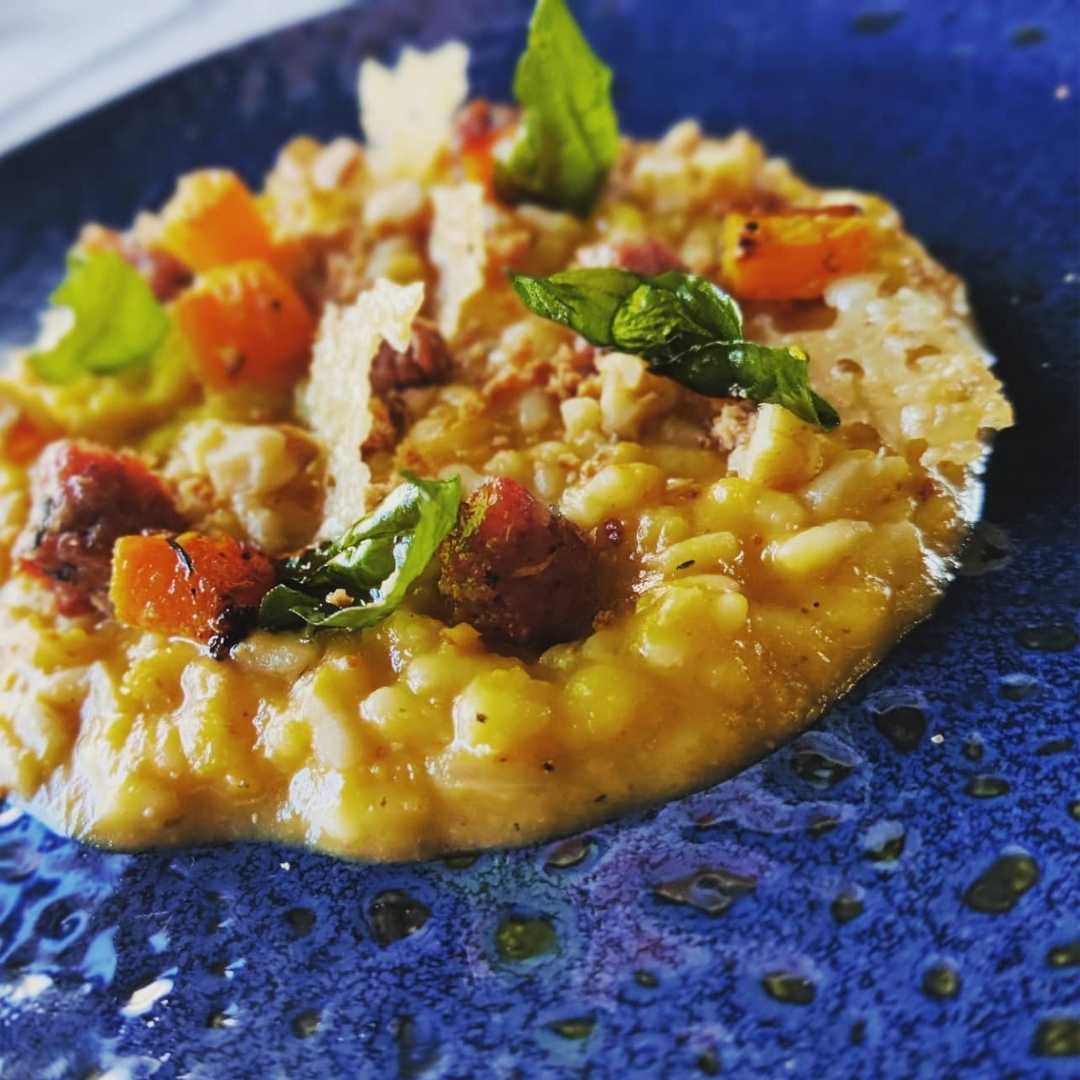 Drink
Boozey
Experience the perfect Gin at 73 Bar. Choose from their extensive menu (seriously – it's quite something) and sup away until your heart is content. The great thing is, they not only know what Gin is what but how it is served, including the glass. Bravo folks! This is what we need in Gozo!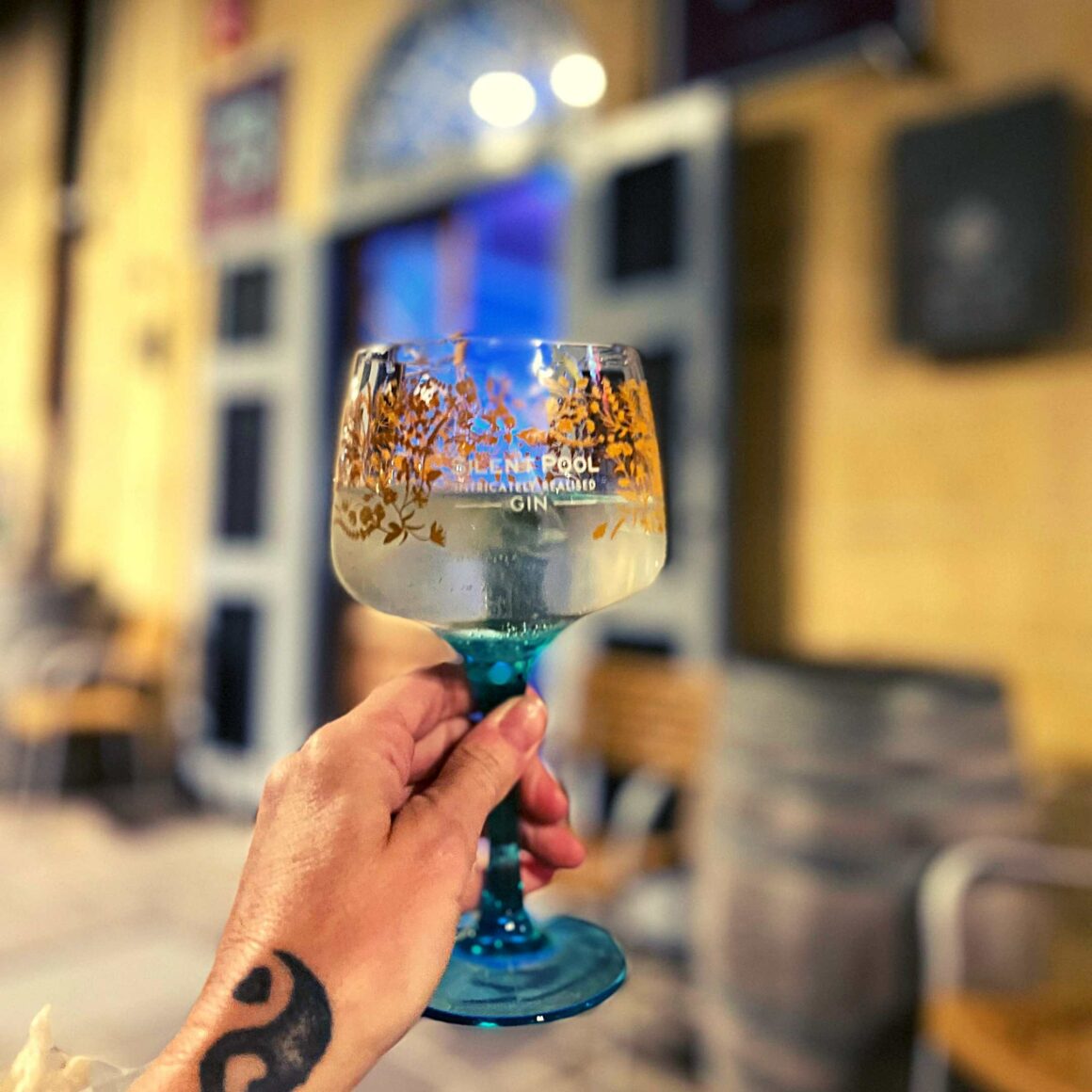 Non-Boozey
Grab a coffee or juice at Coronation Bar and sit and watch the world go by in Xaghra Square, the perfect sunny spot for people watching and taking a break from exploring Gozo Island. They offer options for non-dairy plus an array of homemade juices to quench your thirst.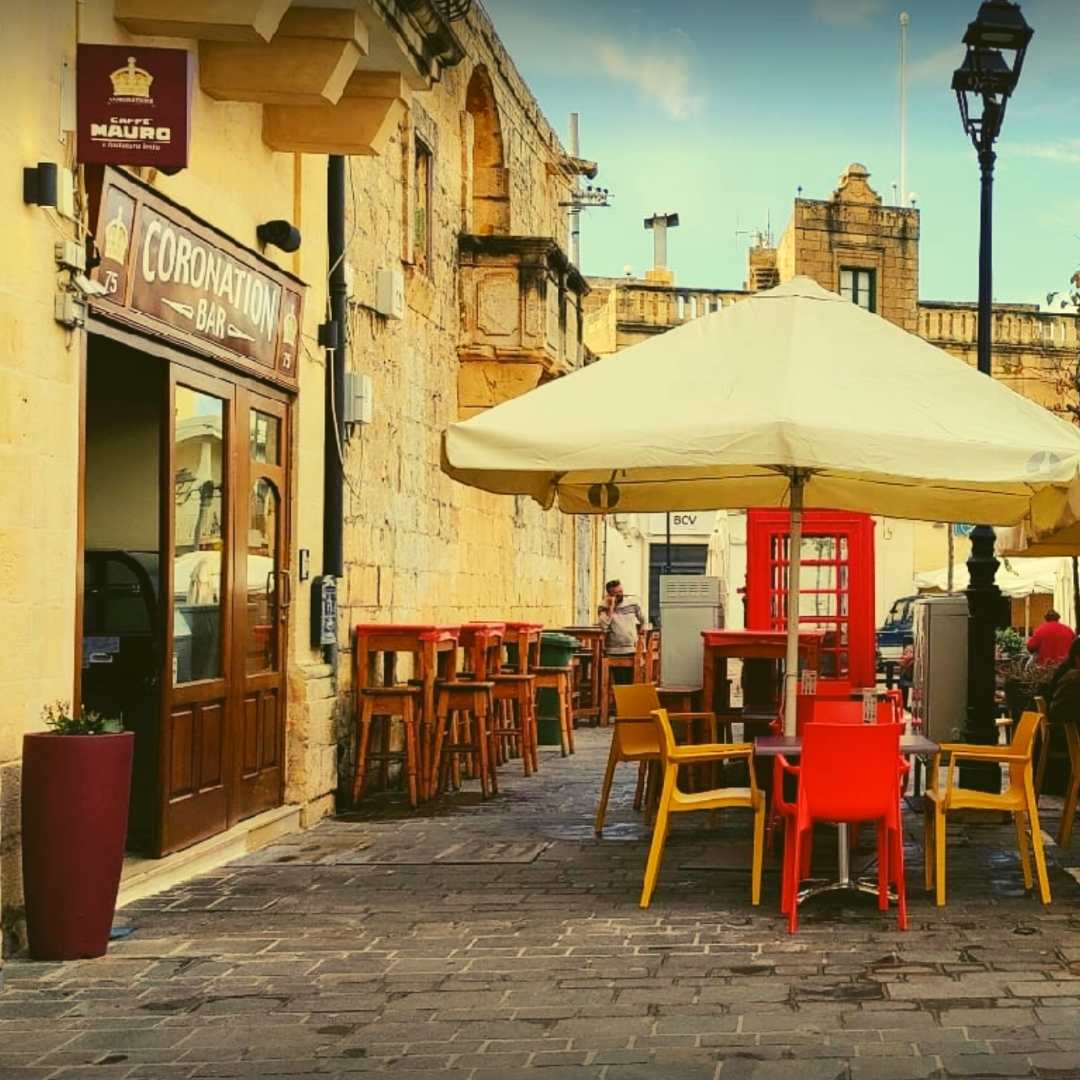 ---
See
Ninu's Cave
This hidden cave is a true natural wonder with a formidable story. No spoilers, if you find it, you will be rewarded.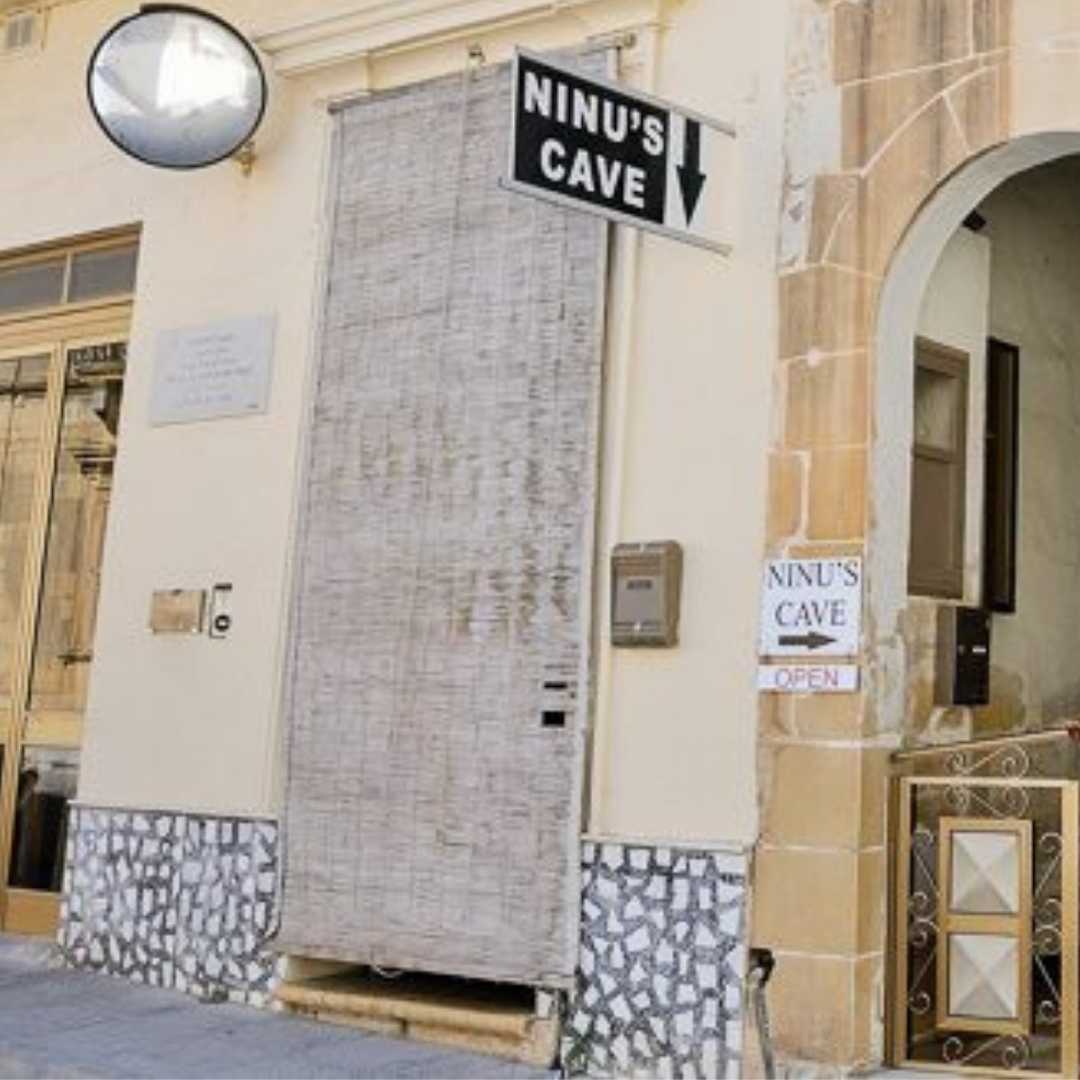 Calypso's Cave
Who wouldn't want an adventure to see this view? Spoiler! This picture does not do it justice!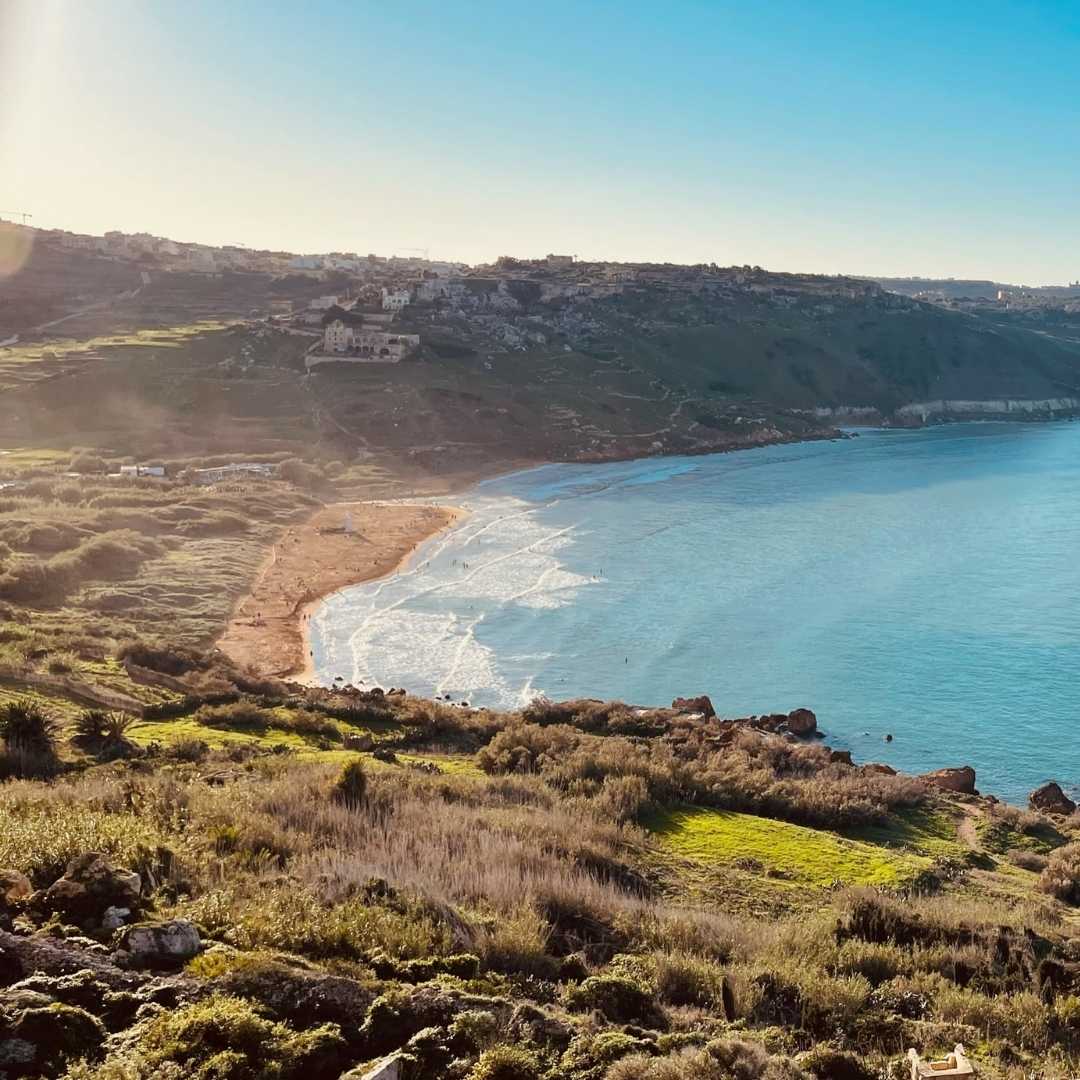 ---
Do and Be
Visit The GGantija Temples
The Ġgantija Megalithic Temples complex are older than the pyramids in Egypt dating back to 3,600BC. They represent one of the earliest architectural accomplishments in the history of mankind so well worth a visit. In 1980, the site was inscribed on the UNESCO World Heritage List. People report feeling a sense of healing and rebirth when visiting the temples.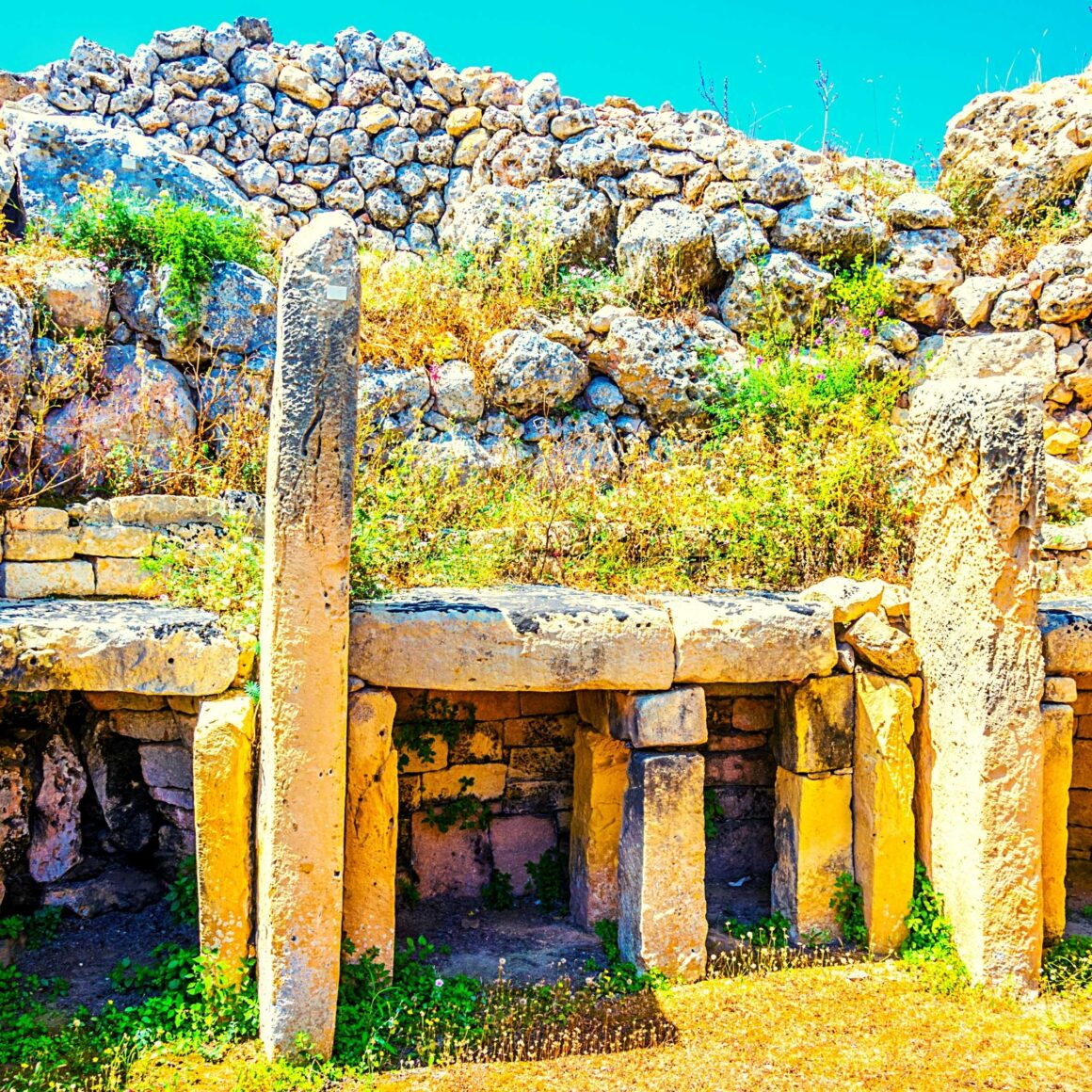 Book A One Day Retreat
Take a day away from the world and put yourself on the agenda by booking a one day retreat at L'Gharix Temple Retreat in Xaghra. Set in a 765-year-old villa, this unique and sacred place sits just behind the Ggantija Temples with its own private cave holding group sessions, workshops, guided meditations and one-day retreats.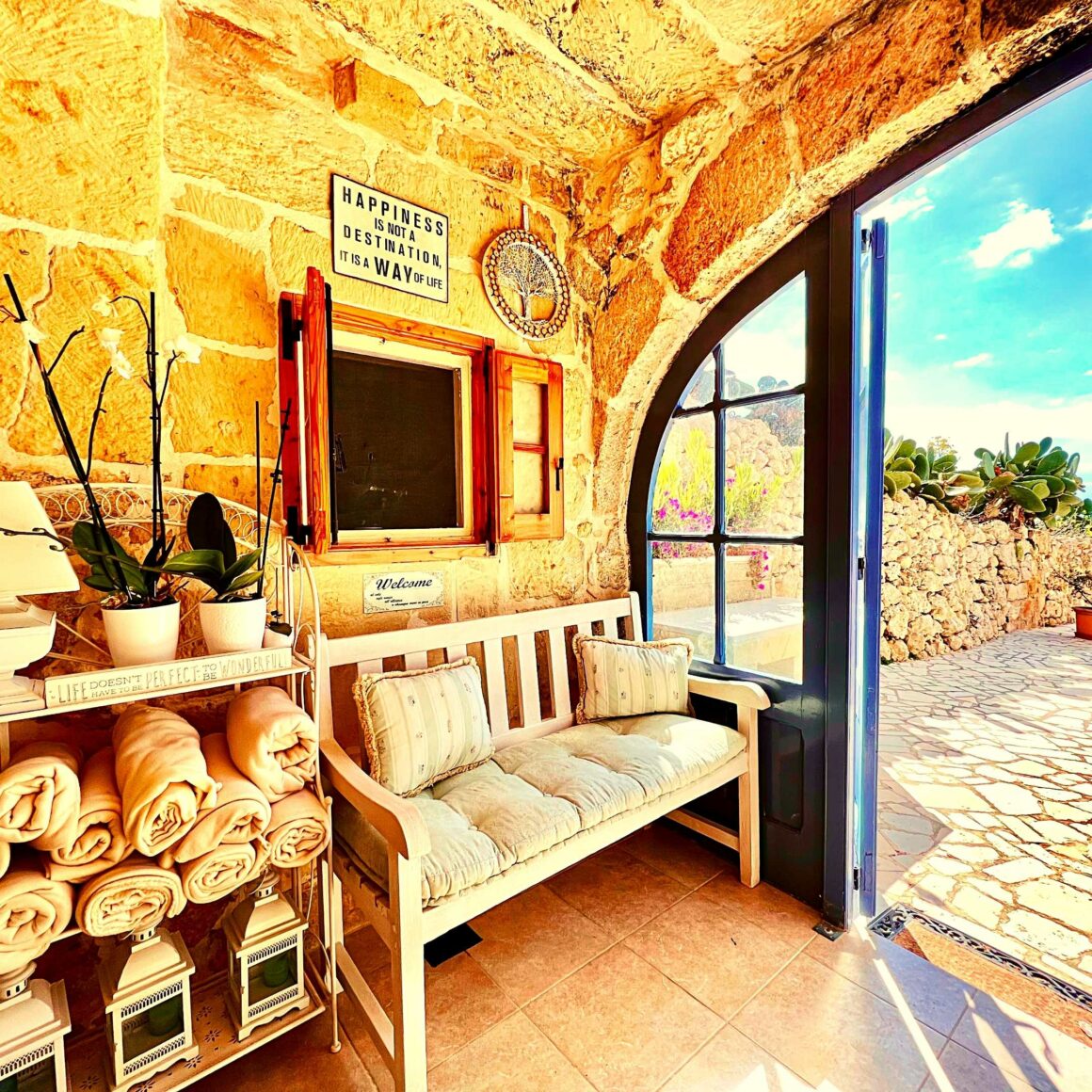 Stay
And Lastly…
Don't miss these 5 things to see and do in Xaghra
Pick up a freshly baked Pastizzi in one of the many local shops on the main road.
Visit Ta Kola Windmill.
Wander the streets with your camera and snap some of the wonderful old signage like The Museum Of Toys.
Visit the Xagħra Stone Circle just 400m from the Ġgantija Temples and buy a Maltese Goddess souvenir from the stall opposite!
Tuck into juicy local fruit like watermelon and peaches from the kiosk on the main road. Ask what's in season! The owners are always ready to help.
---
Did you enjoy this article? Share it on your favourite Social Network. Get in touch if you want a bespoke experience on Gozo Island or feel you should be mentioned on our Xaghra page.