Fly Me To Tmun.
Gozo In The House spent a balmy October evening under a bright full moon at the acclaimed Tmun Restaurant in Mgarr, Gozo.
There's something about a diligent, bustling kitchen pass that can get a foodie extremely excited right? Well… grazing in Tmun Restaurant in Gozo is no exception.
Could it be the composed anticipation of sweet and savoury delights? Perhaps the expectation of falling in foodie love with something brand new? Perhaps we event empathically pick up the awakening creativity from the chef and his dedicated staff. Either way, it's intoxicating plus an added bonus when you just know you are about to be utterly wowed.
It's been a big year for Tmun Restaurant, Gozo. Aside from dealing with the continuing setbacks, COVID has presented, this time-honoured eaterie is now proudly standing alongside just twenty-four other Maltese restaurants on the renowned Michelin guide.
Massive applause.
The name 'Tmun', means 'rudder' or 'helm' and it first opened its doors in Xlendi nearly thirty years ago with Leli running the ship. This family-run legacy, whose reputation has always been extremely high now involves son Paul in the kitchen who has clearly learnt from the best. Since settling in their home on the ever-changing Mgarr harbour, it seems that the inner workings of this fine eatery have found their flow and it's now certainly their time to shine, once again.
Their recent Michelin accolade has spurred a flurry of new ideas, which we will no doubt share with you in the near future, but let's firstly get down to the business of what they do best.
Cook.
Tmun restaurant Share Four heartening Signature Dishes That Will No Doubt Leave You Speechless
Starters should be designed to wow and cleverly entice your forthcoming choices when casting your eyes upon a menu. They should also leave you happily confused about which direction to go. When you are met with an array of pickings you could instantly devour, it's even more amazing but no mean feat. Tmun, give you a peek into how much thought goes into each dish on their offering. Only noteworthy dishes need apply – and when you decide to include Oysters you are, I believe, not only a brave food warrior but a cheeky and reverent one to boot.
Oysters are left to spawn from April to August so they're ready for harvesting and consumption from Autumn through to Spring. I've tasted Cornish oysters and oysters from the Kent Coast. I have sampled the 'fruits de la Mer from both the French river Belon and the unmistakable foodie heaven of St Jean de Luz. I can now add to this esteemed list, Gillardeau oysters from Tmun. One was delicately adorned with Hendricks Gin and Basil and the other with Nori – an edible seaweed – au gratin, both served in the most exquisite, way amongst seashells, Gozo salt on a mottled ceramic plate. Divine.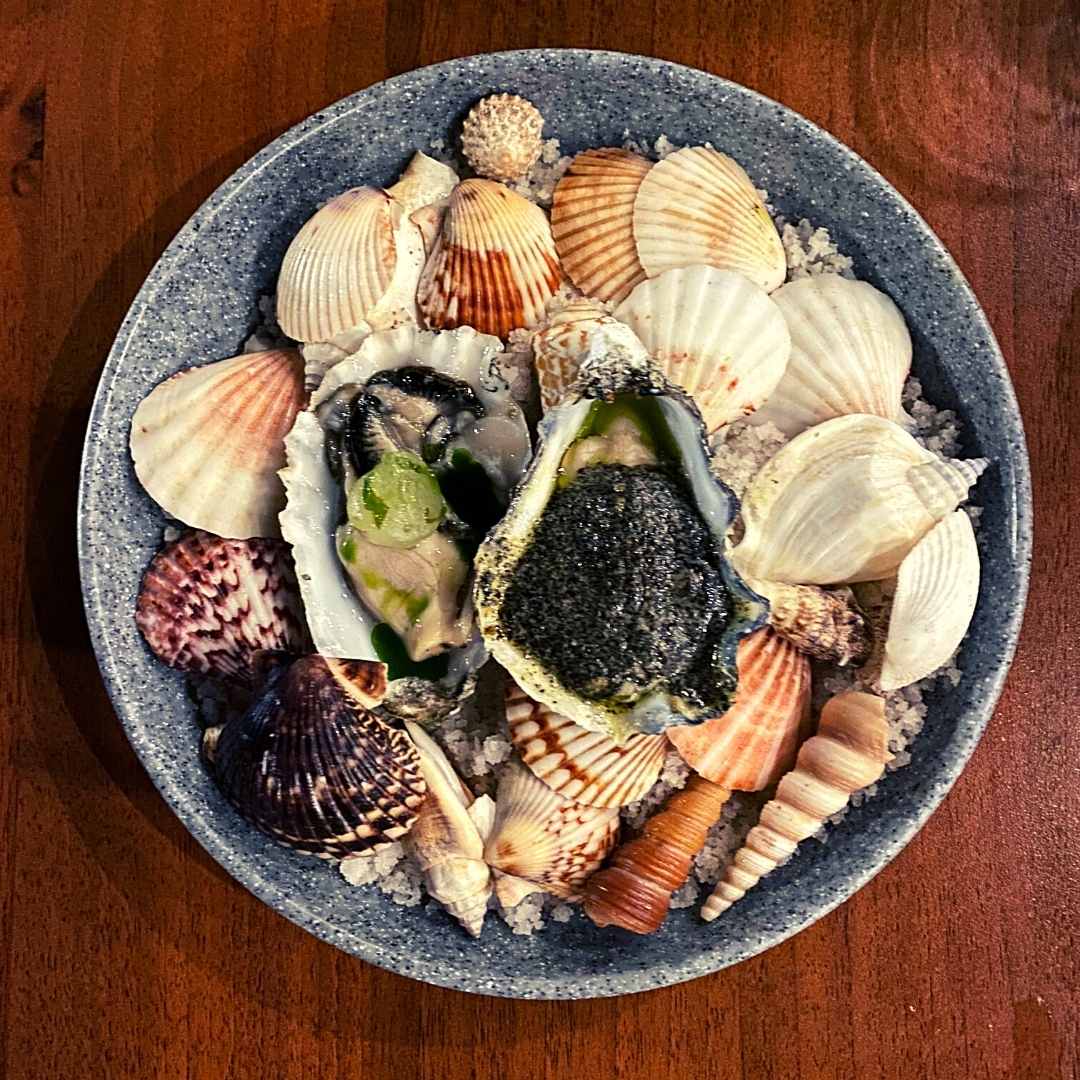 A current favourite at Tmun Restaurant (seeing as Gozo is famed for its fish) has to be their cured fish of the day. Katsuobushi, derived in Japan, is sometimes called, bonito flakes and usually consists of dried, fermented and smoked skipjack tuna. Tmuns' version is with locally caught Amberjack and showcases their Asian influence and flair. Cleverly married with spring onion and a charred baby gem which provided the correct bitterness against the explosive, salty crispy capers and tantalizing spots of oyster emulsion to unite the dish.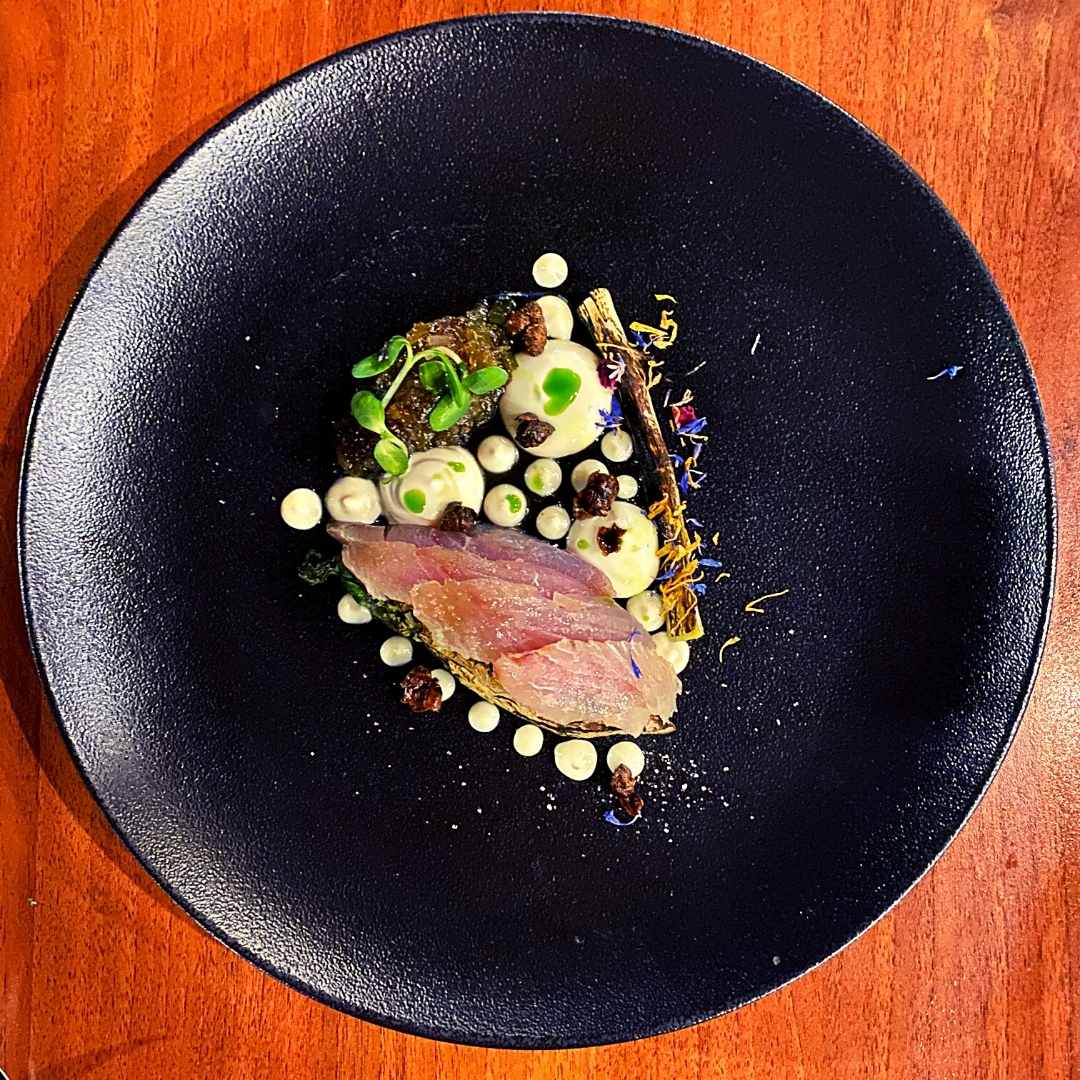 I'm such a fan of Panko (breadcrumbs) as an alternative to batter. When used with such light but punchy flavours it results in an altogether crisper consistency. Here refined and succulent Monkfish is the star of the show alongside, local guanciale – cured pork cheek, elegantly coupled with garden-fresh peas and uplifting mint.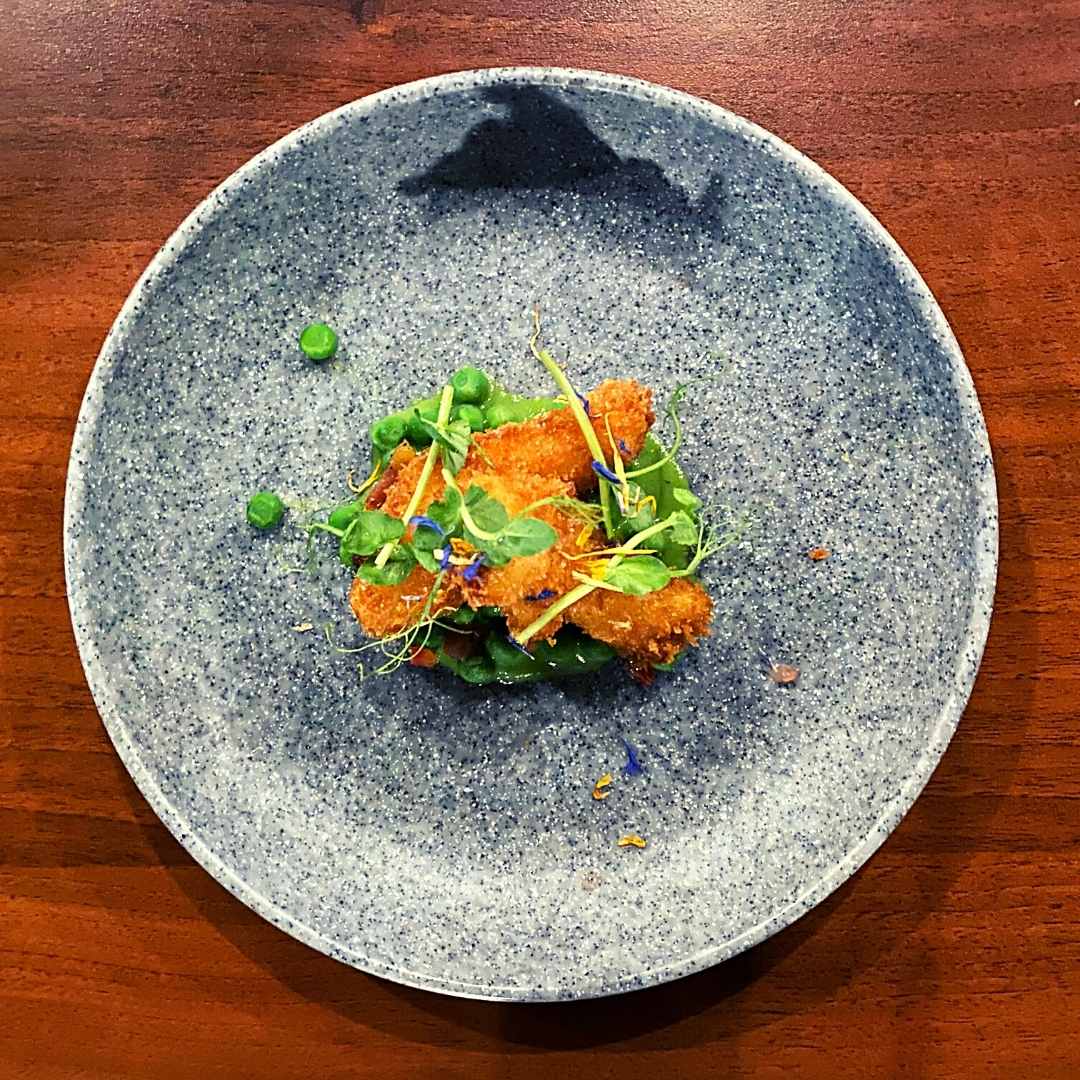 Like clockwork and as the rains come to wash summer into autumn, this seasonal risotto will no doubt be a firm favourite at Tmun. It's one of those dishes that when cooking at home – should be quick, simple and of course, utterly delicious, but actually – it is so very easy to get wrong. And when your local restaurant is serving up one this good – why would you bother?
Prized Carnaroli rice from Vercelli in Piemonte, Acquerello is known for being the best when it comes to nutrients and flavour and forms the foundations of this outstanding dish. Add Pinenuts, Parmigiano, Pickled Shimeji Mushrooms (those lovely Japanese tiny capped shrooms on a long skinny stalk), Roasted Oyster Mushrooms, a cheeky drizzle of the finest Truffle Oil and Porcini Powder and you have just elevated the humble risotto into a hedonistic delight.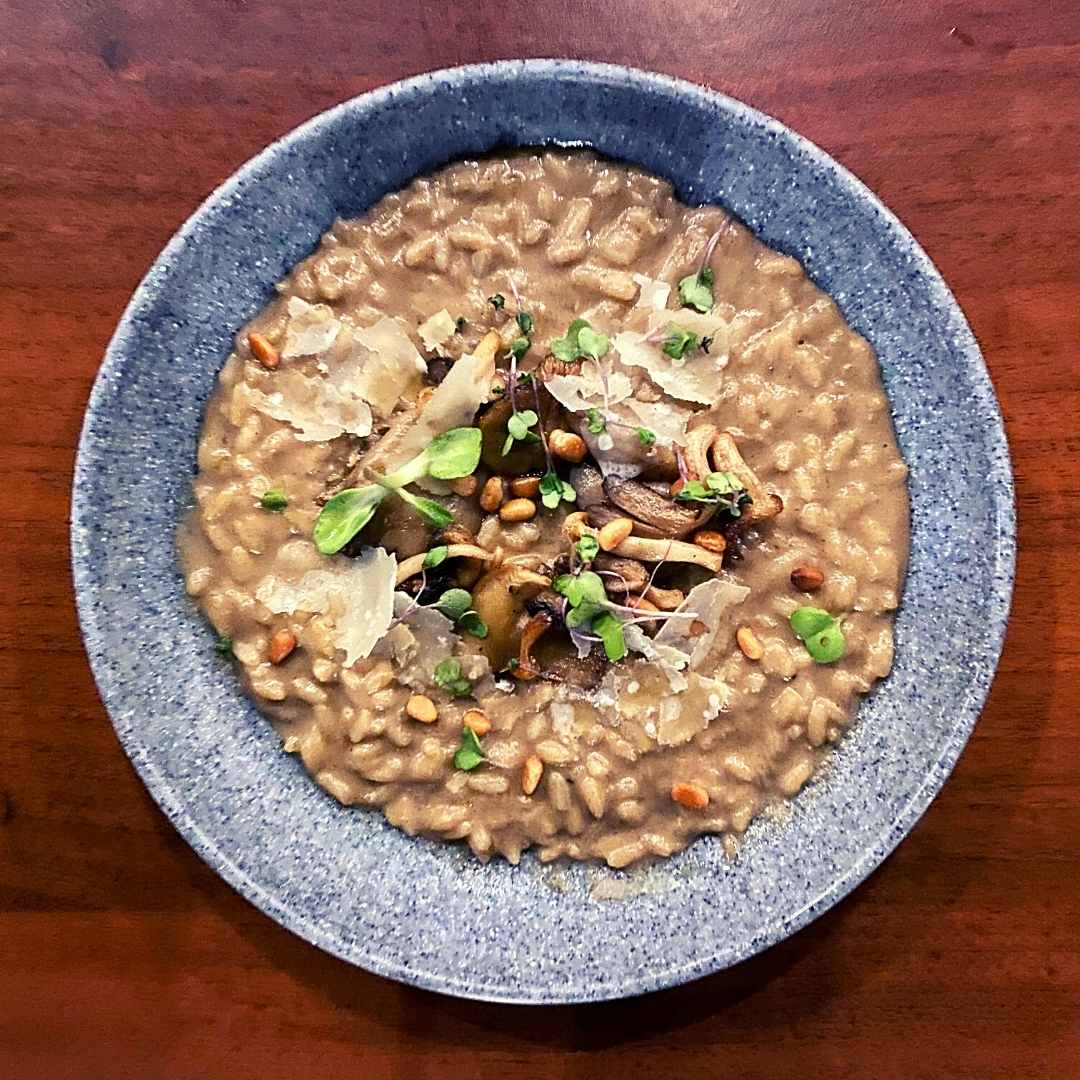 These are just four reasons why, I for one, frequent Tmun. They tend to change dishes elusively to not disappoint repeat customers but whenever something new arises, I am always excited to sample. This restaurant is starting to get global recognition and we understand why. How lucky are we to have it on our doorstep?
More Information: Tmun Restaurant Mgarr.