Ride the ocean waves and hire a self-drive boat on Gozo.
I did and it revealed more than I expected.
Becoming one with the ocean waves has been a dream of mine for an age. Coming from a long line of rivermen, (my son is 5th generation captain on The River Thames) I have always wanted to be the first woman in our family to take the wheels of a boat. Throw the sunny, azure-blue Mediterranean into the picture, my sister, Claire, and another bestie – to be frank, the idea was even more heavenly.
Sealegs strong as an ox, I headed down to Hondoq Bay with the best she-gang a girl could ask for and hired a self-drive boat from Joyride. As we approached, I couldn't ignore the ever-so-choppy waves but adrenaline was rushing through my system and we continued as planned.
Once our paperwork was complete, I was told where I could and couldn't drive on the map. today was windy so I was to avoid the Crystal Lagoon, but my mind was already set. It was a trip to the Blue Lagoon for a swim with the girls and back. If I could accomplish that, I was winning.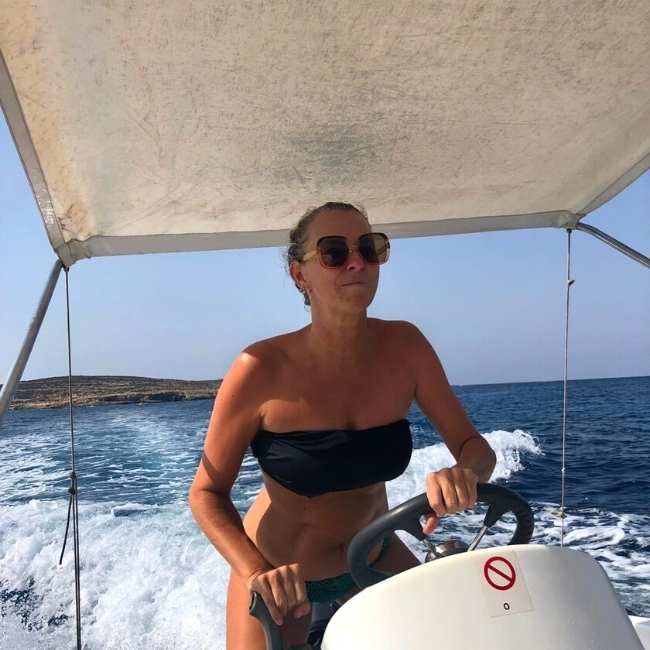 Matthew, from Joyride, took us out to our little boat and briefly explained how to power and steer our little beast. My Nerves had started setting in as I took hold of the wheel. Matthew instructed firmly, "Do a u-turn around that jetski, I want to see how you are under pressure." That three-minute lesson felt like a millisecond and I had a hundred questions alongside "Perhaps this isn't for me", but all that actually came out of my mouth was a nervous giggle. Not at all flummoxed after my half U-Turn, he then responded with an, "Off you go!".
And so I did.
No licence required. How hard could it be?
The worst that can happen is that we fall in right? No! The worst that could happen is that I crash and really hurt someone or damage the boat…
I slowly sauntered out of the bay heading for the two buoys that were pointed out to us at the opening of the lagoon. The waves were stronger than I originally imagined which made navigating this little boat through to a calmer space fairly hairy. The bow was high out of the ocean obstructing my view and so I had to rely on the girls to tell me what direction to take, but after a minute or two, I was gliding across the ocean to our destination and it felt blooming great!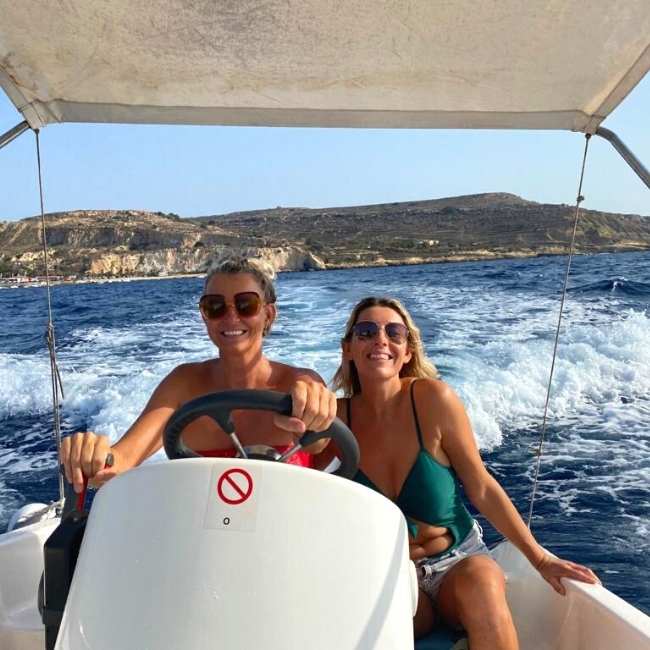 Our orders were to keep away from the rocks and drop anchor on a sandy sea bed if we wanted to swim. That was most definitely the goal and being still quite early in the morning, we found the lagoon pretty empty. We dropped anchor and sat on the boat for a while hoping we weren't drifting. The sensation of being surrounded by the crystal clear ocean was superfluous, but it was coupled with the fact that only half of my personal challenge was complete.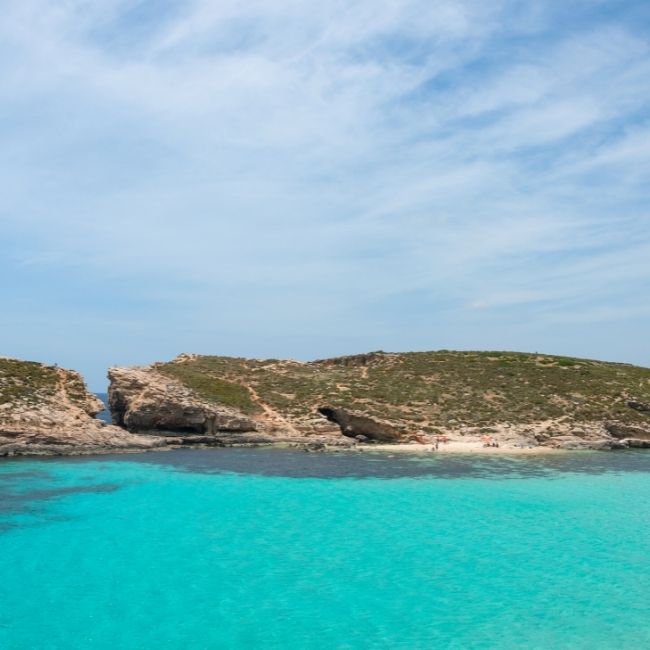 Feeling Fear
So here's the interesting part. The process up to now had been OK but I realised for the first time in years, I had felt real fear and, it could see how this could really get out of hand. The daunting idea of driving us back had started to create new havoc with my nervous system as understanding how to moor the boat upon my return was unclear. This very thing was blocking my joy, and I'm telling you, that is a hard thing to do!
While in the lagoon, I swam into the caves with my sister, and we sat on the sand in a stunning nearby cave to dissect what was happening. we discussed fear and explored the idea of safety and security, and of course, not being in control which resulted in the knowledge that when we feel like we have lost control, our ego sets in to try and destroy any hope of ever being in control again. If we allow it.
The chorus of narratives in my head was deafening. 'Andrea, what were you thinking?"…"You can't do this!"…"You're going to hurt someone you love!"… "You could crash the boat"…
Now, I must say at this stage, to onlookers, there was nothing to report. We were just four girls, enjoying a boat ride and a swim in the lagoon. But the trepidation and concern that my mind was going through told a different story! Getting back behind the wheel and driving back had started to terrify me. I was now fully up against my own fears. In real-time.
What do I do? Where do I tie it up? Do we just drop anchor to stop? I didn't know because I couldn't hear myself.
The little download my sister and I had in the cave started to turn things around. She calmly took the role of the soother and said; 'You can drive us back. You got us here without any worries! You can do this!'
Hmmmm courage. At this moment, that was what was required. Not in the egoistic 'Superman, I'm here to save the day' way. But inner strength and a knowing that I was in control and held by the universe.
We clambered back on the boat, I took some deep breaths, centered myself, and expressed my fear to the crew doubting Christopher Columbus would have ever done the same.
'We could call Joyride, and ask them to drive us back?' I thought. 'We could ask those lovely boys in the boat heading in our direction to jump in and take over the wheel'…' We could ask that fisherman eating his tuna sandwich to tell us what to do'…. But gently the idea of a rescue team was fading away.
I noticed that when I panicked, I had less control of the boat. I also realised that when I expressed my fear to my crew, I felt weaker. This was the turning point. I'd got this far, and I was proud of that, but it was time to come from a more conscious, fearless place.
The camaraderie was comforting as I needed some collective space-holding for my ego to take this challenge to the next level and my crew had this in spades. For me now, this had become something far from just driving a boat on the Med and slaying it like a lady boss. There was a job to be done! I had to drive my crew back safely as best as I could, and feel proud of myself for getting completely out of my comfort zone and facing my fear.
I had to do this from the inside. It was down to me. Fully, my responsibility. There was absolutely no point in my telling people how afraid I was. Because they couldn't help me. This was my experience. My processing. My fear facing. And every time I expressed this fear, I was giving away a little chunk of my inner power.
Boats were starting to fill up in the lagoon, so it was time to go. I managed to vigilantly steer us out of the bay and get back onto the open sea which was much calmer upon our return. There were many moments of pure joy and accomplishment along the way back. The freedom, the wind in our hair, the collective joy of us all playing an incredibly important role in this experience.
But the mooring was looming and the lack of instruction on how to park the boat was playing on my mind. I headed for the exact place where we picked it up and my fear reappeared for a wee while as we were nearing the other boats and swimmers enjoying the sea. I panicked about whether to drop anchor or await instruction and favoured the latter so waited for the Joyride boys to come to gallantly moor us up and take us back to shore.
Let the processing begin!
I had driven a boat, on my own, with my girls, to Comino and back. And it was an accomplishment! I acknowledge that if we had been told how to moor the thing, much of my anxiety could have been abolished…but still, sometimes there is no better way to face your fear than being thrown in at the deep end.
I totally recommend taking a self-drive out in Gozo. Just make sure you ask the right questions before you go!