Feeling Adventurous? Let's Go!
Gozo isn't just an island, it's a muse for the imagination and evokes a sense of adventure in a way few places can. Whether it's the heavenly orange hues of sunsets that no matter what you're doing, always draw a moment for pause or the crystal clear azure blue waters that jump out around every corner and call you to take a dip. If you want to extend that imagination to adventure and maybe even fantasies of hidden treasure, rum and swashbuckling pirates then visiting the hidden caves in Gozo will certainly help you along the way. With some of the most unique, picturesque and breathtaking topography in the Mediterranean and with beautiful clear, calm and relatively safe warm summer waters, grabbing a kayak or paddleboard and setting off on a sea cave adventure is an absolute must.
Below we look at 5 hidden caves dotted around Gozo Island and why they should be on your adventure itinerary.
1. Dragons Breath – Mgarr Ix-Xini
Mgarr Ix-Xini is a small secluded bay just outside of Xewkija. Famed for its use as a film set by Brad Pitt and Angelina Jolie, this pretty little bay along with its infamous restaurant, is the perfect spot for long summer days by the sea.
What many never notice however is a unique little sea cave that sits a few hundred metres out on the right-hand side towards the end of the bay. This little cave is small in stature at only around a metre high in places, however, on a very calm day, you're able to swim inside. Once you enter through the small cavern and turn right you find yourself in a unique little chamber where the water glows blue due to the light coloured sand at the bottom reflecting the sun.
We highly recommend the use of a registered guide when exploring this cave as it's both dark, small and if there is any kind of swell the cave growls and spits out a vast amount of sea spray, hence its name.
2. The Windows
Many people remember the now collapsed Azure Window in Dwejra, it was and still is a tourist hotspot despite its collapse, however, not many people realise we have two more windows here with hidden caves in Gozo that are just as beautiful.
Whilst not strictly caves, they are unique structures that are very much worth a visit. The first is in the North of the island and is known as Wied Il-Mielah. It stands at around 22 metres high and on a stormy day produces some amazing waves! This window is surrounded by cliffs so doesn't offer the same sort of views as the old Azure window but is nonetheless a spectacular window worth visiting. A paddleboard, kayak or boat will offer the most spectacular view of this window.
Our second window is barely known and to our knowledge doesn't even have a name but is certainly worth a visit! If you find yourself in Xlendi bay simply paddle out towards the tower, take a left at the end of the bay and you'll see a window that few know about. This is a great spot for snorkelling too and you're guaranteed to be left alone as it can only be reached by boat, kayak or paddleboard.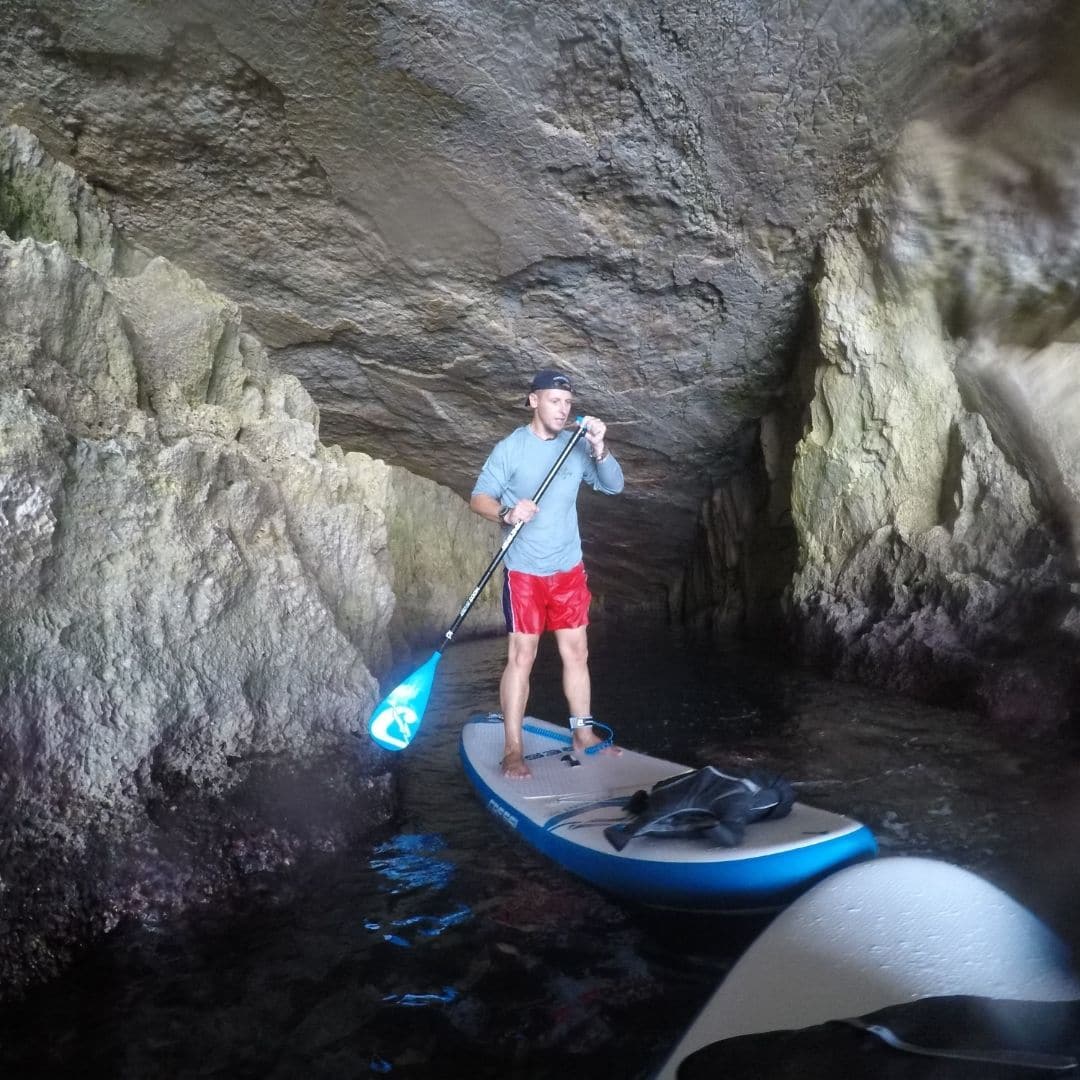 3. Hondoq Cave
Hondoq is a popular spot amongst tourists and locals alike. With its pretty little beach, kiosk and various water sports on offer it makes for a great place to spend the day. If you happen to be on this beach then simply swim around to the right and follow the coastline, eventually, you'll come to a small bay with a hidden cave that's perfect for a cool mid-summer swim. You can even walk to this cave by following the coast however, getting down to the bay can be tricky and it's incredibly steep. It's a nice sized cave and usually not visited by too many people.
4. Ras Il-Kanun – Cave Of Wheat
This cave has to be one of my favourite caves in Gozo and as a bonus, it can be reached by land but if you're not careful you'll miss it completely as it's well hidden. If you head towards Xwejni from Marsalforn, go past the little kiosks at Xwejni and you'll find yourself on the Salt Pan coast road. If you follow this road you'll pass one car entrance into the Salt Pans and then reach a second where the road goes from smooth to rough. When you reach the second turning it's advisable to park your car on the road and then head down towards the sea through the second turning by foot and turn left, follow the coast and you'll see some handrails sticking out of the rock, here you'll find Ras Il-Kanun.
There are some stone steps close to the handrails that lead down to a stoney plateau and from here you'll get to see the cave in all its glory. If entering via land, always ensure that the metal ladder is in place that leads from the plateau to the water otherwise it can be very difficult to get in or out.
The cave itself is a large cave that has a small beach of sorts, an archway over the water and some unique underwater features that are definitely worth exploring. There's also a beautiful reef here that clings to the cliffside as you enter the water. If you're feeling really brave you can leap from the stone above the cave into the deep water below but be warned, it's a long drop and if injury occurs then getting up the ladder can be troublesome! In late summer around September the cave often fills with harmless fried egg jellyfish which provides a great opportunity for amazing underwater photos.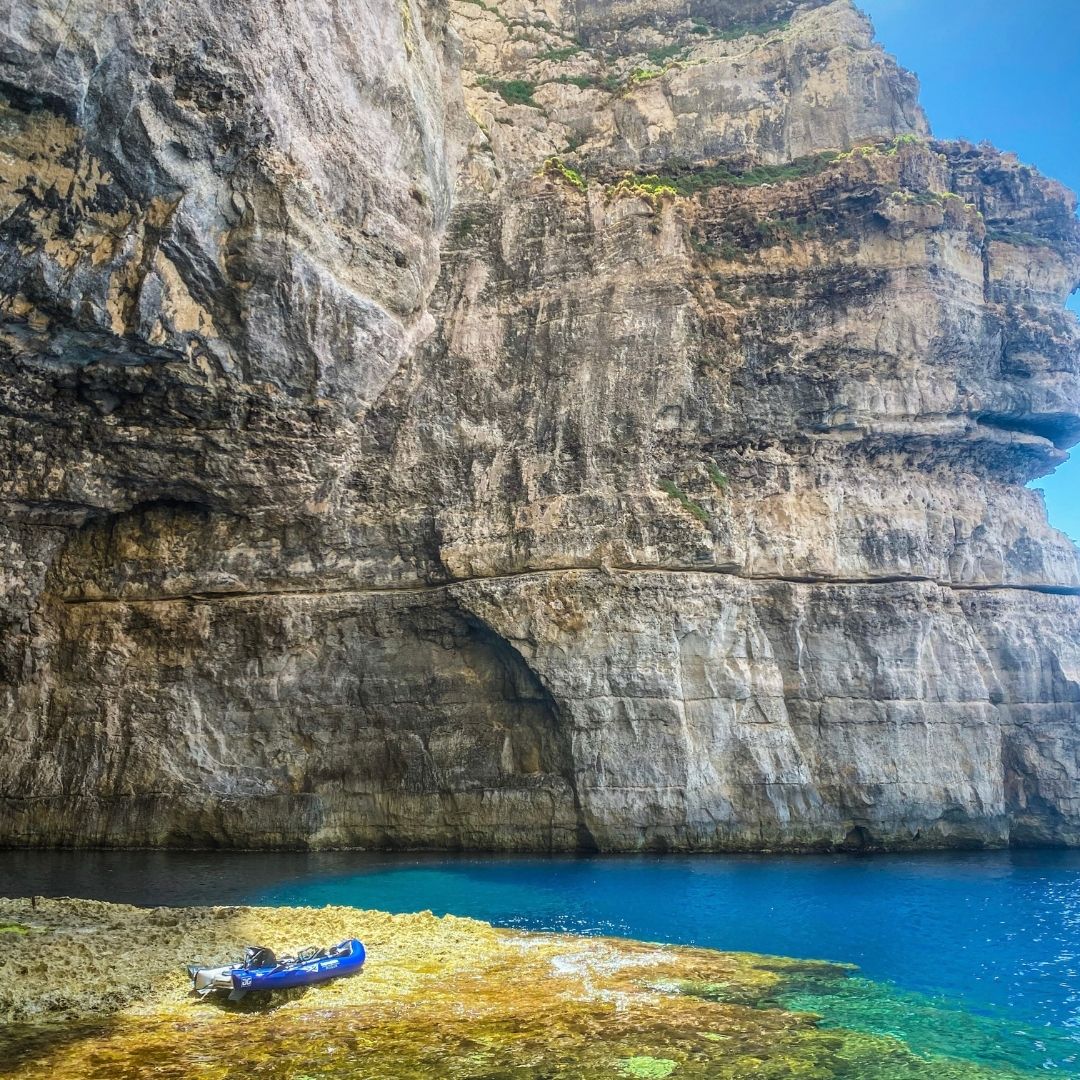 5. L'Ghar ta Santa Katarina
This is my all-time favourite cave in Gozo for many reasons. I found this cave whilst exploring in a Kayak and when I first laid eyes on it, it absolutely took my breath away. It can only be reached by paddleboard, boat or kayak but thankfully these are all available to rent in nearby Xlendi and on a calm day the cave can be reached in around 15 to 20 minutes. If you enter the water in Xlendi, head out to the very end of the bay, turn right and follow the coast. You will pass a smaller cave on your right, which is worth exploring and has a beautiful underwater arch, however, you have to continue following the coast past this cave and eventually, you'll reach L'Ghar ta Santa Katarina.
As you go around the corner you'll be met with a gargantuan cave complete with its own large rock beach, make sure you wear sea shoes as these rocks are quite sharp when entering and exiting the water. The best time to visit is after 2:30 pm in summer as the sun hits the white sand at the bottom of the cave and the water glows a stunning blue. Inside the cave, you'll find graffiti carved into the rock dating back around a century.
Snorkelling is a treat here as there's a small reef, a small canyon and lots of little fish around. This is the perfect escape if you're looking to break away from the hustle and bustle of Xlendi and no cave conjures up imaginary pirate scenarios quite like L'Ghar ta Santa Katarina.